Flat Rate Shipping (Commercial address)
Up to 5 Years Unlimited Mile Warranty
Excellent Customer Support
No Core Charge for 30 Days
Remanufactured ZF6 Transmission Price
Alternative Name: S6-650, Ford S6, ZF-6, TS6-650, S6-750
Price
Shipping
Core and Fee
Upfront Cost
Warranty
$3045
$270
$NaN
$5315
5 Year

$4835
In Store
$2387
$7222
3 Year
*Core: Waived for 30 Days
*Shipping: We offer Flat Rate Shipping (Commercial address)
*Logos are the property of their respective owners
Why Chose Reman-Transmission.com
| | Reman Transmission | Other Vendors |
| --- | --- | --- |
| Transparent Pricing | Check | x |
| Best Price Guarantee | Check | x |
| Flat Rate Shipping (Commercial address) | Check | x |
| Up to 5 Years Unlimited Mile Warranty | Check | x |
| Torque Convertor Included | Check | x |
| No Core Charge for 30 Days | Check | x |
| Free Shippng on Core Return | Check | x |
Why Chose Reman-Transmission.com
| Question to Ask | Reman Transmission | Other Vendors |
| --- | --- | --- |
| Is shipping free? | We offer Flat Rate Shipping (Commercial address) | Additional or Store Pickup |
| Who pays for Core Return? | We Do | You Do (Store Drop off) |
| Do I pay for Core today? | No, we waive Core Charge for 30 days* | Yes, but will be refunded when shipped back |
| Is torque convertor included? | Always! | Not included |
| What is the warranty? | Up to 5 years/Unlimited miles | Up to 3 years/Unlimited miles |
| Best Price Guarantee? | Yes! (for comparable conditions only) | They Don't |
About Our Remanufactured ZF6 Transmission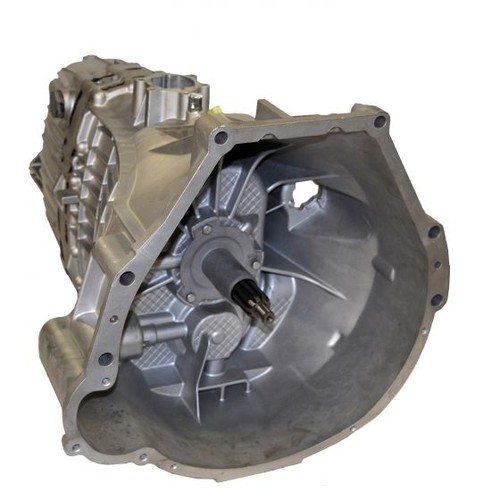 If you're looking for a ZF6 transmission for sale, whether that's for a Ford ZF6 transmission swap, GM ZF6 transmission, or Chevy ZF6 transmission, we've got you covered!
We've been in the business of selling only high-quality used and remanufactured ZF6 transmissions to our customers, utilizing our team's expertise on these models of transmissions to achieve the best rebuilds possible.
Why should you buy a used or remanufactured ZF6 transmission? One of the main reasons is cost and affordability, and the second reason is for fixing and patching up any problems that come with these transmissions from the factory.
Here's how we achieve affordability & reliability:
Affordability: Buying a used or remanufactured transmission from us is a way to save significantly on costs compared to buying a brand new transmission. Even though we completely rebuilt the interior parts, we're still using the same transmission body and core, allowing us to pass these savings onto you as a customer.

Fixing Factory Problems: The ZF6 transmission is much better at this than other models, but factory defects and issues still crop up every once in a while. Our expert transmission mechanics and engineers know what common problems the ZF6 tends to have, which allows us to fix these issues with ease. In our remanufacturing process, we either replace or re-machine every internal part of the ZF6, making sure everything is up to OEM standards. This lets you get an affordable, high-quality, long-lasting ZF6 transmission that'll serve your vehicle for years to come!
By purchasing one of our ZF6 used or remanufactured transmissions with all known defects corrected, fixed, and eliminated, we'll present you with a quality transmission that oftentimes performs even better than ones produced by the original manufacturer!
To keep our customers as happy as they can be, we also provide a 5-year warranty that covers unlimited miles for your remanufactured transmission.
And as another cherry on top, we'll make sure you get free and fast shipping to any commercial address within the United States – the best of both worlds!
All in all, we've proudly served our customers for many years now, and intend to do the same with your ZF6 transmission. Whether you need a ZF6 swap, rebuild, or just want to order one of our used ZF6's, we'll make sure you get through the process quickly and painlessly without any headaches!
If you need a ZF6 transmission 7.3 liter, ZF 6-speed as they normally come, or just want to replace your ZF 6-speed manual transmission with a high-quality used or remanufactured one, our customer service team and expert staff will take care of you from start to finish.
Flat Rate Shipping (Commercial address)
Excellent Customer Support
Up to 5 Years Unlimited Miles Warranty
No Core Charge for 30 Days
Our ZF6 Transmission Upgrades
Our quality control process includes build specification checks performed by three different specialized technicians during the remanufacturing process to ensure accuracy and precise fitment.
Inspection of internal parts, including gear wear checks, mainshaft straightness, and synchronization are performed.
Worn and non-functional parts are replaced, including 100% replacement of seals, bearings, and other common components.
Each remanufactured transmission is hot, cold, load, and simulated road tested using our proprietary dynamometer program.
All remanufactured transmissions are backed by the industry's best, no-hassle nationwide warranty.
ZF6 Frequently Asked Questions
What is a ZF6 transmission?
ZF S6-650 transmissions are 6-speed manuals manufactured by ZF Friedrichshafen AG and designed for longitudinal engines. ZF6 transmissions are rated up to 705 newton meters or 520 lb-ft of torque. They are heavy-duty transmissions and were used by Ford and GM in their heavy-duty pick-up trucks.
What trucks have a ZF6 transmission?
The ZF6 6-speed manual transmission was used in trucks such as the 2001-2006 GMC Sierra 2500HD & 3500, 2001-2006 Chevrolet Silverado 2500HD and 3500, 2002-2010 Ford Super Duty F-250, F-350, F-450, and F-550 with gas engines, and 1999-2010 Ford Super Duty F-250, F-350, F-450, and F-550 with diesel engines.
What years did Ford use the ZF6 transmission?
Ford used the ZF6 transmission from vehicle years 1999 - 2010 in their Ford Super Duty F-250, F-350, F-450, and F-550 diesel and gas models. Due to advancements in transmission technology, the ZF6 transmission was deprecated in 2010 in favor of modern heavy-duty truck transmissions.
How much does a ZF6 transmission weigh?
ZF6 transmissions weigh approximately 235-285 lbs as "dry weight" with no fluid and without the transmission's transfer case. Including the transfer case in the weight will bring it up in weight significantly, depending on the model of the transfer case used.
ZF6 History & Information
The ZF S6-650 6-speed manual transmission is manufactured by the German car parts maker known as ZF Group or ZF Friedrichshafen AG. The ZF6 transmission is the immediate successor to the ZF5 manual transmission which it replaced in 1996. Designed for longitudinal engines, the ZF6 is rated for up to 520 ft-lb of torque, making it an excellent choice for certain truck models.
The ZF6 was traditionally intended to be used as a heavy-duty manual transmission for vehicles such as diesel pickup trucks. Unlike most manual transmissions, the ZF6 utilized an external transmission cooler as well as an integrated oil pump for bearing protection and lubrication.
Over time, the ZF6 transmission tended to operate quietly, with smooth shifting, and positive gear engagement without any re-occurring issues or problems.
It was first introduced for 1999 vehicle models by Ford in their Super Duty trucks. General Motors (GM) also began using the ZF S6-650 in the year 2001 and made some modifications to their transmission's design with slight differences from Ford's ZF S6-650 version. The 6-speed ZF6 transmission was used in junction with a few different transfer cases including but not limited to the NV120, NV261XHD, NV271, and NV273F.
Due to a decrease in consumer demand for manual transmissions in heavy-duty pick-ups and advancements in the technology accompanying automatic transmissions, Ford and GM stopped using the ZF6 transmission in their pick-up trucks in 2010.
Throughout its history, the ZF6 transmission was used in:
Since the ZF6 6-speed manual transmission could be used for either RWD or 4WD applications, it was used in both variations of truck models by Ford and GM.
Overall, the ZF S6-650 was an excellent heavy-duty transmission for consumer pickup trucks without any factory defects or known reoccurring issues, making it a great choice for Ford or GM trucks from the years 1999 up to 2010.
If you have a ZF6 transmission that needs rebuilding or need a transmission swap on one of your vehicles, we can help!
Flat Rate Shipping (Commercial address)
Excellent Customer Support
Up to 5 Years Unlimited Miles Warranty
No Core Charge for 30 Days
Speak With A Specialist Now
Habla con un especialista ahora
ZF6 Transmission Compatibility Chart
MAKE
MODEL
START YEAR
END YEAR
GMC
Sierra 2500
2001
2006
GMC
Sierra 3500
2001
2006
Chevrolet
Silverado 2500
2001
2006
Ford
F-250
1999
2010
Ford
F-350
1999
2010
Ford
F-450
1999
2010
Ford
F-550
1999
2010
Flat Rate Shipping (Commercial address)
Excellent Customer Support
Up to 5 Years Unlimited Miles Warranty
No Core Charge for 30 Days
Speak With A Specialist Now
Habla con un especialista ahora