Flat Rate Shipping (Commercial address)
Up to 5 Years Unlimited Mile Warranty
Excellent Customer Support
No Core Charge for 30 Days
About Our Remanufactured NP241-NV241 Transfer Case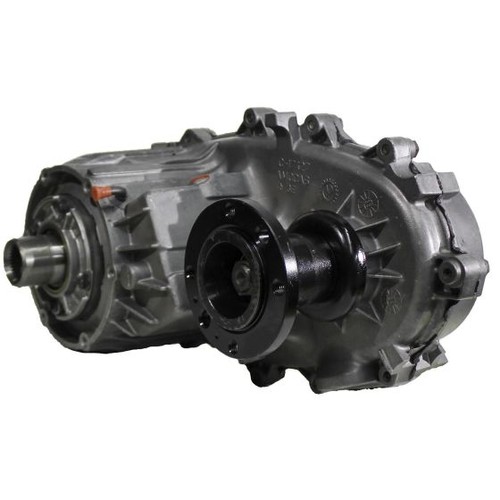 Make Reman-Transmission your #1 source for quality remanufactured transfer cases. We offer the NP241 transfer case for sale and the NV241 transfer case in our extensive inventory, along with an assortment of other transfer cases for both domestic and import makes and models. Our smart search tools rely on the Hollander Interchange, ensuring that you'll find the right transfer case for your vehicle without breaking a sweat. You'll also find cheap prices on our remanufactured transfer cases, along with free and affordable shipping options and a robust warranty. If you're looking for an NP241OR for sale, we have you covered.
We've built our reputation are offering the most robust and reliable remanufactured transfer cases on the market. Our remanufacturing process is second to none, producing high-quality remanufactured transfer cases whose durability and reliability surpass that of their factory counterparts.
Every NP241 and NV241 transfer case we receive undergoes a complete teardown and comprehensive inspection. Our professional team of engineers and mechanics does more than just rebuild our transfer cases. A typical rebuild calls for replacing only the components that faced wear and tear. Reman-Transmission goes a step further by replacing every single component with new parts that meet or exceed OEM specs or parts that are machined to an exacting fit and finish.
Not only do we build our remanufactured transfer cases to surpass factory examples, but also make sure our transfer cases are free of any manufacturing defects. Our remanufacturing process corrects all known flaws and defects, ensuring a greater level of reliability and longevity OEM transfer cases lack. We proudly stand behind each and every transfer case we remanufacture, as proven by our up to 3-year/unlimited mileage warranty.
We know you have that project swap and other builds you need to tackle ASAP, which is why we also offer fast and free shipping to commercial addresses in the United States. We also offer $75 shipping to residential addresses for our DIY customers.
Instead of wondering where you can find a used, refurbished, or rebuilt NP241J, NV241J, or NP 241 DLD transfer case near me, go with a robust remanufactured transfer case from the experts at Reman-Transmission. Browse our online catalog or give us a call and get in touch with our Product Support team today.
Flat Rate Shipping (Commercial address)
Excellent Customer Support
Up to 5 Years Unlimited Miles Warranty
No Core Charge for 30 Days
NP241-NV241 Frequently Asked Questions
Is the NP241 transfer case any good?
Overall, the NP241 is a solid and reliable transfer case that can tackle a variety of high-power and off-road applications. Our np241 transfer case for sale is remanufactured to meet OEM spec, not to mention it's already had all of its factory flaws corrected for improved longevity and reliability.
Who makes the NP241 transfer case?
New Process Gear produced the NP241 transfer case from 1989 to 2000 for Dodge and GM applications. After GM and Chrysler formed the joint venture known as New Venture Gear, the NP241's original designation changed to the NV241 to reflect the new company's naming conventions.
How much horsepower can an NP241 handle?
In stock form, the NP 241 transfer case can handle upwards of 1,500 horsepower, making it an ideal transfer case for high-power builds. Our remanufactured transfer cases feature new and re-machined components, making them more reliable than even brand-new factory NP241 transfer cases.
What fluid goes in an NP241 transfer case?
The recommended fluid type for the NP241 transfer case is Dextron III or higher automatic transmission fluid. If the transfer case fluid level is low, then it's a good idea to check the transfer case for any wear or damage that could result in leaks.
NP241-NV241 History & Information
The NP241 transfer case, later known as the NV241 transfer case, was produced by New Process Gear and later New Venture Gear from 1989 until 2012. NP241 and NV241 are both chain-driven units designed for part-time 4WD operation. Both transfer cases feature a cast aluminum casing and both come in slip yoke and fixed yoke models.
New Process Gear and New Venture Gear made the NP241 and NV241 transfer cases for use in Dodge and Jeep vehicles, as well as for use in General Motors full-size pickup trucks and SUVs. As a result, there are plenty of subtle differences between the transfer cases used for Chevrolet and GMC vehicles and those used for Dodge and Jeep vehicles. For instance, GM applications utilized a 27-spline or 32-spline input shaft, whereas units used on heavy-duty Dodge pickup trucks featured a 29-spline input shaft.
The "NP241C" designation denotes a 241 transfer case that was made for use in General Motors vehicles, whereas the "NP241J" designation is used for transfer cases made specifically for Jeep models like the Wrangler. The General Motors vehicles that this transfer case came in were the Chevrolet K1500, Chevrolet K1500 Suburban, Chevrolet Blazer, Chevrolet K2500, Chevrolet Suburban K2500, Chevrolet K3500, Chevrolet K3500 Suburban, GMC Jimmy, GMC K1500, GMC K1500 Suburban, GMC K2500, GMC K2500 Suburban, GMC K3500, GMC K3500 Suburban, Chevrolet Tahoe, and the GMC Yukon. It was used in transmissions like the THM 700-R4, 4L60E, THM 400, 4L80E, and NSG370.
The NV241OR transfer case, also known as the Rock-Trac or Rubicon transfer case model, features a low range option with 4:1 reduction, compared to the standard 2.72:1 reduction found in other transfer cases. The NP241D is the version used by Dodge and it came in 3 variants including the regular 241D, the "light-duty" NP241D LD, and the "heavy-duty" NP241D HD. The Dodge versions of this transfer case were used in the Dodge Ram 1500, Dodge Ram 2500, and Dodge Ram 3500 trucks.
Anyone looking at an np241 transfer case for sale should be wary of the model destinations used for General Motors, Dodge, and Jeep applications, since certain transfer cases may not be compatible with certain applications. For instance, the NV241OR has its own distinctive transfer case shape in order the house larger planetary gears, as well as a 23-spline input gear shaft and various other modifications. These changes may make it difficult to retrofit this transfer case into other applications.
It's also worth noting that the Dodge and Jeep versions of the NP241 and NV241 are interchangeable, whereas the versions made for General Motors lack such interchangeability.
Flat Rate Shipping (Commercial address)
Excellent Customer Support
Up to 5 Years Unlimited Miles Warranty
No Core Charge for 30 Days
Speak With A Specialist Now
Habla con un especialista ahora
NP241-NV241 Transfer Case Compatibility Chart
MAKE
MODEL
START YEAR
END YEAR
Chevrolet
Blazer
1988
1994
GMC
Jimmy
1988
1994
Chevrolet
K1500
1989
1999
GMC
K1500
1989
1999
Chevrolet
K1500 Suburban
1992
1999
GMC
K1500 Suburban
1993
1999
Chevrolet
K2500
1988
2000
GMC
K2500
1988
2000
Chevrolet
K2500 Suburban
1992
1999
GMC
K2500 Suburban
1992
1999
Chevrolet
K3500
1988
1993
GMC
K3500
1988
1994
Dodge
Ram 1500
2002
2005
Dodge
Ram 2500
1994
2003
Dodge
Ram 3500
1994
2003
Chevrolet
Tahoe
1995
1999
Jeep
Wrangler
2007
2014
GMC
Yukon
1992
1997
Flat Rate Shipping (Commercial address)
Excellent Customer Support
Up to 5 Years Unlimited Miles Warranty
No Core Charge for 30 Days
Speak With A Specialist Now
Habla con un especialista ahora