Flat Rate Shipping
Up to 5 Years Unlimited Mile Warranty
Excellent Customer Support
No Core Charge for 30 Days
About Our Remanufactured NP271-NV271 Transfer Case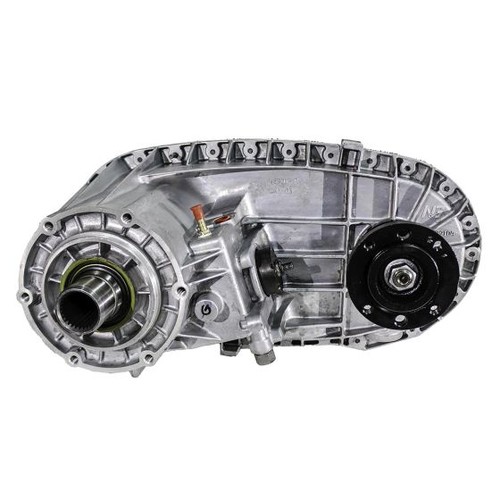 NP271 transfer cases are essential for heavy-duty vehicle applications, and we can offer you some of the best online. With our remanufacturing process, you'll find that every last component within the case is rebuilt or completely new. Plus, as part of our remanufacturing process, we take care of any existing original manufacturer defects.
When you opt for an NP271 transfer case rebuild elsewhere, you'll find that they will fix broken parts and little else. In contrast, we replace each and every part to ensure that every last component not only works well individually but that they all work well together. This commitment to quality means you can use our NP271 transfer cases with confidence and know that you're getting the quality you deserve when it comes to your auto parts.
NV271 transfer cases from us are guaranteed to meet OEM specifications at the minimum. We view original equipment manufacturer specifications as a baseline standard for all our work, with anything less being unworthy of consideration. In many cases, however, you'll find that our replacement parts actually perform better than a factory transfer case, which is especially true if the factory transfer case has known fault points.
When you buy an NP271f transfer case from us, you can enjoy the added bonus of up to a three-year/ unlimited mileage warranty. Plus, shipping to any commercial address in the United States is entirely free. If you're shipping to a residential address, it's only $75 making it easier than ever to find an answer for, "quality parts near me."
Getting a hold of one of our quality transfer cases is easier than ever before, as we offer some of the most affordable cases in the entire industry. You can even find a cheap used NV271 transfer case for sale, though we always guarantee that they're just as reliable as a brand-new one if not more reliable. Don't hesitate to take advantage of this quality commitment to getting the reliable performance you deserve.
Flat Rate Shipping
Excellent Customer Support
Up to 5 Years Unlimited Miles Warranty
No Core Charge for 30 Days
NP271-NV271 Frequently Asked Questions
What is an NP271 transfer case?
An NP271 transfer case is a transfer case common with heavy-duty light truck applications, such as the Ford F-Series above the 150. It's made with an aluminum casing and uses a six-pinion planetary gear set for lightweight efficiency.
How much does the NP271 weigh?
The NP271 transfer case weighs approximately 120 pounds. This is a notable change from older transfer cases, which reached weights of 138 pounds at their most efficient. The reduction in weight with the NP271 is largely due to its aluminum casing, which is lighter than cast iron.
What fluid goes in an NP271?
When you opt for an NP271 transfer case for sale, you'll want to use automatic transmission fluid or ATF. Synthetic ATF+4 tends to be especially useful not only for giving the transfer case the fluid it needs to function, but also to ensure its longevity for the foreseeable future.
What is the difference between a 271 and a 273 transfer case?
A 271 transfer case and 273 transfer case are remarkably similar, but there are some key differences. The 273 uses an electronic shift motor, while the 271 utilizes a manual floor-mounted shift lever. The 273 also has a synchro ring. Still, many of the parts are interchangeable.
NP271-NV271 History & Information
The NP271 transfer case was originally developed and designed by New Venture Gear, which was specifically a transmission company for light trucks that was created by General Motors and Chrysler working together. Four-wheel drive vehicles have been a staple of the automotive industry for a long time, but it wasn't until New Venture Gear crafted the NV271f transfer case that 4x4 vehicles were made reasonably quiet and fuel-efficient in Ford vehicles. New Venture also made the NV271D for Dodge vehicles.
In the past, transfer cases were more often than not made from iron and primarily gear-driven, going all-in on maximizing strength and power as much as possible. The NP271 takes a different approach. Instead of iron and gears, it utilizes an aluminum casing and chain-driven operation with varying sizes of planetary gears being used, though the size can cause some size differences within. Aluminum is lightweight, and the chain system is remarkably efficient, so it's less of a struggle for light trucks to run with them. That, in turn, leads to better mileage and less noise as you drive. That's just the beginning of the benefits, however, as these transfer cases do far more than limit the noise and how often you need gas.
The NP271 transfer case was used alongside the 68RFE, 4R100, and ZF5 transmissions. All 3 of those transmissions are heavy-duty truck transmissions that came from automakers like Ford and Dodge in the Ram 2500, Ram 3500, F250, F350, F450, and F550 trucks which also had the NP271 transfer case if 4x4 capable.
When you compare these cases to older transfer cases common in 1-ton trucks before the late '90s, you'll see outright performance increases. The torque capacity is significantly higher, and there's a better low-range gear ratio. There's a reason the NP271 has become the standard in all light-duty trucks after its advent, which makes an NV271 transfer case rebuild a perfect option.
While New Venture Gear has not been in operation since 2012, the power and utility of their transfer cases still reign supreme in a variety of light truck applications. When you work with us, you can use that power yourself and get the most out of your vehicle's transmission. Quality is guaranteed to at least meet manufacturer quality — unless we can exceed it.
Flat Rate Shipping
Excellent Customer Support
Up to 5 Years Unlimited Miles Warranty
No Core Charge for 30 Days
Speak With A Specialist Now
Habla con un especialista ahora
NP271-NV271 Transfer Case Compatibility Chart
MAKE
MODEL
START YEAR
END YEAR
Dodge
Ram 2500
2003
2014
Dodge
Ram 3500
2003
2012
Dodge
Ram 4500
2008
2011
Dodge
Ram 5500
2008
2012
Ford
F250
1999
2012
Ford
F350
1999
2010
Ford
F450
1999
2010
Ford
F550
1999
2010
Flat Rate Shipping
Excellent Customer Support
Up to 5 Years Unlimited Miles Warranty
No Core Charge for 30 Days
Speak With A Specialist Now
Habla con un especialista ahora