Flat Rate Shipping
Up to 5 Years Unlimited Mile Warranty
Excellent Customer Support
No Core Charge for 30 Days
About Our Remanufactured NP149-NV149 Transfer Case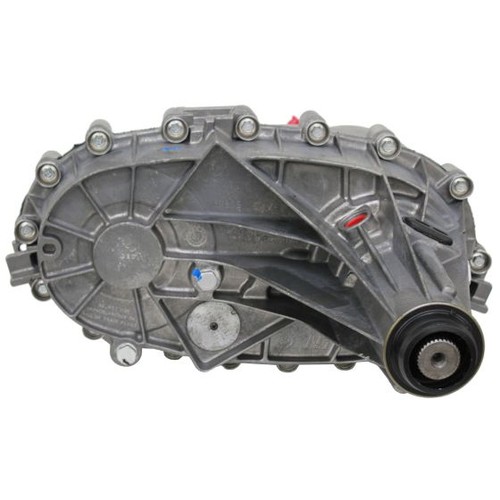 If you're looking for an NP149 transfer case for sale or an NV149 AWD transfer case near me, start with the experts at Reman-Transmission. With our extensive inventory and smart search tools connected to the Hollander Interchange, finding the right transfer case for your vehicle is easier than ever. We pride ourselves on offering high-quality remanufactured transfer cases that exceed the durability and reliability of even brand-new factory transfer cases. It all comes down to our comprehensive remanufacturing process which specializes in our attention to quality and details.
Our remanufacturing process goes beyond and above the typical NV149 or NP149 transfer case rebuild. Every transfer case that comes through our facility undergoes a complete teardown and thorough inspection. We replace every single component inside the transfer case with brand-new parts or parts that have been re-machined to OEM specs. Our process also corrects any known manufacturer defects, ensuring that all potential fault points are mitigated before they can affect your transfer case in any way.
Unlike a typical transfer case rebuild that only focuses on replacing broken parts, our process ensures that you end up with a transfer case that not only performs to spec but is also more robust and longer-lasting than even brand-new OEM transfer cases. To prove where we stand when it comes to our remanufactured transfer cases, all are backed by an up to 3-year/unlimited mileage warranty.
With our fast and free shipping to any commercial address in the United States, you won't have to wait long or break your budget to get your New Venture 149 transfer case. We can also ship to residential addresses for a $75 fee.
Reman-Transmission is the industry leader for remanufactured transmissions and transfer cases. Browse our online catalog or give us a call and let our Product Support team help you find the NV149 or NP149 transfer case for your vehicle.
Flat Rate Shipping
Excellent Customer Support
Up to 5 Years Unlimited Miles Warranty
No Core Charge for 30 Days
Our NP149-NV149 Transfer Case Upgrades
All remanufactured transfer cases are processed as individual units, from teardown to testing.
Internal parts are carefully inspected, including chain stretch.
New seals and certified spec bearings are included.
Case halves are thoroughly inspected for cracks, wear, and stripped threads.
All remanufactured transfer cases are completely tested for performance, including torque testing and viscous clutches.
All remanufactured transfer cases are backed by the industry's best, no-hassle nationwide warranty.
NP149-NV149 Frequently Asked Questions
What did the NP149 come in?
The NP149 transfer case was used in General Motors' full-size pickup trucks and full-size SUVs from 2000 to 2005. The NP149 and later NV149 were used mainly for Chevrolet and GMC full-size pickups, as well as Cadillac's line of full-size SUVs.
How strong is an NP149 / NV149 transfer case?
According to New Venture Gear, the NV149 AWD transfer case is rated at a maximum capacity torque of 2,203 pound-feet. The identical NP149 transfer case likely features the same torque rating. In practice, tuners and enthusiasts regularly use both transfer cases in high-horsepower applications.
What's the difference between an NP149 and NV149?
The only difference between the NP149 and NV149 is the naming convention. The "NP" stands for "New Process" while "NV" stands for "New Venture Gear." Both transfer cases are identical in appearance and design to each other and operate in the same fashion.
How does the GM AWD NP149 transfer case work?
The np 149 gm transfer case sends power to the front and rear axles using a pair of output shafts connected to each driveshaft. An internal differential within the transfer case allows the AWD system to remain active at all times, allowing it to be used on dry pavement.
NP149-NV149 History & Information
The NP149 and NV149 transfer cases were produced by New Process Gear and later New Venture Gear from 2000 to 2005. Both transfer cases are chain-driven single-speed, single-mode models designed to provide full-time all-wheel drive operation. Both also have their components contained within a magnesium housing, which makes it important to use the correct fasteners and brackets to avoid galvanic corrosion.
The New Venture 149 transfer case was mostly used for General Motors vehicle applications like the Cadillac Escalade ESV, Cadillac Escalade EXT, Chevrolet Silverado 1500, Chevrolet Suburban 1500, GMC Sierra 1500, GMC Yukon 1500, and GMC Yukon 1500 XL from 2001 until 2006. Furthermore, it should be noted that this transfer case was only ever paired with the 4L60E and 4L65E transmissions even though it can be fitted to other transmissions with modifications.
The NP149 and NV149 feature a planetary gear set within the transfer case. This gear set splits the torque between the front and rear wheels, with 38 percent of the torque delivered to the front wheels and 62 percent to the rear wheels under normal operation. When either front or rear wheels slip, the viscous coupling and differential work together to send more power to the wheels that still have traction. Up to 100 percent of torque can be shifted to the front or rear wheels when needed.
The NP149 and NV149 transfer cases are relatively robust in their stock form, with plenty of room for high horsepower and high torque. The high maximum capacity torque of both transfer cases makes them ideal for high-performance applications that also call for AWD. The viscous coupling is a non-serviceable part, but it can be replaced separately from the transfer case if need be.
The best way to identify an NP149 or NV149 transfer case is by locating the round red and silver identification tag located at the rear of the transfer case housing. You may also be able to identify either transfer case via the Vehicle Identification Number or VIN on your vehicle's driver-side windshield.
Flat Rate Shipping
Excellent Customer Support
Up to 5 Years Unlimited Miles Warranty
No Core Charge for 30 Days
Speak With A Specialist Now
Habla con un especialista ahora
NP149-NV149 Transfer Case Compatibility Chart
MAKE
MODEL
START YEAR
END YEAR
Cadillac
Escalade
2002
2006
Cadillac
Escalade ESV
2003
2005
Cadillac
Escalade EXT
2002
2006
Chevrolet
Silverado 1500
2003
2007
Chevrolet
Suburban 1500
2006
2006
GMC
Sierra
2001
2006
GMC
Sierra 1500 Classic
2007
2007
GMC
Yukon
2001
2006
GMC
Yukon XL 1500
2001
2006
Flat Rate Shipping
Excellent Customer Support
Up to 5 Years Unlimited Miles Warranty
No Core Charge for 30 Days
Speak With A Specialist Now
Habla con un especialista ahora