Flat Rate Shipping (Commercial address)
Up to 5 Years Unlimited Mile Warranty
Excellent Customer Support
No Core Charge for 30 Days
Remanufactured Cummins Transmission Price
Price
Shipping
Core and Fee
Upfront Cost
Warranty

$2284
$270
None
$2554
5 Year
$2628
In Store
$1262
$3890
3 Year
*Core: Waived for 30 Days
*Shipping: We offer Flat Rate Shipping (Commercial address)
*Logos are the property of their respective owners
Why Chose Reman-Transmission.com
| | Reman Transmission | Other Vendors |
| --- | --- | --- |
| Transparent Pricing | Check | x |
| Best Price Guarantee | Check | x |
| Flat Rate Shipping (Commercial address) | Check | x |
| Up to 5 Years Unlimited Mile Warranty | Check | x |
| Torque Convertor Included | Check | x |
| No Core Charge for 30 Days | Check | x |
| Free Shippng on Core Return | Check | x |
Why Chose Reman-Transmission.com
| Question to Ask | Reman Transmission | Other Vendors |
| --- | --- | --- |
| Is shipping free? | We offer Flat Rate Shipping (Commercial address) | Additional or Store Pickup |
| Who pays for Core Return? | We Do | You Do (Store Drop off) |
| Do I pay for Core today? | No, we waive Core Charge for 30 days* | Yes, but will be refunded when shipped back |
| Is torque convertor included? | Always! | Not included |
| What is the warranty? | Up to 5 years/Unlimited miles | Up to 3 years/Unlimited miles |
| Best Price Guarantee? | Yes! (for comparable conditions only) | They Don't |
About Our Remanufactured Cummins Transmission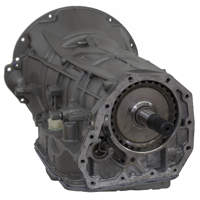 The benefits of buying a remanufactured Cummins transmission from Reman-Transmission include the assurance of an equal or greater quality of transmission in comparison to the newly built unit directly from Cummins.
If you need a used Cummins transmission, we provide the industry's best-priced options. Every used transmission we sell is thoroughly inspected and confirmed to be in proper operating condition.
If you decide that a remanufactured Cummins transmission makes the best sense for your purposes overall, we deliver a fully remade transmission with every internal part replaced by a new or re-machined component. All of our remanufactured transmissions meet or exceed the original equipment manufacturer's (OEM) specifications.
We also correct all known factory defects in the remanufactured product. That means that, frequently, our remanufactured transmissions are better quality than a new transmission directly from the factory.
Choosing a remanufactured Cummins transmission gives you the increased strength, long-term durability, and reliability you need in your work truck. A Reman-Transmission Cummins transmission is built to last up to 200,000 miles but they may perform well for much longer.
A major advantage of a remanufactured Cummins transmission is that it costs much less than a brand-new one. Plus, often a new one does not match the long-term performance of a top-quality remanufactured transmission. Reman-Transmission provides free shipping of your remanufactured Cummins transmission.
The warranty for a Reman-Transmission remanufactured Cummins transmission is 36 months with unlimited mileage. There is no core charge for the first 30 days. Our warranty for a used Cummins transmission is 6 months or 6,000 miles. Our shipping charge for a Cummins transmission is just $270.
Even with the Eaton Cummins reputation for reliable heavy-duty transmissions and the company's exceptional service commitment, eventually, work-truck owners may need to look to replace the transmission on an out-of-warranty Ram or another vehicle. That's when a top-quality remanufactured Cummins transmission becomes the best value alternative among the replacement options. At that point, a leading remanufacturer like Reman-Transmission can provide a better replacement than the original.
When it's time to replace your Cummins transmission, gather the basic information you will need to understand your options. Make sure you're clear on the comparative value of buying a new, remanufactured, rebuilt, or used Cummins transmission. Reman-Transmission provides the industry's best quality of remanufactured Cummins transmissions at the most affordable prices on the market today.
Flat Rate Shipping (Commercial address)
Excellent Customer Support
Up to 5 Years Unlimited Miles Warranty
No Core Charge for 30 Days
Cummins Frequently Asked Questions
What transmissions came behind a Cummins diesel engine?
The 47RE was put in service in 2003 behind the standard-output Cummins, which accommodated 235 hp and 460 lb per ft of torque. During that time, the 47RE, NV4500 manual 5-speed was also put into use. Behind the high-output Cummins came the 48RE and the NV5600 manual 6-speed in the Dodge Ram.
How to identify which transmission is paired with your Cummins?
To identify your transmission, look for a clutch pedal. If there's no clutch pedal, your vehicle has an automatic transmission. Look under the hood for transmission information posted on a plate near the transmission fluid container. Then, see your auto owner's manual for transmission information.
How much does it cost to replace a Cummins transmission?
A rebuilt Cummins transmission cost can be as high as $5,000 with stock parts and up to $8,000 with upgrades, based on the HP and torque of the truck engine and other factors. A remanufactured Cummins typically provides a better value, because all the parts are replaced.
Cummins History & Information
Many people erroneously assume that Cummins transmissions are made by Chrysler, but Cummins Turbo Technologies is a different company. Cummins builds and sells its own line of high-end natural gas and diesel truck engines. Cummins transmissions, as explained, are actually products of the partnership between Eaton and Cummins, Inc. (2017) transmission company. Eaton Cummins manufactures the industry's leading automatic transmissions for heavy-duty commercial trucks.
The Cummins 47RE automatic transmission and later the 48RE has been installed in the powerful Dodge Ram 2500 and 3500 series pickup trucks. The historical Cummins transmission models production timeline is:
1994 to 1996: Cummins 47RH
1996 to 2003: Cummins 47RE
2003 to 2007: Cummins 48RE
2007 to today: Cummins 68RFE
Of course, different transmission models are used in Ram 2500 and Ram 3500 trucks with various Cummins engine sizes. For example, the 5.9 Cummins transmission is the 48RE automatic transmission. That is the transmission for 5.9 Cummins engines in 2005 to 2007 Dodge 2500 and 3500 2WD and 4WD models. The 6.7 Cummins transmission is the 68RFE. However, 6.7 Cummins transmission options also include the Aisin brand for that 6.7L engine size.
In the late 1990s, production of the 4-speed, rear-wheel-drive, electronically controlled 47RE Dodge Cummins Transmission succeeded the hydraulically-controlled 47RH. (The 47RE was actually hydraulically controlled in its three lower gears.) Both are designed to handle up to 700 ft-lbs of torque. The 47RE is very similar to the 727 Torqueflite but features an overdrive as well as a lockup torque converter.
In the early 2000s, the Cummins 47RE transmission was replaced by the 48RE, which is approximately the same design as the 47RE but with stronger, more durable internal parts.
There have been multiple transmissions used in Dodge Rams over the decades, primarily the Chrysler (TorqueFlite), New Venture Gear, and Cummins. The latter have included the Cummins automatic transmission models 47RH, 47RE, 48RE, and 68RFE as well as manual-shift models G56 and NV5600.
When your current Cummins transmission has exceeded its useful life, you should consider what you can expect to get for the cost of a rebuilt vs. a remanufactured Cummins transmission. A rebuilt transmission involves merely replacing defective and worn-out components with new parts. But, that is a fundamentally problematic concept in transmission replacement. That approach leads to uneven degrees of wear on the transmission parts after the rebuilding, which invites malfunctioning and a significantly shortened lifespan.
Compare that predictable outcome of rebuilding to the superior functionality and longevity of a high-quality fully remanufactured transmission. This contrast makes it clear enough that the difference in the quality and amount of work to restore a transmission is why rebuilds are cheaper.
Reman-Transmissions offers the whole range of remanufactured Cummins manual transmission options as well as the brand's famous commercial automatic transmissions. We test and inspect every part to ensure it meets or exceeds the OEM specifications. This extensive quality assurance process validates the quality of Reman-Transmissions remanufactured Cummins and helps us make sure that your Cummins component can last longer than the original transmission.
If you have determined that a remanufactured Cummins transmission makes the most sense for your needs, call Reman-Transmission at (888) 242-2605, or contact us online today.
Flat Rate Shipping (Commercial address)
Excellent Customer Support
Up to 5 Years Unlimited Miles Warranty
No Core Charge for 30 Days
Speak With A Specialist Now
Habla con un especialista ahora
Cummins Transmission Compatibility Chart
MAKE
MODEL
START YEAR
END YEAR
Dodge
Ram 2500
1994
2020
Dodge
Ram 3500
1994
2020
Flat Rate Shipping (Commercial address)
Excellent Customer Support
Up to 5 Years Unlimited Miles Warranty
No Core Charge for 30 Days
Speak With A Specialist Now
Habla con un especialista ahora