Flat Rate Shipping (Commercial address)
Up to 5 Years Unlimited Mile Warranty
Excellent Customer Support
No Core Charge for 30 Days
Remanufactured 47RE Transmission Price
Alternative Name: 618, A618, 47RH
Price
Shipping
Core and Fee
Upfront Cost
Warranty

$2259
270
None
$2539
5 Year

$2296
In Store
$230
$3526
3 Year

$2319
In Store
$231
$3550
3 Year

$2295
In Store
$230
$3525
3 Year
*Core: Waived for 30 Days
*Shipping: We offer Flat Rate Shipping (Commercial address)
*Logos are the property of their respective owners
Why Chose Reman-Transmission.com
| | Reman Transmission | Other Vendors |
| --- | --- | --- |
| Transparent Pricing | Check | x |
| Best Price Guarantee | Check | x |
| Flat Rate Shipping (Commercial address) | Check | x |
| Up to 5 Years Unlimited Mile Warranty | Check | x |
| Torque Convertor Included | Check | x |
| No Core Charge for 30 Days | Check | x |
| Free Shippng on Core Return | Check | x |
Why Chose Reman-Transmission.com
| Question to Ask | Reman Transmission | Other Vendors |
| --- | --- | --- |
| Is shipping free? | We offer Flat Rate Shipping (Commercial address) | Additional or Store Pickup |
| Who pays for Core Return? | We Do | You Do (Store Drop off) |
| Do I pay for Core today? | No, we waive Core Charge for 30 days* | Yes, but will be refunded when shipped back |
| Is torque convertor included? | Always! | Not included |
| What is the warranty? | Up to 5 years/Unlimited miles | Up to 3 years/Unlimited miles |
| Best Price Guarantee? | Yes! (for comparable conditions only) | They Don't |
About Our Remanufactured 47RE Transmission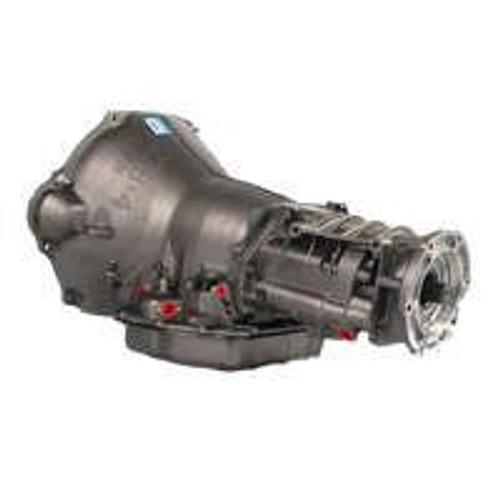 If you are looking for a rebuilt 47RE transmission, you should instead consider going with a remanufactured 47RE transmission. Even though rebuilding a transmission replaces all defective parts with new ones in the rebuild during the repair process, this can create unequal wear and tear on different parts throughout the rebuilt transmission. That is why we offer a smarter transmission replacement option, the remanufactured transmission. A remanufactured transmission means that every part is replaced with new or re-machined components, including every single part in the transmission assembly housing. Therefore, you will have the dependability and strength you need, allowing your 47RE transmission to last for 200,000 miles or more, assuming that proper maintenance is kept up to date. Here at Reman-Transmission, we pride ourselves on helping you find the best transmission for sale, including the CommandFlite and TorqueFlite models.
When you partner with us, we always place the needs of our clients ahead of our own. We inspect, clean, and rebuild the entire transmission from the inside out until it meets or exceeds every single specification set by the original equipment manufacturer (OEM). An automotive professional from our team will test the performance of every part to make sure it works with the powertrain so we can provide you with the best possible end product. We will provide you with a quote on your reconditioned, refurbished, or remanufactured transmission for your new or used truck, ensuring that you have a rock solid compatible transmission when you hit the street.
Finally, a remanufactured transmission will cost less than a brand new one. We also offer free shipping to your commercial address in the United States, an unlimited mileage warranty of up to five years, exceptional customer support, and no swap core charge for up to 30 days. With access to manual and automatic transmissions from import and domestic manufacturers, we will make sure you end up with the highest quality remanufactured transmission you deserve. Whether you are looking to buy a "transmission replacement near me" for an American car or an import, contact one of our team members at Reman-Transmission today and ask to see our complete transmission catalog! Drop in and see why we are the leading option in the industry in our zone!
47RE Transmission Remanufacturing Process
Flat Rate Shipping (Commercial address)
Excellent Customer Support
Up to 5 Years Unlimited Miles Warranty
No Core Charge for 30 Days
Our 47RE Transmission Upgrades
Fully remanufactured valve body includes updated throttle valve, manual valve, 4-spool switch valve, and pressure regulator valve for improved shifting, lubrication, and performance.
Modified valve body allows torque converter charge in park to increase durability and enhance gear engagements.
Fully remanufactured torque converter is tested for leaks, lockup, concentricity, and balance. Upgrades exceed OE requirements and eliminate the possibility of front seal leaks, premature bushing wear, and vibration. Diesel and heavy-duty gasoline applications include new lock-up lining.
Completely remanufactured pump provides consistent internal pressures, eliminating slippage and delayed engagement.
Bushings and machined surfaces polished to a mirror-like OE finish of 16 RA or less.
Updated High-Reverse 4-plate clutch on gasoline and diesel applications
Oversized Low/Reverse brake band strut maintains correct band clearance to eliminate drum slippage and No-Reverse condition.
Overdrive (OD) planetary assembly upgraded to a 5-pinion unit for increased durability.
Overdrive (OD) direct clutch updated to 10-plate clutch with new thrust plate for increased durability.
Overdrive (OD) clutch updated to 4-plate clutch on gasoline applications and 5-plate clutch on diesel applications for increased durability.
Custom-machined output shaft to fit both late-and early style driveshaft yokes.
New external fluid cooler provided to improve cooling and prevent fluid contamination.
All-new custom-spec bushings improve internal fluid flow control and pressures.
Every transmission is cold-and hot-tested using a proprietary dynamometer testing program that includes fully synthetic automatic transmission fluid and a filtration system.
47RE Frequently Asked Questions
Is the 47RE a good transmission?
Yes, the 47RE transmission is a great transmission that was produced for years. If you are looking for a 47RE replacement, a remanufactured 47RE transmission has all factory defects mended and all components tested thoroughly, ensuring they meet or exceed all OEM specifications.
How much HP can a stock 47RE handle?
A stock 47RE transmission can handle approximately up to 250 PSI or fluid pressure and more than 1,200 horsepower output, depending on circumstances. If you have concerns about the horsepower your 47RE transmission can handle, you should go with a remanufactured 47RE transmission instead of a used or rebuilt one.
What is the difference between a 47RE and a 47RH?
The biggest difference between these two transmissions is the governor pressure control. Both transmissions have an electronically-controlled overdrive unit. On the other hand, the governor pressure on the RH transmission is controlled hydraulically. In contrast, the pressure on the RE is electronically controlled.
How many gears are in a 47RE?
There are five gears total in the 47RE transmission. There are three normal drive gears, one overdrive gear, and one reverse gear. If one of the gears in your 47RE transmission grinds or slips you should invest in a remanufactured 47RE transmission.
47RE History & Information
The 47RE transmission is 4 Speed automatic transmission and was a collaboration between Chrysler and TorqueFlite transmissions. The original 47RE transmission as we know it today actually was first developed under the name A618, which was seen as a significant update to the cheap A519 or A518 and an upgrade over the 46RE. Unlike the 46RH or 47RH, which are controlled by hydraulics, this transmission is actually controlled electronically.
The top market for affordable 47RE transmissions involve vehicles that were expected to pull a heavy load. Vehicles that have a large payload need to have a transmission that can handle the force required. This includes Dodge Ram 2500, Dodge Ram 3500, and which may also benefit from the 48RE.
The 47RE transmission is simply a down-the-road descendant of the original A727 transmission. It just has an overdrive and some updated internal components: steel gears instead of aluminum, an increased number of clutch plates, and improved durability. When a transmission is combined with a Cummins 5.9L turbo-diesel or gasoline 8.0L V10 motor, the 47RE transmission performs well. The best 47RE transmission also has an internal torque rating of 450 pound-feet, which converts to approximately 610 newton-meters, such as the PowerFlite. The 47RE transmission has three drive gears, one overdrive gear, and one reverse gear. More often than not, if the 47RE transmission was installed in a 4x4 vehicle application, the transfer cases used were either an NP241DLD or NP242DHD. Both transfer cases came from the NP241 transfer case family.
Throughout the years, the 47RE transmission has remained consistent in its design. It does have some bells and whistles added to it depending on the model that it's in, such as an output shaft that has an overdrive setting that connects to the back of the standard 3-speed transmission. Another major update to the original design is added lubrication potential from the expansion of the available area for transmission fluid. This was added to allow the gears to stand up to the stress of heavy towing. With numerous valve body aftermarket kits and tweaks, the updated design now performs significantly better than the original, making the 47RE transmission one of the most reliable on the road today.
Flat Rate Shipping (Commercial address)
Excellent Customer Support
Up to 5 Years Unlimited Miles Warranty
No Core Charge for 30 Days
Speak With A Specialist Now
Habla con un especialista ahora
47RE Transmission Compatibility Chart
MAKE
MODEL
START YEAR
END YEAR
Dodge
Ram 2500
1996
2003
Dodge
Ram 3500
1994
2003
Flat Rate Shipping (Commercial address)
Excellent Customer Support
Up to 5 Years Unlimited Miles Warranty
No Core Charge for 30 Days
Diagnostic Codes for 47RE Transmission
DIAGNOSTIC CODES
DESCRIPTION OF PROBLEM
P0700
Transmission Control System (MIL Request)
P0711
Transmission Fluid Temperature Sensor Circuit Range/Performance
P0712
Transmission Fluid Temperature Sensor Circuit Low Input
P0713
Transmission Fluid Temperature Sensor Circuit High Input
P0720
Output Speed Sensor Circuit
P0740
Torque Converter Clutch Circuit Malfunction
P0743
Torque Converter Clutch Circuit Electrical
P0748
Pressure Control Solenoid 'A' Electrical
P0751
Shift Solenoid 'A' Performance or Stuck Off
P0765
Shift Solenoid 'D'
P0783
3-4 Shift
Speak With A Specialist Now
Habla con un especialista ahora