Flat Rate Shipping (Commercial address)
Up to 5 Years Unlimited Mile Warranty
Excellent Customer Support
No Core Charge for 30 Days
Remanufactured 6T75 Transmission Price
Price
Shipping
Core and Fee
Upfront Cost
Warranty
$2362
$270
None
$2632
5 Year
$2749
In Store
$1274
$4023
3 Year
$2749
In Store
$1274
$4023
3 Year
$2810
In Store
$1281
$4091
3 Years
*Core: Waived for 30 Days
*Shipping: We offer Flat Rate Shipping (Commercial address)
*Logos are the property of their respective owners
Why Chose Reman-Transmission.com
| | Reman Transmission | Other Vendors |
| --- | --- | --- |
| Transparent Pricing | Check | x |
| Best Price Guarantee | Check | x |
| Flat Rate Shipping (Commercial address) | Check | x |
| Up to 5 Years Unlimited Mile Warranty | Check | x |
| Torque Convertor Included | Check | x |
| No Core Charge for 30 Days | Check | x |
| Free Shippng on Core Return | Check | x |
Why Chose Reman-Transmission.com
| Question to Ask | Reman Transmission | Other Vendors |
| --- | --- | --- |
| Is shipping free? | We offer Flat Rate Shipping (Commercial address) | Additional or Store Pickup |
| Who pays for Core Return? | We Do | You Do (Store Drop off) |
| Do I pay for Core today? | No, we waive Core Charge for 30 days* | Yes, but will be refunded when shipped back |
| Is torque convertor included? | Always! | Not included |
| What is the warranty? | Up to 5 years/Unlimited miles | Up to 3 years/Unlimited miles |
| Best Price Guarantee? | Yes! (for comparable conditions only) | They Don't |
About Our Remanufactured 6T75 Transmission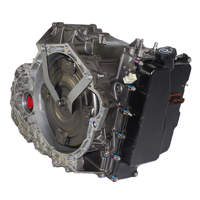 If you're looking for a 6T75 transmission upgrade, you know you need quality and value. Because transmissions are such significant parts of vehicles, your 6T75 transmission has to work right all the time. If it's starting to have problems, now is the time to replace it for continued vehicle operation and peace of mind. But you don't have to invest in a new 6T75 transmission or go through the stress of having your current one rebuilt. Instead, you can get a remanufactured 6T75 transmission instead.
When you need the highest quality 6T75 transmission at a great price, you can get it from Reman-Transmission. There are some great reasons to buy a 6T75 transmission from us. Here are just a few of them.
Having a transmission rebuilt includes finding defective and worn-out parts, and replacing them with new ones. However, that all too often creates problems with unequal wear in the transmission. Some of the parts are new, and some are older, so they don't, and can't, wear evenly. Instead, the newer parts may cause older parts to wear out even faster, leading to more problems.
In a remanufactured transmission, though, all the worn-out parts are replaced. That creates a pattern of more even wear, and you can expect your remanufactured 6T75 transmission to last, even up to 200,000 miles or more. That means you can enjoy dependability and strength for the long term, without worrying about the performance of your transmission. We go beyond rebuilds at Reman-Transmission and ensure the entire assembly is reconditioned. That brings the transmission up to or beyond OEM standards. All the used parts inside the bell housing are replaced with re-machined or new parts.
The remanufactured 6T75 transmission offers upgrades to the accumulator pistons, which will prevent premature failure of the clutch and reduce basic wear and tear. The TCC control, actuator feed limit valves, and regulator valves are also fully updated, and the remanufactured pump and high-energy clutch pack add to the value and benefits of a 6T75 transmission upgrade. Whether you're thinking about rebuilding your transmission or you're not sure whether to just buy a new one, choosing a remanufactured option can provide you with the best opportunity for quality and value.
By choosing a remanufactured 6T75 transmission you will save a considerable amount of money over purchasing a new one. Built correctly, your 6T75 transmission won't fail you, and you won't be worried about it down the road. We offer free shipping for your 6T75 transmission at Reman-Transmission, and a warranty of up to five years with unlimited mileage. You'll also experience outstanding levels of customer support when you look to us for a 6T75 transmission and no core charge for 30 days.
We offer many manual and automatic transmissions in stock, all remanufactured and ready for your needs. No matter which import or domestic manufacturer you're looking for, the chances are high that we have a transmission for you. Every part installed in our remanufactured transmissions has been tested and inspected, to make sure it meets or exceeds OEM standards. You can rely on our 6T75 transmission and other model options to outlast OEM crate transmissions, and you will get a professionally built transmission you can trust. Get in touch with us today at Reman-Transmission if you're looking for a 6T75 transmission for sale, or if you need any make or model of domestic or import replacement transmission.
Flat Rate Shipping (Commercial address)
Excellent Customer Support
Up to 5 Years Unlimited Miles Warranty
No Core Charge for 30 Days
6T75 Frequently Asked Questions
What is the 6T75 transmission?
The 6T75 transmission is a General Motors transmission created in 2006, designed to work with cars that have a transverse engine design, meaning an engine mounted with its crankshaft perpendicular instead of parallel to the vehicle's direction of travel.
What is the difference between 6T70 and 6T75?
The 6T70 has a lower torque capacity than the 6T75 and is rated for engines with less horsepower, as well. GM and Ford co-developed the style and design of these transmissions, with the 6T75 being a GM-coded and manufactured designation.
How much HP and torque can the 6T75 transmission handle?
The 6T75 transmission is rated for engines with up to 300 lb-ft of torque and 315 horsepower. This is marginally higher than the 6T70, but both transmissions have their strengths for their designated applications.
What type of transmission fluid, and what is the fluid capacity for the 6T75 transmission?
The 6T75 transmission takes DEXRON® VI fluid and has a capacity of approximately 9.0L. Using the right type and quantity of fluid is vital to the proper operation of this transmission.
6T75 History & Information
The 6T75 transmission is produced by General Motors, getting its start in 2006. It's a six-speed option used in front-wheel-drive vehicles that have a transverse powertrain. With a production code of M7V, this transmission is an in-house development for GM and part of the 6TXX transmission family. It was created to handle more power than the 6T70 transmission. This group is the successor to the 5TXX transmissions that were originally being used. The 6T75 transmission is more robust, though, and has a bigger capability than other transmissions from GM, including the 6T50, 6T45, 6T40, and 6T30 options. The M7X variant (as opposed to the M7V) is the all-wheel-drive version.
While the 6T75 code is exclusive to GM, the design of the transmission itself is not. It was actually a collaboration with Ford, where both companies invested in technology and worked together to create a new design that would revolutionize transaxle options at the time. A joint investment of $720 million went into the manufacturing plants of both companies, giving them the updated capacity they needed for success. The advances that helped create the 6T75 transmission optimized efficiency and fuel savings, all while delivering a smooth shifting experience and strong performance. The high ratio in first gear makes for brisk acceleration, and the sixth keeps engine revolutions low for fuel conservation and reduced friction in the engine while cruising at highway speeds.
The 6T75 transmission appeared in the Cadillac XTS, Buick Enclave, Chevrolet Equinox, Chevrolet Malibu, Chevrolet Traverse, GMC Acadia, Pontiac G6, Pontiac Torrent, Saturn Aura, Saturn Outlook, and Saturn Vue.
Flat Rate Shipping (Commercial address)
Excellent Customer Support
Up to 5 Years Unlimited Miles Warranty
No Core Charge for 30 Days
Speak With A Specialist Now
Habla con un especialista ahora
6T75 Transmission Compatibility Chart
MAKE
MODEL
START YEAR
END YEAR
Cadillac
XTS
2013
2019
Buick
Enclave
2007
2009
Chevrolet
Equinox
2008
2009
Chevrolet
Malibu
2008
2009
Chevrolet
Traverse
2009
2009
GMC
Acadia
2007
2009
Pontiac
G6
2007
2009
Saturn
Aura
2007
2009
Saturn
Outlook
2007
2009
Saturn
Vue
2008
2009
Flat Rate Shipping (Commercial address)
Excellent Customer Support
Up to 5 Years Unlimited Miles Warranty
No Core Charge for 30 Days
Speak With A Specialist Now
Habla con un especialista ahora