Flat Rate Shipping (Commercial address)
Up to 5 Years Unlimited Mile Warranty
Excellent Customer Support
No Core Charge for 30 Days
Remanufactured 45RFE Transmission Price
Price
Shipping
Core and Fee
Upfront Cost
Warranty
$2364
$270
None
$2634
5 Year
$2170
In Store
$974
$3144
3 Year
$2230
In Store
$978
$3208
3 Year

$2170
In Store
$974
$3144
3 Year
*Core: Waived for 30 Days
*Shipping: We offer Flat Rate Shipping (Commercial address)
*Logos are the property of their respective owners
Why Chose Reman-Transmission.com
| | Reman Transmission | Other Vendors |
| --- | --- | --- |
| Transparent Pricing | Check | x |
| Best Price Guarantee | Check | x |
| Flat Rate Shipping (Commercial address) | Check | x |
| Up to 5 Years Unlimited Mile Warranty | Check | x |
| Torque Convertor Included | Check | x |
| No Core Charge for 30 Days | Check | x |
| Free Shippng on Core Return | Check | x |
Why Chose Reman-Transmission.com
| Question to Ask | Reman Transmission | Other Vendors |
| --- | --- | --- |
| Is shipping free? | We offer Flat Rate Shipping (Commercial address) | Additional or Store Pickup |
| Who pays for Core Return? | We Do | You Do (Store Drop off) |
| Do I pay for Core today? | No, we waive Core Charge for 30 days* | Yes, but will be refunded when shipped back |
| Is torque convertor included? | Always! | Not included |
| What is the warranty? | Up to 5 years/Unlimited miles | Up to 3 years/Unlimited miles |
| Best Price Guarantee? | Yes! (for comparable conditions only) | They Don't |
About Our Remanufactured 45RFE Transmission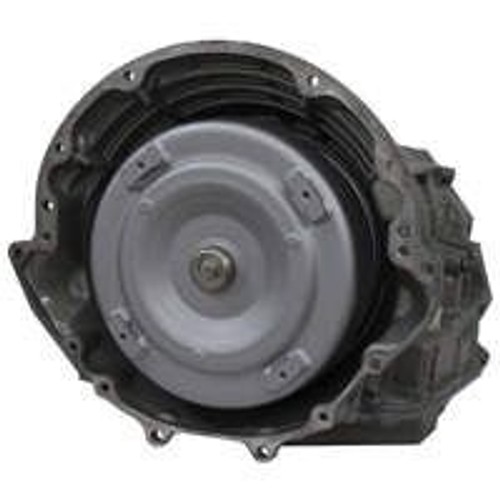 Before you visited our site it's possible you might have been considering a cheap 45RFE rebuilt transmission or thought about going with a complete DIY 45RFE transmission rebuild. Even though these options are often cheap, they are not going to last nearly as long as a remanufactured 45RFE transmission. If you want to get as many miles as possible out of your replacement 45RFE transmission, then a remanufactured 45RFE transmission is the way to go for your car or truck.
No matter what type of vehicle you own you should learn how a remanufactured 45RFE transmission works. When we get a 45RFE transmission that is broken down, the first thing we do is take it apart completely to individually inspect all the components from the supplier. Then, we replace every single component with re-machined or new parts. Afterwards, we compare every part and the transmission unit as a whole against the specification that has been set by the original equipment manufacturer (OEM). That way, we know the performance of every part in that transmission is going to meet or exceed your expectations.
A professional member of our team is responsible for ensuring the top quality of every 45RFE transmission for sale at Reman-Transmission. Because we correct any known factory defects in the remanufacturing process, our remanufactured 45RFE transmissions are among the best in the industry. That way, you can have supreme confidence in your vehicle when you return to the street. A remanufactured 45RFE transmission could last for hundreds of thousands of miles when cared for properly. As a more economical choice for our consumer, we also sell quality used 45RFE transmissions that are inspected to make sure they are in good working condition. We understand that not everyone who needs a 45RFE transmission replacement needs to go all out on a remanufactured unit, but at the same time, we do our best to ensure the used 45RFE transmission is of the highest quality.
We are so confident in the quality of our work that we even provide a warranty for every transmission that well. We also offer an up to 5-year, unlimited/ mileage warranty on most of our remanufactured automatic transmissions. Furthermore, we offer free-shipping to all commercial addresses in the United States as well as a waived core charge for 30-days to allow you the time you need for your 45RFE transmission swap. If you have any questions or need help finding the right transmission replacement option for you, don't hesitate to give one of our friendly customer service representatives a call today!
Flat Rate Shipping (Commercial address)
Excellent Customer Support
Up to 5 Years Unlimited Miles Warranty
No Core Charge for 30 Days
Our 45RFE Transmission Upgrades
Fully remanufactured valve body includes updated solenoid switch valves for improved shifting, lubrication, and performance.
Fully remanufactured torque converter is tested for leaks, lockup, concentricity, and balance. Upgrades exceed OE requirements and eliminate the possibility of front seal leaks, premature bushing wear, and vibration.
Completely remanufactured pump, complete with updated TCC limit valve and TCC accumulator to ensure proper TCC control and cooler flow, provides consistent internal pressures, eliminating slippage and delayed engagement.
New line pressure sensor maintains consistent shift quality.
Secured accumulator cover bolts prevent loss of 3rd or 4th gear.
Fully remanufactured solenoid packs are tested separately from the transmission before dyno testing to verify shift quality and pressure control.
All-new custom-spec bushings improve internal fluid flow control and pressures.
Bushings and machined surfaces polished to a mirror-like OE finish of 16 RA or less.
Every transmission is cold-and hot-tested using a proprietary dynamometer testing program that includes fully synthetic automatic transmission fluid and a filtration system.
45RFE Frequently Asked Questions
Is the 45RFE a good transmission?
Yes, the 45RFE transmission is a solid transmission. Even though there are numerous successors that have been introduced, this transmission is still in use today because of its durability and longevity. If you want the best 45RFE transmission, then you should go with a remanufactured 45RFE transmission, as this has had all known factory defects corrected.
Are all 45RFE transmissions the same?
No, not every 45RFE transmission is the same. The 45RFE transmission was designed to fit the bellhousing of certain vehicles. It was used in multiple Jeep and Dodge vehicles in both 3.7 L and 4.7 L varieties. In addition, the 45RFE is also different from its counterpart the 545RFE transmission.
What is the difference between 45RFE and 545RFE?
Shortly after the introduction of the 45RFE transmission, it was expanded to other vehicles. As a result, the 545RFE transmission was also introduced. A new gear was added for the 545RFE transmission. In addition, the gear ratio is different, expanding its versatility. We will make sure that the transmission we provide to you is compatible with the powertrain of your vehicle.
How much fluid does a 45RFE transmission hold?
The 45RFE has been designed to hold approximately 8 quarts of fluid. If you drain the lines completely, your transmission may be able to hold a bit more fluid. We will let you know exactly how much transmission fluid your transmission requires. We will also make recommendations regarding the best transmission fluid product for your vehicle.
45RFE History & Information
The 45RFE transmission is made by Chrysler Corporation. The RFE stands for Rear Full Electronic meaning that the 45RFE transmission is specifically designed for vehicles that are rear-wheel drive and the system itself uses full electronic control for shifting. The 45RFE transmission is the first transmission in this family's history, being used in many Jeep models starting in 1999. The 45RFE was mainly seen installed into production models like the Jeep Grand Cherokee, Jeep Liberty, Dodge Dakota, Dodge Durango, and a few Dodge Ram 1500 pickup truck models. Prior to the introduction of the Chrysler RFE class, TorqueFlite transmissions were used in the multitude of Chrysler vehicles for decades with a long history of success. The 45RFE transmission was designed to build on the success that was established by TorqueFlite.
One of the biggest changes the 45RFE transmission saw was that it had three separate gear sets instead of the two that were commonly found in its predecessors. After the 45RFE transmission was introduced, there were a few upgrades made. For example, the 45RFE transmission later became the 545RFE, meaning that it had five speeds instead of four. Other than that, the 545RFE transmission was relatively the same. Both the 45RFE and 545RFE were used in conjunction with the NV233D and NV244D transfer cases in 4x4 applications.
The 45RFE transmission received a significant amount of success in the automotive community. It was known for its power, longevity, and reliability; however, it was eventually phased out in favor of its successors. The 45RFE transmission was used all the way through 2002 before it evolved to the 545RFE, which was in use from 2001 to 2009. In 2007, the 68RFE was introduced for pickup trucks before it was expanded to other vehicles. In 2012, the 545RFE was recalibrated and gave rise to the 65RFE, which later undertook more upgrades and was dubbed the 66RFE transmission.
Even though there are numerous new transmissions that have been introduced since the original introduction of the 45RFE transmission, the 45RFE transmission is still in use in numerous vehicles even to this day. This serves as a testament to its durability. On the other hand, every transmission including the 45RFE transmission can experience issues from time to time. If you are looking for a rebuilt 45RFE transmission or want to undergo a 45RFE transmission rebuild, you should first consider a used 45RFE transmission or remanufactured 45RFE transmission from Reman-Transmission.
Flat Rate Shipping (Commercial address)
Excellent Customer Support
Up to 5 Years Unlimited Miles Warranty
No Core Charge for 30 Days
Speak With A Specialist Now
Habla con un especialista ahora
45RFE Transmission Compatibility Chart
MAKE
MODEL
START YEAR
END YEAR
Dodge
Durango
2006
2006
Dodge
Dakota
2000
2002
Dodge
Ram 1500
2002
2003
Jeep
Grand Cherokee
1999
2008
Dodge
Durango
2002
2008
Jeep
Liberty
2002
2003
Jeep
Commander
2006
2006
Dodge
Ram 2500
2010
2010
Flat Rate Shipping (Commercial address)
Excellent Customer Support
Up to 5 Years Unlimited Miles Warranty
No Core Charge for 30 Days
Diagnostic Codes for 45RFE Transmission
DIAGNOSTIC CODES
DESCRIPTION OF PROBLEM
P0120
Throttle Position Sensor Signal Circuit
P0122
Throttle Position Sensor/APPS Low
P0123
Throttle Position Sensor/APPS High
P0124
Throttle Position Sensor/APPS Intermittent
P0218
High Temperature Operation Activated
P0562
Low Battery Voltage
P0604
Internal TCM
P0605
Internal TCM
P0613
Internal TCM
P0700
Internal TCM
P0705
Check Shifter Signal
P0706
Check Shifter Signal
P0711
Trans Temp Sensor, No Temp Rise After Start
P0712
Trans Temp Sensor Voltage Too Low
P0713
Trans Temp Sensor Voltage Too High
P0714
Transmission Temperature Sensor Intermittent
P0715
Input Speed Sensor Error
P0720
Ouput Speed Sensor Error
P0725
Engine Speed Sensor Circuit
P0731
Gear Ratio Error in 1st
P0732
Gear Ratio Error in 2nd
P0733
Gear Ratio Error in 3rd
P0734
Gear Ratio Error in 4th
P0735
Gear Ratio Error in 4th Prime
P0736
Gear Ratio Error in Reverse
P0740
Torque Converter Clutch, No RPM Drop @ Lockup
P0743
Torque Converter Clutch Solenoid/Trans Relay Circuits
P0748
Pressure Solenoid Control/Trans Relay Circuits
P0750
LR Solenoid Circuit
P0751
O/D Switch Pressed (Lo) More Than 5 Minutes
P0753
Trans 3-4 Shift Solenoid/Trans Relay Circuits
P0755
2/4 or 2C Solenoid Circuit
P0760
OD Solenoid Circuit
P0765
UD Solenoid Circuit
P0770
4C Solenoid Circuit
P0783
3-4 Shift Solenoid, No RPM Drop @ Lockup
P0841
LR Pressure Switch Sense Circuit
P0845
2/4 Hydraulic Pressure Test Failure
P0846
2/4 Pressure Switch Sense Circuit
P0867
Line Pressure Fault
P0868
Line Pressure Low
P0869
Line Pressure High
P0870
OD Hydraulic Pressure Test Failure
P0871
OD Pressure Switch Sense Circuit
P0875
UD Hydraulic Pressure Test Failure
P0876
UD Pressure Switch Sense Circuit
P0884
Power Up at Speed
P0888
Relay Output Always Off
P0890
Switched Battery
P0891
Transmission Relay Always On
P0897
Worn Out/Burnt Transaxle Fluid
P0932
Line Pressure Sensor Fault
P0944
Loss of Prime
P0951
Autostick Sensor Circuit
P0952
Autostick Input Circuit Low
P0987
4C Hydraulic Pressure Test Failure
P0988
4C Pressure Switch Sense Circuit
P0992
2-4/OD Hydraulic Pressure Test Failure
P1652
Serial Communication Link Malfunction
P1684
Battery Was Disconnected
P1687
No Communication with MIC
P1694
BUS Communication with Engine Module
P1714
Low Battery Voltage
P1715
Restricted Port In T3 Range
P1716
BUS Communication with Engine Module
P1717
No Communication with MIC
P1726
UD Hydraulic Pressure Switch Circuit
P1727
4C Hydraulic Pressure Switch Circuit
P1728
2C Hydraulic Pressure Switch Circuit
P1732
UD Pressure Switch Sense Circuit
P1733
4C Pressure Switch Sense Circuit
P1734
2C Pressure Switch Sense Circuit
P1735
Inadequate Element Volume 4C
P1736
Gear Ratio Error in 2nd Prime
P1738
High Temperature Logic Activated
P1739
Power Up at Speed
P1740
TCC O/D Solenoid Performance
P1756
Governor Pressure Not Equal to Target @ 15-20 PSI
P1757
Governor Pressure Above 3 PSI In Gear @ 0 MPH
P1762
Governor Pressure Sensor Offset Volts Too Low Or High
P1763
Governor Pressure Sensor Volts Too High
P1764
Governor Pressure Sensor Volts Too Low
P1765
Trans 12 Volt Supply Relay Control Circuit
P1767
Relay Output Always On
P1768
Relay Output Always Off
P1770
Inadequate Element Volume LR
P1771
Inadequate Element Volume 2C
P1772
Inadequate Element Volume OD
P1773
Inadequate Element Volume UD
P1775
Solenoid Switch Valve Latched in TCC Possition
P1776
Solenoid Switch Valve Latched in LR Position
P1781
OD Pressure Switch Sense Circuit
P1782
2-4 Pressure Switch Sense Circuit
P1784
L-R Pressure Switch Sense Circuit
P1787
OD Hydraulic Pressure Switch Circuit
P1788
2-4 Hydraulic Pressure Switch Circuit
P1789
2-4/OD Hydraulic Pressure Switch Circuit
P1790
Fault Immediately After Shift
P1791
Loss of Prime
P1792
Battery Was Disconnected
P1793
TRD Link Communication Error
P1794
Speed Sensor Ground Error
P1795
Internal Transmission Controller
P1796
Autostick Input Circuit
P1797
Manual Shift Overheat
P1798
Worn out / Burnt Transaxle Fluid
P1799
Calculated Oil Temp In Use
P1899
P/N Performance
P2700
Inadequate Element Volume LR
P2701
Inadequate Element Volume 2C
P2702
Inadequate Element Volume OD
P2703
Inadequate Element Volume UD
P2704
Inadequate Element Volume 4C
P2706
MS Solenoid Circuit
Speak With A Specialist Now
Habla con un especialista ahora