Flat Rate Shipping (Commercial address)
Up to 5 Years Unlimited Mile Warranty
Excellent Customer Support
No Core Charge for 30 Days
Remanufactured 44RE Transmission Price
Price
Shipping
Core and Fee
Upfront Cost
Warranty
$1779
270
None
$2049
5 Year
$1832
In Store
$183
$2515
3 Year
*Core: Waived for 30 Days
*Shipping: We offer Flat Rate Shipping (Commercial address)
*Logos are the property of their respective owners
Why Chose Reman-Transmission.com
| | Reman Transmission | Other Vendors |
| --- | --- | --- |
| Transparent Pricing | Check | x |
| Best Price Guarantee | Check | x |
| Flat Rate Shipping (Commercial address) | Check | x |
| Up to 5 Years Unlimited Mile Warranty | Check | x |
| Torque Convertor Included | Check | x |
| No Core Charge for 30 Days | Check | x |
| Free Shippng on Core Return | Check | x |
Why Chose Reman-Transmission.com
| Question to Ask | Reman Transmission | Other Vendors |
| --- | --- | --- |
| Is shipping free? | We offer Flat Rate Shipping (Commercial address) | Additional or Store Pickup |
| Who pays for Core Return? | We Do | You Do (Store Drop off) |
| Do I pay for Core today? | No, we waive Core Charge for 30 days* | Yes, but will be refunded when shipped back |
| Is torque convertor included? | Always! | Not included |
| What is the warranty? | Up to 5 years/Unlimited miles | Up to 3 years/Unlimited miles |
| Best Price Guarantee? | Yes! (for comparable conditions only) | They Don't |
About Our Remanufactured 44RE Transmission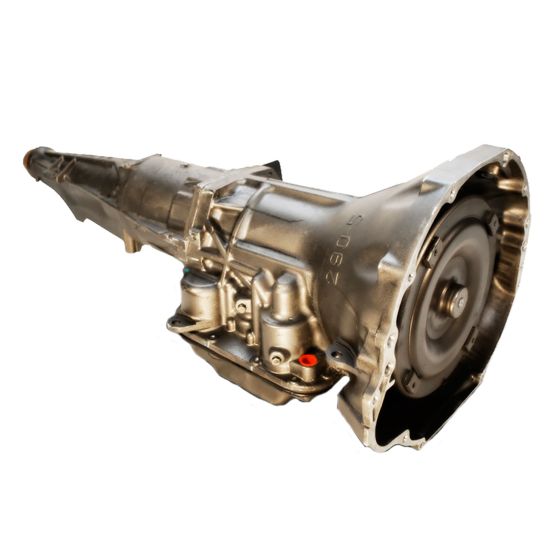 Reman-Transmission has a long history of providing remanufactured transmissions, and our heavy-duty 44RE transmission for sale is no different. You'll gain great quality at an affordable price. But what's the difference between getting a remanufactured transmission and finding a used 44RE transmission for sale? When you buy used and undertake a 44RE transmission rebuild, you'll just replace the broken part, which shifts wear to other parts of the transmission, leading to a string of failures. Instead of constantly having to pull and open your transmission for repair after repair, why not pick up a quality remanufactured transmission? When you do, you'll regain that time you would have lost picking up a random used 44RE transmission, making it much easier to get out and enjoy life.
When we remanufactured a Jeep 44RE transmission, we'll remove all the worn-out parts by taking out everything inside the bell housing and replacing it to ensure that you get a better-quality transmission from the very beginning. How much better? At Reman-Transmission, we take pride in remanufacturing transmissions that turn out better than factory new. When we take apart a used transmission, we make repairs so that it meets or exceeds OEM part specifications. If a transmission has a common point of failure, we make upgrades so that your transmission won't have those issues, making it superior to factory-new OEM equipment. You'll get a better transmission that will last longer and take you farther.
Even better, we can get all of this done at a lower cost to you than buying a brand new cheap transmission on the internet, which may just lead to more problems down the road. The high-quality remanufactured 44RE transmissions that we handle let you get on with your life and get further down the road, without the breakdowns you might experience from a rebuilt transmission. We'll even give you free shipping to commercial addresses in the continental US, or $75 to residential addresses. We don't charge you for your core for 30 days, giving you plenty of time to make the change, and you'll have outstanding customer service the entire time. What's more, we'll back up our promises, with a six-month, 6,000-mile used transmission warranty on our used transmissions and an up-to-36-month, unlimited miles warranty on our remanufactured transmissions.
At Reman-Transmission, we take pride in providing access to a range of remanufactured transmissions from all major import and domestic manufacturers, while keeping them in stock so we can get them to you quickly. Every part we use is inspected to ensure it will meet or exceed OEM factory specifications before we ship them. This gives you a heavy-duty 44RE transmission that is better than buying a new factory crate transmission. Getting a transmission from us means you'll get a superior part that will keep your vehicle crossing into your next adventure effortlessly.
Flat Rate Shipping (Commercial address)
Excellent Customer Support
Up to 5 Years Unlimited Miles Warranty
No Core Charge for 30 Days
Our 44RE Transmission Upgrades
Fully remanufactured valve body includes updated throttle valve, manual valve, 4-spool switch valve, and pressure regulator valve for improved shifting, lubrication, and performance.
Modified valve body allows torque converter charge in park to increase durability and enhance gear engagements.
Fully remanufactured torque converter is tested for leaks, lockup, concentricity, and balance. Upgrades exceed OE requirements and eliminate the possibility of front seal leaks, premature bushing wear, and vibration. Diesel and heavy-duty gasoline applications include new lock-up lining.
Completely remanufactured pump provides consistent internal pressures, eliminating slippage and delayed engagement.
Overdrive (OD) direct clutch updated to 8-plate clutch with new thrust plate for increased durability.
Overdrive (OD) clutch updated to 4-plate clutch for increased durability.
Overdrive (OD) planetary assembly upgraded to a 5-pinion unit for increased durability.
Oversized Low/Reverse brake band strut maintains correct band clearance to eliminate drum slippage and No-Reverse condition.
New external fluid cooler provided to improve cooling and prevent fluid contamination.
All-new custom-spec bushings improve internal fluid flow control and pressures.
Bushings and machined surfaces polished to a mirror-like OE finish of 16 RA or less.
Every transmission is cold-and hot-tested using a proprietary dynamometer testing program that includes fully synthetic automatic transmission fluid and a filtration system.
44RE Frequently Asked Questions
Is the 44RE a good transmission?
The 44RE is a solid transmission with a great deal to recommend it. A rear-wheel-drive electric transmission, it does a good job of moving power from the engine to the wheels in SUVs and pickups. As with any transmission, it can fail if neglected, which is why you should pick up your next used 44RE transmission with us.
Who makes the 44RE transmission?
As a Chrysler-built transmission, the heavy-duty 44RE transmission outstrips its lightweight counterpart, the 42RE, while still providing more fuel economy than the heavier-duty 46RE. As part of the Torqueflite lineup, it has a long history of strong performance in heavy-duty vehicles.
How much power can a 44RE handle?
Often paired to Hemi Super Stocks, the 44RE transmission in real-world conditions can handle roughly 440 HP and 473 lb-ft of torque, when paired with a heavy-duty transmission cooler. Our remanufactured 44RE transmissions can handle as much or more than a brand new 44RE.
What transmission fluid for 44RE?
Though you might briefly get by with using a DEXRON MERCON automatic transmission fluid, it's recommended to use ATF+4 instead to get the best possible results out of your transmission and to avoid overheating or slipping, and similar issues that can occur.
44RE History & Information
A descendant of Chrysler's Torqueflite line of automatic transmissions like the 42RE, the 44RE lives up to a long, proud history of its lineage. Providing plenty of power in lightweight trucks, vans, and SUVs, the transmission is a rear-wheel-drive and four-wheel-drive combination, providing ease of use for the average driver. Coming out of the A904 lineup's strong heritage, it was part of the A500 model series. Used from the 1989 to 2004 model years across the Dodge Dakota and Ram pickups, the Dodge Ram van, Dodge Durango, Jeep Grand Cherokee, and, interestingly, the Aston Martin Virage, it was typically mated to a 3.1L six-cylinder engine, either inline or V6, or to a 5.2 or 5.3 V8 engine. In the 4x4 vehicles that this transmission was put into, the 44RE was typically mounted to the NV231 transfer case.
Featuring a forward direct clutch drum, it also had an extended housing-mounted overdrive unit to give the transmission a total of four forward gears. The gear ratios were 2.74 in first gear, 1.54 in second gear, 1.00 in third gear, and 0.69 in fourth gear, with a 2.21 reverse gear ratio. It had a low/reverse overrun assembly as a bolt-in with a roller clutch. Originally a hydraulic clutch, the electronic pressure governor control was added in the middle of the 1993 model year. It was replaced by the RLE-series transmission (42RLE) as Chrysler decided to start backing off of its Torqueflite lineup, which featured an interesting collection of three planetary gears as compared to the typical two seen in transmissions of that time period. The 46RE, 47RE, and 48RE are the transmissions that came after the use of the 44RE.
Flat Rate Shipping (Commercial address)
Excellent Customer Support
Up to 5 Years Unlimited Miles Warranty
No Core Charge for 30 Days
Speak With A Specialist Now
Habla con un especialista ahora
44RE Transmission Compatibility Chart
MAKE
MODEL
START YEAR
END YEAR
Dodge
Dakota
1997
1999
Dodge
Durango
1999
2000
Jeep
Grand Cherokee
1994
2000
Flat Rate Shipping (Commercial address)
Excellent Customer Support
Up to 5 Years Unlimited Miles Warranty
No Core Charge for 30 Days
Speak With A Specialist Now
Habla con un especialista ahora