Flat Rate Shipping (Commercial address)
Up to 5 Years Unlimited Mile Warranty
Excellent Customer Support
No Core Charge for 30 Days
Remanufactured 42RE Transmission Price
Alternative Name: A500, TorqueFlite
Price
Shipping
Core and Fee
Upfront Cost
Warranty
$1727
$270
None
$1997
5 Year
$1692
In Store
$635
$2327
3 Year
$1682
In Store
$635
$2317
3 Year

$1680
In Store
$634
$2314
3 Year
*Core: Waived for 30 Days
*Shipping: We offer Flat Rate Shipping (Commercial address)
*Logos are the property of their respective owners
Why Chose Reman-Transmission.com
| | Reman Transmission | Other Vendors |
| --- | --- | --- |
| Transparent Pricing | Check | x |
| Best Price Guarantee | Check | x |
| Flat Rate Shipping (Commercial address) | Check | x |
| Up to 5 Years Unlimited Mile Warranty | Check | x |
| Torque Convertor Included | Check | x |
| No Core Charge for 30 Days | Check | x |
| Free Shippng on Core Return | Check | x |
Why Chose Reman-Transmission.com
| Question to Ask | Reman Transmission | Other Vendors |
| --- | --- | --- |
| Is shipping free? | We offer Flat Rate Shipping (Commercial address) | Additional or Store Pickup |
| Who pays for Core Return? | We Do | You Do (Store Drop off) |
| Do I pay for Core today? | No, we waive Core Charge for 30 days* | Yes, but will be refunded when shipped back |
| Is torque convertor included? | Always! | Not included |
| What is the warranty? | Up to 5 years/Unlimited miles | Up to 3 years/Unlimited miles |
| Best Price Guarantee? | Yes! (for comparable conditions only) | They Don't |
About Our Remanufactured 42RE Transmission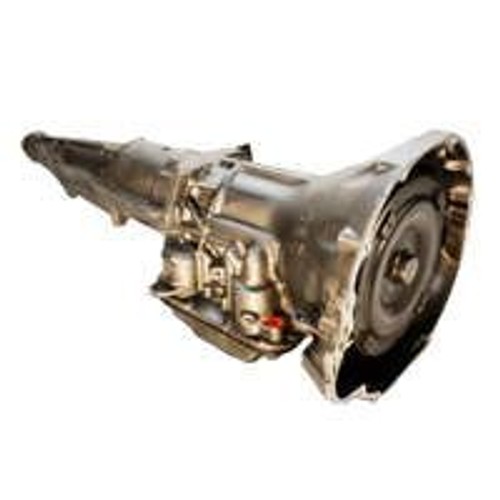 Even though the 42RE transmission is reliable, the transmission could require repair from time to time. Even though you are probably thinking about finding a cheap junkyard 42RE, you should go with our remanufactured 42RE transmission instead. At Reman-Transmission, our remanufactured 42RE transmissions will provide you with the quality products your vehicle deserves. Whether you are driving a domestic or foreign car or truck, a remanufactured transmission will ensure you get as many miles as possible.
When we remanufacture a 42RE transmission, we make sure that each individual part matches the performance specification set by the original equipment manufacturer (OEM). As we go through the components, we compare the condition of each individual part in that 42RE transmission against the performance of a brand new part and replace each component with new or re-machined parts. That way, you know that your remanufactured 42RE transmission will perform just as well as a new transmission. Furthermore, we correct any factory defects in a remanufactured 42RE transmission so that they might even last longer than a new crate 42RE transmission. If you want the best quality transmission for your vehicle, then you should go with a remanufactured 42RE transmission instead. For this particular transmission, we include a free transmission cooler with your 42RE transmission purchase.
We incorporate a convenient company catalog that lists every transmission we have for sale, along with its price. As you search our stock, know that we vet the source of every transmission we sell. That way, when we conduct a transmission swap in your zone, you know that you are getting the best product possible. Whether you drive an American or import vehicle, we are confident that our remanufactured 42RE transmission is right for you. Furthermore, we are so confident in the quality of our work we also provide you with a five-year, unlimited mileage warranty on our automatic remanufactured transmissions. We also provide free, fast shipping to all commercial addresses in the United States, making this process as convenient as possible for you.
A professional from our team will help you find a smart, compatible replacement option for your vehicle! Please feel free to drop us a call to get a quote from us today! We also do not apply a core charge for 30 days, ensuring that your remanufactured 42RE transmission swap works well for you. That way, when your vehicle hits the street once again there's no doubt in your mind it's going to last.
Flat Rate Shipping (Commercial address)
Excellent Customer Support
Up to 5 Years Unlimited Miles Warranty
No Core Charge for 30 Days
Our 42RE Transmission Upgrades
Fully remanufactured valve body includes updated throttle valve, manual valve, 4-spool switch valve, and pressure regulator valve for improved shifting, lubrication, and performance.
Modified valve body allows torque converter charge in park to increase durability and enhance gear engagements.
Fully remanufactured torque converter is tested for leaks, lockup, concentricity, and balance. Upgrades exceed OE requirements and eliminate the possibility of front seal leaks, premature bushing wear, and vibration. Diesel and heavy-duty gasoline applications include new lock-up lining.
Completely remanufactured pump provides consistent internal pressures, eliminating slippage and delayed engagement.
Overdrive (OD) direct clutch updated to 8-plate clutch with new thrust plate for increased durability.
Overdrive (OD) clutch updated to 4-plate clutch for increased durability.
Overdrive (OD) planetary assembly upgraded to a 5-pinion unit for increased durability.
Oversized Low/Reverse brake band strut maintains correct band clearance to eliminate drum slippage and No-Reverse condition.
New external fluid cooler provided to improve cooling and prevent fluid contamination.
All-new custom-spec bushings improve internal fluid flow control and pressures.
Bushings and machined surfaces polished to a mirror-like OE finish of 16 RA or less.
Every transmission is cold-and hot-tested using a proprietary dynamometer testing program that includes fully synthetic automatic transmission fluid and a filtration system.
42RE Frequently Asked Questions
Is the 42RE a good transmission?
Yes, the 42RE is a good transmission. It is a durable, reliable, and sturdy transmission that works well for a variety of vehicles. If you get a remanufactured 42RE transmission as a replacement, with proper maintenance and care, it should last at least as long as a new one.
What is the difference between a 42RE and a 44RE transmission?
Even though the 42RE and 44RE have the same gear ratios, the 44RE is a bit stronger than the 42RE. The housing ratios are also a bit different. Any issues with the 42RE transmission will be corrected during our remanufacturing process.
How much power can a 42RE handle?
This depends on the vehicle you are driving. Depending on the make and model of your car, you could get up to 400 HP out of your 42RE transmission. When we remanufacture your transmission, we will let you know how much power you should be able to get out of it.
How much does a 42RE transmission weigh?
The 42RE transmission weighs approximately 300 pounds. It depends on the exact vehicle you are placing the transmission in; however, the weight should be pretty similar from vehicle to vehicle. If you have questions about the weight of your specific transmission, we can answer them for you.
42RE History & Information
The 42RE TorqueFlite transmission is part of the A500 series, which is a rear-wheel-drive transmission. The A500 was originally named the 40RH and 42RH, which stands for hydraulic controls governor pressure. As these transmissions were upgraded, they became electronically controlled. As a result, they were renamed the 40RE and 42RE before receiving additional changes that upgraded them to what is known as the 44RE transmission. The original A500 transmission was used beginning with the 1989 Dodge Ram model year. The 42RE transmission began to be installed in a variety of vehicles starting in 1993.
The 42RE transmission was built off the standards set by the A999. The A999 (32RH) was already a heavy-duty, wide-ratio version of the transmissions that came before it such as the A904 (30RH). The A998 (31RH) was introduced prior to the A999 and featured a wider aspect ratio, providing the transmission with more power. Because the previous versions had gotten positive reviews, Chrysler moved forward with the A500, which eventually evolved from the 40RE into the 42RE and, later, the 44RE. The 42RE was most commonly mounted to the NP231D transfer case in the group of NP231 transfer cases.
After the 42RE transmission was introduced, it received upgraded gear ratios (from the 40RH/RE). That also provided it with exceptional durability, longevity, and power. Furthermore, the housing of the transmission was altered slightly to ensure it would fit multiple vehicles. This transmission also featured an overdrive gear, providing additional power without increasing friction. This further extended the lifespan of this 42RE transmission.
The 42RE transmission was first introduced in Dodge and Jeep vehicles in 1993: Dodge Ram 1500 pickup, Dodge Ram B150 Van, Dodge Dakota, Jeep Grand Cherokee, and the Dodge Durango. In the following few years, the 42RE transmission was expanded to include other makes and models as well including the Aston Martin Virage before it was phased out in 2004. Throughout the years this transmission was in use, and numerous variations were created, altering certain aspects slightly to fit with the specific powertrain of the vehicle. As a result, the 42RE transmission became one of the most ubiquitous transmissions produced by Chrysler and TorqueFlite.
The 42RE transmission received an upgrade to the 44RE. The 44RE was slightly more stable than the 42Re and allowed the driver to access more power. Ultimately, the overall A500 series was the last in a series of rear-wheel drive transmissions from TorqueFlite. Even though Chrysler TorqueFlite transmissions are still in use today, they have undergone several upgrades since. Therefore, lots of people are interested in remanufactured 42RE transmissions, which is where we can help you!
Flat Rate Shipping (Commercial address)
Excellent Customer Support
Up to 5 Years Unlimited Miles Warranty
No Core Charge for 30 Days
Speak With A Specialist Now
Habla con un especialista ahora
42RE Transmission Compatibility Chart
MAKE
MODEL
START YEAR
END YEAR
Dodge
Dakota
1996
2003
Dodge
Durango
1998
1999
Dodge
Ram 1500
1996
2001
Jeep
Grand Cherokee
1993
2004
Flat Rate Shipping (Commercial address)
Excellent Customer Support
Up to 5 Years Unlimited Miles Warranty
No Core Charge for 30 Days
Diagnostic Codes for 42RE Transmission
DIAGNOSTIC CODES
DESCRIPTION OF PROBLEM
P0120
Throttle Position Sensor Signal Circuit
P0122
Throttle Position Sensor/APPS Low
P0123
Throttle Position Sensor/APPS High
P0124
Throttle Position Sensor/APPS Intermittent
P0218
High Temperature Operation Activated
P0562
Low Battery Voltage
P0604
Internal TCM
P0605
Internal TCM
P0613
Internal TCM
P0700
Internal TCM
P0705
Check Shifter Signal
P0706
Check Shifter Signal
P0711
Trans Temp Sensor, No Temp Rise After Start
P0712
Trans Temp Sensor Voltage Too Low
P0713
Trans Temp Sensor Voltage Too High
P0714
Transmission Temperature Sensor Intermittent
P0715
Input Speed Sensor Error
P0720
Ouput Speed Sensor Error
P0725
Engine Speed Sensor Circuit
P0731
Gear Ratio Error in 1st
P0732
Gear Ratio Error in 2nd
P0733
Gear Ratio Error in 3rd
P0734
Gear Ratio Error in 4th
P0735
Gear Ratio Error in 4th Prime
P0736
Gear Ratio Error in Reverse
P0740
Torque Converter Clutch, No RPM Drop @ Lockup
P0743
Torque Converter Clutch Solenoid/Trans Relay Circuits
P0748
Pressure Solenoid Control/Trans Relay Circuits
P0750
LR Solenoid Circuit
P0751
O/D Switch Pressed (Lo) More Than 5 Minutes
P0753
Trans 3-4 Shift Solenoid/Trans Relay Circuits
P0755
2/4 or 2C Solenoid Circuit
P0760
OD Solenoid Circuit
P0765
UD Solenoid Circuit
P0770
4C Solenoid Circuit
P0783
3-4 Shift Solenoid, No RPM Drop @ Lockup
P0841
LR Pressure Switch Sense Circuit
P0845
2/4 Hydraulic Pressure Test Failure
P0846
2/4 Pressure Switch Sense Circuit
P0867
Line Pressure Fault
P0868
Line Pressure Low
P0869
Line Pressure High
P0870
OD Hydraulic Pressure Test Failure
P0871
OD Pressure Switch Sense Circuit
P0875
UD Hydraulic Pressure Test Failure
P0876
UD Pressure Switch Sense Circuit
P0884
Power Up at Speed
P0888
Relay Output Always Off
P0890
Switched Battery
P0891
Transmission Relay Always On
P0897
Worn Out/Burnt Transaxle Fluid
P0932
Line Pressure Sensor Fault
P0944
Loss of Prime
P0951
Autostick Sensor Circuit
P0952
Autostick Input Circuit Low
P0987
4C Hydraulic Pressure Test Failure
P0988
4C Pressure Switch Sense Circuit
P0992
2-4/OD Hydraulic Pressure Test Failure
P1652
Serial Communication Link Malfunction
P1684
Battery Was Disconnected
P1687
No Communication with MIC
P1694
BUS Communication with Engine Module
P1714
Low Battery Voltage
P1715
Restricted Port In T3 Range
P1716
BUS Communication with Engine Module
P1717
No Communication with MIC
P1726
UD Hydraulic Pressure Switch Circuit
P1727
4C Hydraulic Pressure Switch Circuit
P1728
2C Hydraulic Pressure Switch Circuit
P1732
UD Pressure Switch Sense Circuit
P1733
4C Pressure Switch Sense Circuit
P1734
2C Pressure Switch Sense Circuit
P1735
Inadequate Element Volume 4C
P1736
Gear Ratio Error in 2nd Prime
P1738
High Temperature Logic Activated
P1739
Power Up at Speed
P1740
TCC O/D Solenoid Performance
P1756
Governor Pressure Not Equal to Target @ 15-20 PSI
P1757
Governor Pressure Above 3 PSI In Gear @ 0 MPH
P1762
Governor Pressure Sensor Offset Volts Too Low Or High
P1763
Governor Pressure Sensor Volts Too High
P1764
Governor Pressure Sensor Volts Too Low
P1765
Trans 12 Volt Supply Relay Control Circuit
P1767
Relay Output Always On
P1768
Relay Output Always Off
P1770
Inadequate Element Volume LR
P1771
Inadequate Element Volume 2C
P1772
Inadequate Element Volume OD
P1773
Inadequate Element Volume UD
P1775
Solenoid Switch Valve Latched in TCC Possition
P1776
Solenoid Switch Valve Latched in LR Position
P1781
OD Pressure Switch Sense Circuit
P1782
2-4 Pressure Switch Sense Circuit
P1784
L-R Pressure Switch Sense Circuit
P1787
OD Hydraulic Pressure Switch Circuit
P1788
2-4 Hydraulic Pressure Switch Circuit
P1789
2-4/OD Hydraulic Pressure Switch Circuit
P1790
Fault Immediately After Shift
P1791
Loss of Prime
P1792
Battery Was Disconnected
P1793
TRD Link Communication Error
P1794
Speed Sensor Ground Error
P1795
Internal Transmission Controller
P1796
Autostick Input Circuit
P1797
Manual Shift Overheat
P1798
Worn out / Burnt Transaxle Fluid
P1799
Calculated Oil Temp In Use
P1899
P/N Performance
P2700
Inadequate Element Volume LR
P2701
Inadequate Element Volume 2C
P2702
Inadequate Element Volume OD
P2703
Inadequate Element Volume UD
P2704
Inadequate Element Volume 4C
P2706
MS Solenoid Circuit
Speak With A Specialist Now
Habla con un especialista ahora