Free Shipping
Up to 5 Years Unlimited Mile Warranty
Excellent Customer Support
No Core Charge for 30 Days
loading...
Best Price Guarantee
We will match or beat any
competitor's pricing.
Remanufactured TR6060 Transmission Price
Alternative Name: Tremec 6060, TR-6060
| | Price | Core | Shipping | Other Fees | Upfront Cost | Warranty |
| --- | --- | --- | --- | --- | --- | --- |
| | $4022 | Waived* | Free* | None | $4022 | 5 Year |
*Core: Waived for 30 Days
*Shipping: Shipping is free to a commercial address
*Logos are the property of their respective owners
Why Chose Reman-Transmission.com
| Question to Ask | Reman Transmission | Other Vendors |
| --- | --- | --- |
| Is shipping free? | Yes | Additional or Store Pickup |
| Who pays for Core Return? | We Do | You Do (Store Drop off) |
| Do I pay for Core today? | No, we waive Core Charge for 30 days* | Yes, but will be refunded when shipped back |
| Is torque convertor included? | Always! | Not included |
| What is the warranty? | Up to 5 years/Unlimited miles | Up to 3 years/Unlimited miles |
| Best Price Guarantee? | Yes! (for comparable conditions only) | Sorry, we don`t |
About Our Remanufactured TR6060 Transmission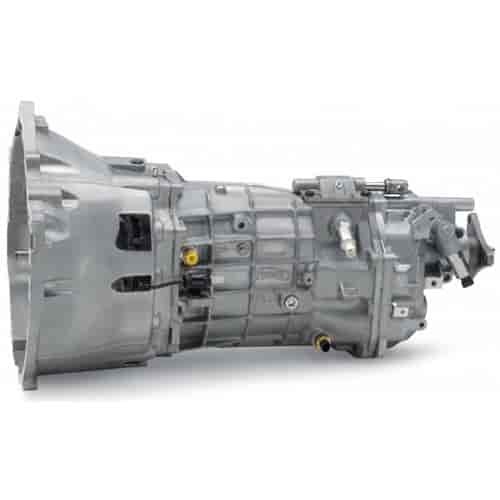 Reman Transmission offers quality used and remanufactured TREMEC TR6060 transmissions. We have specialized in remanufacturing transmissions for more than 30 years. Our completely remanufactured gearboxes and transfer cases can save you a lot of money relative to purchasing new ones.
We are your Hassle-Free online resource offering the most extensive selection of rebuilt transmissions and transfer cases. We offer top-quality products, and our friendly and helpful customer service specialists are always waiting to help make your shopping experience smooth, simple, and quick.
Rebuilding a transmission involves replacing broken, defective, or worn-out parts with new ones. Only replacing some internal components will create uneven wear and tear in the rebuilt unit. At Reman Transmission, we expertly remanufacture transmissions. We do not simply rebuild them by replacing some parts of them.
Our remanufactured TR6060 transmissions for sale are the most affordable in the industry. Our team works hard to ensure that every product we sell is in perfect working order. We replace every single component of the transmissions we rebuild with new or re-machined parts that meet or exceed all OEM specs.
Further, we repair or replace any known factory defects when we rebuild transmissions. Many times, our remanufactured transmissions are superior to new factory gearboxes. Reman Transmission also provides a 5-year Hassle-Free unlimited mileage Warranty with every remanufactured gearbox we sell. And there's no core charge due for up to 30 days!
We meticulously test every part of every TR6060 transmission we remanufacture before shipping. Our affordable shipping options will get your newly remanufactured gearbox to you within 14 days. And our accommodating team is here to assist you with any questions or concerns you may have.
Free Shipping
Excellent Customer Support
Up to 5 Years Unlimited Miles Warranty
No Core Charge for 30 Days
Our TR6060 transmission Upgrades
Our quality control process includes build specification checks performed by three different specialized technicians during the remanufacturing process to ensure accuracy and precise fitment.
Inspection of internal parts, including gear wear checks, mainshaft straightness, and synchronization are performed.
Worn and non-functional parts are replaced, including 100% replacement of seals, bearings, and other common components.
Each remanufactured transmission is hot, cold, load, and simulated road tested using our proprietary dynamometer program.
All remanufactured transmissions are backed by the industry's best, no-hassle nationwide warranty.
TR6060 Frequently Asked Questions
Is the TR6060 a good transmission?
How much power can a TR6060 handle?
What vehicles came stock with a TR6060?
What is the difference between a T56 and TR6060 transmission for sale?
TR6060 History & Information
The TREMEC TR-6060 6-Speed RWD Manual Transmission debuted in 2008. It was quickly accepted as a star performer and is used widely in various high-performance autos - like the Dodge Viper, Dodge Challenger, 5th and 6th-gen Chevrolet Camaros, and C5/ C6 Chevrolet Corvettes. Oftentimes this transmission is referred to as the big brother of the Tremec TR-3650 transmission found in several years of the Ford Mustang.
The TR 6060 transmission was preceded by the T56, which debuted as a Borg Warner product in 1992. The T56 was used in the Dodge Viper as well as in 4th-generation GM F-Body vehicles, including the Camaro, Firebird, and Trans Am.
The TR6060 transmission is often confused with the TREMEC Magnum, its aftermarket sibling. Both have a reverse and six forward gears. However, the TR6060 features integrated bellhousing while the Magnum doesn't.
The TR6060 features various improvements over the T56 that make it shift smoother and handle more power. It's a dependable, high-performance gearbox with high torque handling capability. Fluent gear synchronization and short throws create a smooth overall shifting experience.
There are various unique versions of the TREMEC TR6060 transmission, which are used in different applications across a range of OEM vehicles.
TR6060 manual transmissions bolt directly onto most crate and LS factory engines and require body-mounted shifter assemblies. They feature fixed yoke output shafts, heavy-duty release bearings, and 26-spline input shafts.
Other design features of the TREMEC TR6060 include:
Combined double-cone & triple-cone bronze synchronizers of every gear
Reverse & forward broached detent grooves on the main shaft
3-piece end-load die-cast aluminum housing
Fine-pitch splines & anti-friction ball struts
Needle bearing support on all gears
Laser-welded clutch teeth rings
Spring-loaded anti-friction roller
Integrated clutch housing
Close-ratio gearing
The TR6060 manual transmission also features reduced fore and aft shifting travel, in addition to narrow synchronizer hubs that increase the face width on all gears.
Free Shipping
Excellent Customer Support
Up to 5 Years Unlimited Miles Warranty
No Core Charge for 30 Days
Speak With A Specialist Now
Habla con un especialista ahora
TR6060 Transmission Compatibility Chart
MAKE
MODEL
START YEAR
END YEAR
Ford
Shelby GT 500
2007
2007
Chevrolet
Corvette
2008
2013
Dodge
Viper
2008
2017
Dodge
Challenger
2009
2022
Pontiac
G8 GXP
2009
2009
Cadillac
CTS-V
2009
2015
Ford
Shelby GT500
2010
2014
Chevrolet
Camaro SS
2010
2022
Chevrolet
Camaro ZL1
2012
2022
Cadillac
ATS 2.0L Performance
2012
2018
Chevrolet
SS
2015
2017
Cadillac
ATS-V
2016
2019
Cadillac
CT4-V Blackwing
2021
2022
Cadillac
CT5-V Blackwing
2021
2022
Free Shipping
Excellent Customer Support
Up to 5 Years Unlimited Miles Warranty
No Core Charge for 30 Days
Speak With A Specialist Now
Habla con un especialista ahora