Free Shipping
Up to 5 Years Unlimited Mile Warranty
Excellent Customer Support
No Core Charge for 30 Days
loading...
Best Price Guarantee
We will match or beat any
competitor's pricing.
Remanufactured T5 Transmission Price
Alternative Name: Borg Warner T5, Tremec T5
| | Price | Core | Shipping | Other Fees | Upfront Cost | Warranty |
| --- | --- | --- | --- | --- | --- | --- |
| | $1862 | Waived* | Free* | None | $1862 | 5 Year |
| | $1350 | $999 | In Store | $111 | $2460 | 3 Years |
*Core: Waived for 30 Days
*Shipping: Shipping is free to a commercial address
*Logos are the property of their respective owners
Why Chose Reman-Transmission.com
| Question to Ask | Reman Transmission | Other Vendors |
| --- | --- | --- |
| Is shipping free? | Yes | Additional or Store Pickup |
| Who pays for Core Return? | We Do | You Do (Store Drop off) |
| Do I pay for Core today? | No, we waive Core Charge for 30 days* | Yes, but will be refunded when shipped back |
| Is torque convertor included? | Always! | Not included |
| What is the warranty? | Up to 5 years/Unlimited miles | Up to 3 years/Unlimited miles |
| Best Price Guarantee? | Yes! (for comparable conditions only) | Sorry, we don`t |
About Our Remanufactured T5 Transmission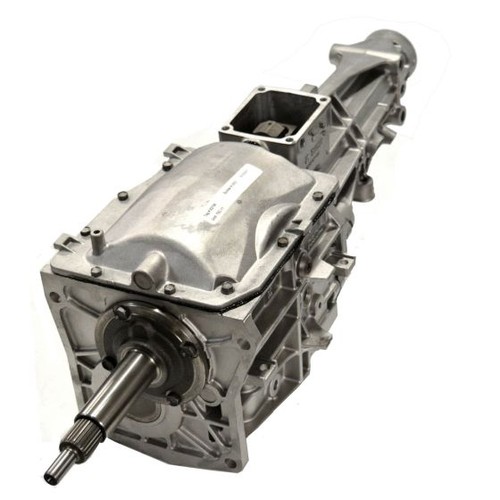 At Reman-Transmission, we specialize in quality used and remanufactured gearboxes built to last, including the coveted T5. Whether you're looking to upgrade your transmission or just need to replace an aging unit, we have exactly what you need to get the job done right the first time around.
When you get your next T5 transmission from us, you can trust that it's better than new. Through our proven reverse engineering process, we go beyond a basic rebuild to fully restore the gearbox. In addition to replacing worn or damaged parts, our talented team identifies the factory defects and then gets to work in eliminating them. Through that process, we perfect the gearbox build, helping each transmission work at its best always.
We only use the highest quality new or re-machined parts, too, ensuring your gearbox will outlast brand-new crate units. Your transmission will feel a whole lot better as well, offering silky smooth shifts through every gear. Plus, you won't have to worry about the most common T-5 issues cropping up as you enjoy your vehicle to the fullest. You can simply hit the road with confidence that you have the best-remanufactured transmission money can buy.
Despite our commitment to excellence, our rebuilt T5 gearboxes always come at an affordable price. We back up our work with a three-year, unlimited mileage warranty, so you can rest assured that you're getting the best deal around. And when you buy from us, you always get fast, free shipping to any commercial address in the US. We don't issue a core charge for 30 days either, giving you time to get your gearbox in your ride and test it out.
If you'd like to get your vehicle back to shifting like a dream, it's time to get your T-5 transmission from us. We offer convenient online shopping options plus have a friendly customer service team ready to take your call. So, no matter how you'd like to get a T5 transmission for sale near me, we're here to help you out. Our team looks forward to helping you get your hands on a precision-engineered transmission for cheap, so feel free to give us a call today.
Free Shipping
Excellent Customer Support
Up to 5 Years Unlimited Miles Warranty
No Core Charge for 30 Days
Our T5 transmission Upgrades
Our quality control process includes build specification checks performed by three different specialized technicians during the remanufacturing process to ensure accuracy and precise fitment.
Inspection of internal parts, including gear wear checks, mainshaft straightness, and synchronization are performed.
Worn and non-functional parts are replaced, including 100% replacement of seals, bearings, and other common components.
Each remanufactured transmission is hot, cold, load, and simulated road tested using our proprietary dynamometer program.
All remanufactured transmissions are backed by the industry's best, no-hassle nationwide warranty.
T5 Frequently Asked Questions
Is T-5 a good transmission?
How much power can a T-5 handle?
Are T-5 transmissions interchangeable?
How many gears does a T-5 have?
T5 History & Information
The T5 transmission has long served as the manual five-speed overdrive gearbox of choice for the 80s and 90s muscle cars. In fact, the Mustang T5 transmission is well known as the longest-running five-speed overdrive gearbox. The versatile build also works well in a wide variety of vans, trucks, and everyday commuter cars, keeping it going for well over 30 years.
Borg Warner created this iconic transmission in 1980 and originally put it in AMC and Jeep vehicles. They built this transmission off of the old T-45 transmission. With that design, the overdrive provided excellent fuel efficiency, while spacing out the gear ratios for great straight off-the-line performance. On top of that, they kept the lightweight aluminum housing, plus made sure the transmission could work in four-wheel-drive applications.
The T5 ended up in everything from the Ford Mustang to the Nissan 300ZX as a result. It's even the preferred gearbox for muscle car enthusiasts looking for a Camaro T5 transmission with a whole lot of heart. Despite its sheer versatility, the Camaro, Mustang, Sonoma, Thunderbird and S10 chose the T5 as the transmission of choice even though it did have its fair share of problems.
The most common issues affecting factory T-5 transmissions include:
Difficulty changing gears
Premature shift rail wear
Poor clutch engagement
Jerky or otherwise hard shifts
Grinding and other loud noises
The other major issue was its early lack of power handling, which eventually phased it out as the preferred V8 gearbox. In its original configuration, the T5 could handle up to 265 ft/lb of torque. The World Class T5 came out in 1985 with improved internals for better reliability, especially in slightly higher torque applications.
The improvements continued through the years, including the development of the Z-Spec build. Using the internals from the Cobra design, they fine-tuned the strength of the T5Z gearbox to handle up to 330 ft/lb of torque.
The biggest improvements came along when Borg-Warner sold the design to TREMEC in 1998. By then, the Ford T5 transmission only appeared in their V6 models. The Chevy T5 transmission had the same fate due to its relatively low torque limits.
To overcome that limitation, TREMEC rolled out an upgraded design that could handle a whopping 500 to 600 lb/ft of torque. Through that process, they've remained on the map to this day, still rolling out new releases under the T-5 and TKO T5 designations. Eventually, Tremec went on to produce a 6-speed manual transmission called the T56 as a replacement.
Depending on your vehicle build plans, 1980 to current T-5 transmissions can serve you well, especially if remanufactured using quality parts. You just have to match the torque limits to your planned output to get the performance you want without risk of failure.
Free Shipping
Excellent Customer Support
Up to 5 Years Unlimited Miles Warranty
No Core Charge for 30 Days
Speak With A Specialist Now
Habla con un especialista ahora
T5 Transmission Compatibility Chart
MAKE
MODEL
START YEAR
END YEAR
Chevrolet
Camaro
1989
1992
Chevrolet
S10
1989
1995
Chevrolet
Blazer
1987
1989
Ford
Mustang
1987
2003
Ford
Thunderbird
1987
1988
GMC
S15
1989
1990
GMC
Sonoma
1991
1995
Pontiac
Firebird
1989
1992
Free Shipping
Excellent Customer Support
Up to 5 Years Unlimited Miles Warranty
No Core Charge for 30 Days
Speak With A Specialist Now
Habla con un especialista ahora