Free Shipping
Up to 5 Years Unlimited Mile Warranty
Excellent Customer Support
No Core Charge for 30 Days
loading...
Best Price Guarantee
We will match or beat any
competitor's pricing.
Remanufactured 4R70W Transmission Price
Alternative Name: AOD, AOD-E
| | Price | Core | Shipping | Other Fees | Upfront Cost | Warranty |
| --- | --- | --- | --- | --- | --- | --- |
| | $2082 | Waived* | Free* | None | $2082 | 5 Year |
| | $2105 | $500 | In Store | $210 | $2815 | 3 Year |
| | $2085 | $500 | In Store | $209 | $2794 | 3 Years |
*Core: Waived for 30 Days
*Shipping: Shipping is free to a commercial address
*Logos are the property of their respective owners
Why Chose Reman-Transmission.com
| Question to Ask | Reman Transmission | Other Vendors |
| --- | --- | --- |
| Is shipping free? | Yes | Additional or Store Pickup |
| Who pays for Core Return? | We Do | You Do (Store Drop off) |
| Do I pay for Core today? | No, we waive Core Charge for 30 days* | Yes, but will be refunded when shipped back |
| Is torque convertor included? | Always! | Not included |
| What is the warranty? | Up to 5 years/Unlimited miles | Up to 3 years/Unlimited miles |
| Best Price Guarantee? | Yes! (for comparable conditions only) | Sorry, we don`t |
About Our Remanufactured 4R70W Transmission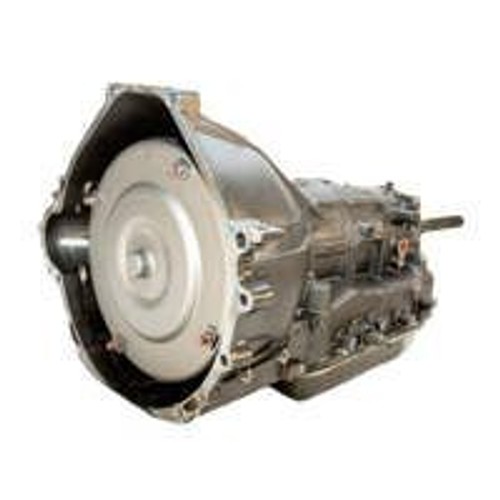 When you have decided that the 4R70W transmission in your car has failed and the right solution is to repair or replace it, Reman-Transmission is the smart choice for you. We specialize in providing professionally remanufactured 4R70W transmissions and high quality used 4R70W transmission, offering them at an affordable price, and shipping them straight to a garage near you. A reconditioned or rebuilt 4R70W transmission for sale has the components that are broken or worn out repaired only. The cheap price reflects the expected performance life of the powertrain. You can even save a little more cash and buy a used one out of a junkyard, but you will have no idea if it will work or how long it will last.
Remanufactured means that once we have the old transmission apart, we replace all parts with new or re-machined ones to meet or exceed original equipment manufacturer (OEM) specifications. Your part can also include a 5-year unlimited mileage warranty, which is as good or better compared to the warranty you get at the new auto dealer. Best of all, we keep it affordable. If you need a 4R70 that is cheap but will still run when you drop it in your vehicle, we have an option for you. We also supply the best used 4R70W transmissions on the market so we have a product for everyone.
If you are not sure if the 4R70W transmission for sale is compatible with your vehicle, we have a VIN search tool on our site to help you easily browse through our online catalog to find the perfect transmission to get the job done. Click or call Reman-Transmission today for a quote or to order your 4R70W transmission and discover the added confidence found when you work with a reputable automotive parts company.
4R70W Transmission Remanufacturing Process
Free Shipping
Excellent Customer Support
Up to 5 Years Unlimited Miles Warranty
No Core Charge for 30 Days
Our 4R70W transmission Upgrades
Six-plate direct clutch and four-plate intermediate clutch packs, standard on all models, increase durability and performance.
New EPC solenoid installed for precise pressure control.
New boost valve kit, pressure regulator valve, bypass converter clutch sleeve, and plunger eliminate delayed engagement, shudder, and soft shifting.
Upgraded spiral lock snap ring and staked retainer for intermediate clutch address an OE design flaw and eliminate premature failure.
Updated 1-2 and 2-3 accumulator pistons prevent harsh shifting and premature clutch failure.
New overdrive servo pin sleeve is installed during our servo modification process with custom-designed tooling and bushings.
Completely remanufactured pump with new line bore bushings eliminates leaks and provides superior flow and durability.
Fully remanufactured torque converter is tested for leaks, lockup, concentricity, and balance. Upgrades exceed OE requirements and eliminate the possibility of front seal leaks, premature bushing wear, and vibration
2001 and newer models feature a new 3-4 capacity valve sleeve and an extra-thick zinc-coated Super Tough Plate to eliminate plate cracking and cross leaks caused by repeated stress from the 2-3 accumulator piston spring retainer.
Police, towing, and performance packages include: eightplate direct clutch pack, additional valve body modifications, elevated pressure regulator valve, and other upgrades to increase durability and load capacity.
New custom-spec bushings improve internal fluid flow control and pressure.
Every transmission is cold-and hot-tested using a proprietary dynamometer testing program that includes fully synthetic automatic transmission fluid and a filtration system
4R70W Frequently Asked Questions
Is the 4R70W a good transmission?
What's the difference between a 4R70W and 4R75W?
How much HP can a 4R70W transmission handle?
What does 4R70W stand for?
4R70W History & Information
In 1979 Ford introduced the Ford AOD transmission in response to the industry demand for more fuel-efficient powertrains. The new automatic transmission included a fourth overdrive gear that was missing in previous builds. After 14 years of use, the AOD and AOD-E were finally replaced by the 4R70W in 1993. It first was installed in the Lincoln Mark VIII and the Ford F-150 pickup trucks. Drivers experienced livelier acceleration, a more durable gear set, and better gas mileage with the 4R70W. Designed for the domestic full-size car, light-duty pickup, and muscle car segment, it would appear as a stock production option in a variety of models including the Ford Thunderbird, Crown Victoria, F-150 Series trucks, and the Ford Mustang. It was generally accepted as a rock steady transmission for street and performance uses.
The 4R70 remained as one of the key components for Ford powertrains through 2004 when the 4R75W took over the top place as the preferred transmission for full-size cars rolling out of the factory. The new 4R75W included new speed sensors, a larger ring gear, and an improved pump and torque converter. Later iterations of the four-speed transmission are referred to as AOD-E, 4R70E, and the 4R75E with the E incorporating the new advanced shift-by-wire technology. The four-speed transmission was phased out as a factory-included part in 2011, retiring along with legendary models such as the Crown Victoria, Mercury Grand Marquis, and the Lincoln Town Car.
The new Ford 6R80 6-speed automatic transmission appeared about the same time as the 4R75W and included six gears instead of four. Its modern design made it the transmission of choice for the Expedition, Transit Van, Lincoln Navigator, and the F-150 with a 3.3L engine. The 4R70W currently enjoys a reputation as a great transmission to install in your late 80s and early 90s performance sports car without spending an exorbitant amount of money. It is no longer manufactured as a complete new crate 4R70W transmission from Ford Motor Company, but OEM components are still made to support the remanufactured and rebuilt supplier markets.
Designed for rear-wheel cars, the 4R70 can be installed in a 4WD truck when paired with the appropriate transfer case. It is also a popular option for gearheads that want to replace their late 70s or 80s AOD transmission, but cannot find the earlier version in good condition. While it will not be a drop in replacement, you will only need to complete some limited mods to fit the 4R70W. It should be noted that this transmission goes best with the Borg-Warner BW4406 transfer case.
Common Ford Engines The 4R70W Was Paired With:
V6
V8
3.8L
4.2L
4.6L
5.0L
Free Shipping
Excellent Customer Support
Up to 5 Years Unlimited Miles Warranty
No Core Charge for 30 Days
Speak With A Specialist Now
Habla con un especialista ahora
4R70W Transmission Compatibility Chart
MAKE
MODEL
START YEAR
END YEAR
Ford
Crown Victoria
1996
2005
Ford
E-150 Econoline Club Wagon
1994
2004
Ford
E-250 Econoline Van
1997
2004
Ford
E-350 Econoline Club Wagon Super Duty
2001
2003
Ford
Expedition
1997
2004
Ford
Explorer
1996
2001
Ford
F-150
1994
2004
Ford
F-250
1997
1999
Ford
Mustang
1996
2004
Ford
Thunderbird
1994
1997
Lincoln
Mark VIII
1996
1998
Lincoln
Town Car
1995
2005
Mercury
Cougar
1996
1997
Mercury
Grand Marquis
1996
2005
Mercury
Marauder
2003
2004
Mercury
Mountaineer
1997
2001
Free Shipping
Excellent Customer Support
Up to 5 Years Unlimited Miles Warranty
No Core Charge for 30 Days
Diagnostic Codes for 4R70W Transmissions
DIAGNOSTIC CODES
DESCRIPTION OF PROBLEM
P1500
Vehicle Speed Sensor Intermittent
P1501
Programmable Speedometer & Odometer Module/Vehicle Speed Sensor Intermittent Circuit-failure
P1502
Invalid or Missing Vehicle Speed Message or Brake Data
P1700
Transmission System Failure
P1701
Reverse Engagement Error
P1702
Transmission System Failure
P1703
Brake On/Off Switch Out of Self-Test Range
P1704
Transmission System Failure
P1705
Manual Lever Position Sensor Out of Self-Test Range
P1706
High Vehicle Speed Observed in Park
P1707
Transfer Case Neutral Indicator Hard Fault Present
P1709
Park or Neutral Position Switch Out of Self-Test Range
P1710
Transmission System Failure
P1711
Transmission Fluid Temperature Sensor Out of Self-Test Range
P1712
Trans Torque Reduction Request Signal Malfunction
P1713
TFT Sensor In Range Failure Low Value
P1714
SSA Inductive Signature Malfunction
P1715
SSB Inductive Signature Malfunction
P1716
SSC Inductive Signature Malfunction
P1717
SSD Inductive Signature Malfunction
P1718
TFT Sensor In Range Failure High
P1720
Vehicle Speed (Meter) Circuit Malfunction
P1721
Gear 1 Incorrect Ratio
P1722
Gear 2 Incorrect Ratio
P1723
Gear 3 incorrect Ratio
P1724
Gear 4 Incorrect Ratio
P1725
Insufficient Engine Speed Increase During Self Test
P1726
Insufficient Engine Speed Decrease During Self Test
P1727
Coast Clutch Solenoid Inductive Signature Malfunction
P1728
Transmission Slip Error
P1729
4x4 Low Switch Error
P1731
1-2 Shift Malfunction
P1732
2-3 Shift Malfunction
P1733
3-4 Shift Malfunction
P1740
Transmission System Failure
P1741
Torque Converter Clutch Control Error
P1742
Torque Converter Clutch Solenoid Faulty
P1743
Torque Converter Clutch Solenoid Faulty
P1744
Torque Converter Clutch System Stuck in Off Position
P1745
Transmission System Failure
P1746
Electronic Pressure Control Solenoid A - Open Circuit
P1747
Electronic Pressure Control Solenoid A- Short Circuit
P1748
EPC Malfunction
P1749
Electronic Pressure Control Solenoid Failed Low
P1751
Shift Solenoid A Performance
P1754
Coast Clutch Solenoid Circuit malfunction
P1756
Shift Solenoid B Performance
P1760
Transmission System Failure
P1761
Shift Solenoid C Performance
P1762
Overdrive Band Failed Off
P1766
Shift Solenoid D Performance
P1767
Torque Converter Clutch Circuit Malfunction
P1768
Performance / Normal / Winter Mode Input Malfunction
P1770
Clutch Solenoid Circuit Malfunction
P1779
Transmission Control Indicator Lamp Circuit Malfunction
P1780
Transmission Control Switch Circuit is Out of Self-Test Range
P1781
4x4 Low Switch is Out of Self-Test Range
P1782
P/ES Circuit Out Of Self Test Range
P1783
Transmission Over-Temperature Condition
P1784
Transmission Mechanical Failure - First And Reverse
P1785
Transmission Mechanical Failure - First And Second
P1786
3-2 Downshift Error
P1787
2-1 Downshift Error
P1788
Pressure Control Solenoid 'B' Open Circuit
P1789
Pressure Control Solenoid 'B' Short Circuit
P1795
Idle Switch Circuit Malfunction
P1804
Transmission 4-Wheel Drive High Indicator Circuit Failure
P1806
Transmission 4-Wheel Drive High Indicator Short Circuit To Battery
P1808
Transmission 4-Wheel Drive Low Indicator Circuit Failure
P1810
TFP Valve Position Switch Circuit/ Transmission 4-Wheel Drive Low Indicator Short Circuit To Battery
P1812
Transmission 4-Wheel Drive Mode Select Circuit Failure
P1815
Transmission 4-Wheel Drive Mode Select Short Circuit To Ground
P1819
Transmission Neutral Safety Switch Short Circuit To Ground
P1820
Transmission Transfer Case Clockwise Shift Relay Coil Circuit Failure
P1822
Transmission Transfer Case Clockwise Shift Relay Coil Short Circuit To Battery
P1824
Transmission 4-Wheel Drive Clutch Relay Circuit Failure
P1826
Transmission 4-Wheel Drive Low Clutch Relay Circuit To Battery
P1828
Transmission Transfer Case Counter Clockwise Shift Relay Coil Circuit Failure
P1830
Transmission Transfer Case Counter Clockwise Shift Relay Coil Short Circuit To Battery
P1832
Transmission Transfer Case Differential Lock-Up Solenoid Circuit Failure
P1834
Transmission Transfer Case Differential Lock-Up Solenoid Short Circuit To Battery
P1838
Transmission Transfer Case Shift Motor Circuit Failure
P1846
Transmission Transfer Case Contact Plate 'A' Circuit Failure
P1850
Transmission Transfer Case Contact Plate 'B' Circuit Failure
P1854
Transmission Transfer Case Contact Plate 'C' Circuit Failure
P1858
Transmission Transfer Case Contact Plate 'D' Circuit Failure
P1866
Transmission Transfer Case System Concern - Servicing Required
P1867
Transmission Transfer Case Contact Plate General Circuit Failure
P1876
Transmission Transfer Case 2-Wheel Drive Solenoid Circuit Failure
P1877
Transmission Transfer Case 2-Wheel Drive Solenoid Circuit Short To Battery
P1881
Engine Coolant Level Switch Circuit Failure, GEM
P1882
Engine Coolant Level Switch Circuit Short to Ground
P1883
Engine Coolant Level Switch Circuit Failure, GEM
P1884
Engine Coolant Level Lamp Circuit Short to Ground
P1891
Transmission Transfer Case Contact Plate Ground Return Open Circuit
P1900
Output Shaft Speed (OSS) Circuit Intermittent Malfunction
P1901
Turbine Shaft Speed (TSS) Circuit Intermittent Malfunction
P1902
Kickdown Solenoid Relay Control Circuit
P1903
Kickdown Solenoid Circuit Low Voltage
P1904
Kickdown Solenoid Circuit High Voltage
Speak With A Specialist Now
Habla con un especialista ahora