Flat Rate Shipping
Up to 5 Years Unlimited Mile Warranty
Excellent Customer Support
No Core Charge for 30 Days
About Our Remanufactured NP242-NV242 Transfer Case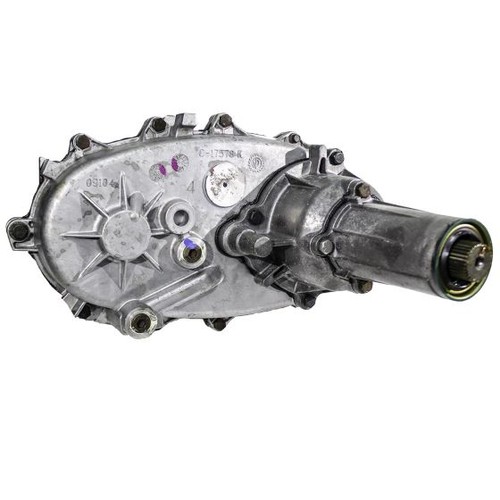 The NV242 transfer case was a staple in Jeep vehicles for 20 years. At a time when chain-driven cases were considered weak and a liability, this transfer case changed many minds and convinced many drivers that variable speeds are a valuable asset in a 4WD vehicle.
The case was discontinued for mass use in 2008, so if you want to find one for sale today, you'll need a refurbished or remanufactured case. We sell remanufactured transfer cases, so when you purchase from us, reliability is something you can assume.
When you invest in an NP242 transfer case upgrade, you get access to the multi-speed function and the low-noise, lightweight design. Because we certify any restorative work done on the transfer case, you can also trust that we have remedied some of the original design limitations. The transfer case you order from us will be as good as or better than an original NP242.
You can trust that all components match or outperform OEM specs so that you get pure performance and reliability. If you want a 242 transfer case for sale near me, our online store is the way to go. When you order a transfer case from us, we can ship it to any commercial address in the U.S. for free. Shipping to residential addresses is affordable at the cheap cost of $75.
An NP242 transfer case swap gives you freedom in how you make use of your 4WD vehicle. You can challenge the limits of offroading or add stability when the paved roads are suffering adverse conditions. Most importantly, you can trust that your transfer case is up to the task and is built for performance and longevity.
Flat Rate Shipping
Excellent Customer Support
Up to 5 Years Unlimited Miles Warranty
No Core Charge for 30 Days
NP242-NV242 Frequently Asked Questions
Is the NP242 a good transfer case?
The NP242 comes with its own set of pros and cons. On the plus side, it's a versatile T-case that allows four ranges of driving, including 2WD, 4WD low range, part-time 4WD, and full-time 4WD. The Hummer variant of the NP242 has a 32-spline output, and when this case is properly remanufactured to OEM specs, all of the known fault points can be easily amended.
Which Jeep Models have the NP242 transfer case?
The NP242 was originally installed in the XJ Cherokee. The ZJ Grand Cherokee has the NP242 as well. You will also find it in the WJ Grand Cherokee and the KJ Liberty. It was the standard transfer case for each of these models for the entirety of their runs between the years 1987 and 2008.
What's the difference between an NP231 and NP242?
The primary difference is that the NP231 is a part-time 4WD high setup while the NP242 allows for full-time 4WD. Essentially, you can drive at normal road speeds in 4WD high when using the NP242. This is made possible by friction plates on the NP242 that allow a bit more slippage for better steering.
How does a 242 transfer case work?
Like any other transfer case, it takes torque from the transmission through an input shaft and splits that torque into two driveshafts that connect to the front and rear axles. The 242 case uses speed sensors to calibrate that output. What makes the NP242 special is that it has multiple speeds and allows for part-time and full-time 4WD.
NP242-NV242 History & Information
The New Process 242 transfer case was first used for production Jeep vehicles equipped with 4WD in 1987. It was used to replace the NP228 that was in many models before that year. The NP242 first appeared in the XJ Cherokee. It was also used in the Wagoneer, Grand Cherokee, Liberty, and the MJ Comanche. This transfer case was also used on select Dodge Dakota and Dodge Durango models. The transmissions that were factory mounted with these transfer cases were the 30RH, 32RH/RE, AW4, 42RE, and the 46RE. It is said that some of them came equipped with the AX15 and NV3550 transmissions but so far that remains unconfirmed.
With rapid success as the reliable transfer case for these models, it ended up being the go-to transfer case for the entire run of the XJ Cherokees. When the Jeep Liberty was launched in 2002, the NP242 remained the transfer case of choice until 2008.
The NP242 transfer case had a few different variants that were manufactured a little differently, including the NP242J transfer case which was mainly used in Jeep vehicles, the NVG242 (used in Hummers), the NP242J HD which was used in Jeeps with the V8 engine, and the NP242D which was primarily used in Dodge products. Despite the name changes, it was fundamentally the same transfer case, though some minor adjustments were made to each variant which unfortunately makes the variants non-interchangeable. Basically, if your vehicle came with an NP242J transfer case, an NP242D will not be a direct bolt-on replacement.
The NP242 is a chain-driven case, making it lighter and more fuel-efficient than heavier gear-driven cases. The 242J transfer case uses driver's side front output and centerline rear output. What really makes it special is the variable speed options. With this transfer case, drivers can select 2WD, low-range 4WD, and high-range 4WD. The low range provides a 2.72 to 1 low ratio, and the high range provides direct drive.
New Venture (the company that manufactured these transfer cases) rated the torque for the NP242 at 1486 ft-lbs, and that is considered by many to be a conservative rating.
A few more details about the case can help to identify it. It features a red and silver tag that is unique to the series. It also uses a six-bolt front face and longitudinally ribbed barrel case.
Ultimately, the NP242 was designed with simplicity in mind, and this design made it durable and reliable throughout its long run. Remanufactured NV242 transfer cases are still sought after by Jeep enthusiasts who want the reliability and versatility offered by this long-loved design.
Flat Rate Shipping
Excellent Customer Support
Up to 5 Years Unlimited Miles Warranty
No Core Charge for 30 Days
Speak With A Specialist Now
Habla con un especialista ahora
NP242-NV242 Transfer Case Compatibility Chart
MAKE
MODEL
START YEAR
END YEAR
Jeep
Cherokee
1989
2001
Dodge
Dakota
1998
2000
Dodge
Durango
1998
2000
Jeep
Grand Cherokee
1994
2003
Jeep
Liberty
2002
2007
Jeep
Wagoneer
1990
1990
Flat Rate Shipping
Excellent Customer Support
Up to 5 Years Unlimited Miles Warranty
No Core Charge for 30 Days
Speak With A Specialist Now
Habla con un especialista ahora