AT, (6 Speed), 3.6L (opt MH2)
2012 Chevrolet Malibu automatic Transmission
Options: AT, (6 Speed), 3.6L (opt MH2)
r-t_10173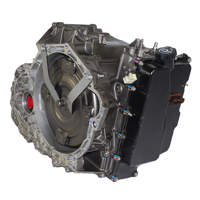 Remanufactured
$2,312
View Specification
t-u-n_2605
Used
$669
View Specification
t-u-n_2605-lm
Used
$889
Transmission: r-t_10173
Condition:
Remanufactured
Price:
$2,312
Warranty:
Up to 60 Months
*
Flat Rate Shipping (Commercial address):
$299
Core Charge:
$1000
Transmission Tag:
22PK ,
24264095 ,
19332880 ,
24256003 ,
19303655
Transmission Code:
6T70
Remove and Replace time:
8.5
Bell Housing:
2 Holes Over Differential are Offset
Bell Housing Included:
Yes
California Proposition 65:
WARNING: Cancer and Reproductive Harm
Cooler Included:
No
Cooler Replacement Required:
No
Fluid Type:
PZL-LVMULTI
Lockup:
Yes
Pan Bolts:
14
Radiator Included:
No
Radiator Replacement Required:
No
Tail Housing:
N/A
Torque Converter Included:
Yes
Transmission Family:
6T70
Transmission Fluid:
10
Transmission Manufacturer:
General Motors
Transmission Speeds:
6-Speed
Speak With A Specialist Now
Habla con un especialista ahora
Remanufactured Transmission
If you're looking for the best-remanufactured transmission, Reman-Transmission can help. Each transmission features a fully remanufactured and enhanced torque converter. To reduce the likelihood of vibration, front seal leaks, and premature wear on the bushing, each torque converter is inspected and tested for concentricity, lock-up, leaks, as well as balance. All transmissions include a completely remanufactured valve body with a complete system correction and recalibration kit. Each component is independently tested. To ensure the highest level of performance and reliability, all valves prone to wear and tear are rejuvenated to stringent specifications and vacuum tested to ensure proper functionality. Before each transmission is stamped ready, they must undergo extensive testing, including cold, hot, load, and simulated road testing via our state-of-the-art, proprietary Computer-Aided Road Simulation (CARS) dynamometer program. In addition, every Reman-Transmission is backed by the industry's most robust, no-hassle, nationwide parts and labor warranty.
Show more
Core Return Policy
The core is the original transmission you are replacing. One of the key ways we keep our prices low and affordable is that we require you to return your old transmission (the core). To simplify this process, we will cover all shipping costs associated with returning your core to us. It's imperative you understand that returning the core is your responsibility and must be initiated by you — the customer. After your new remanufactured transmission has been installed, simply visit our Core Return or call us at (888) 242-2605 to initiate the process and arrange for core pickup.
Best of all, there are no upfront charges — unless the Waive Core Now option isn't available — as long as you schedule the pickup of your existing core within 30 days of receipt of your transmission. When you choose the "Waive Core Charge" option, you authorize Reman Transmission to charge your credit card for the amount if you fail to return it after 30 days of delivery. Need more time to return the core? Simply let us know. However, if the core isn't paid for or returned, the warranty will be void. If you do return the core after you have been billed, you will be responsible for a $50 processing fee. In either case, Reman Transmission will pay for the return shipping at no additional charge to you.
Show more
Flat Rate Shipping (Commercial address)
At Reman Transmission, we offer a Flat Rate Shipping (Commercial address) service as long as the delivery address is in a commercially zoned location. Unfortunately, residential and home businesses are not considered commercial addresses. A business or commercial address location must be able to receive freight without the requirement of prior appointment setup or notification. This location should also have the capability of unloading the remanufactured transmission with a forklift from the delivery truck. If you don"t have a commercial or business address that meets these specifications, you should ship it directly to the dealership or repair shop that is performing the repairs to ensure you enjoy Flat Rate Shipping (Commercial address). Residential delivery or Liftgate service will result in additional $99 fee.
After placing the order for a remanufactured transmission, most customers will receive it within 7-14 business days — not including holidays or weekends. Please keep in mind that certain locations (remote areas) and locations in Colorado, Utah, New York, Oregon, and California may require an additional delivery fee. In either case, we will always ship your remanufactured transmission out as soon as possible. Because of weather conditions, increasing order volumes, and conditions outside of our control, all shipping times are estimates, not guarantees. It"s important to note that Reman Transmission will not be liable for any extra fees the carrier may levy due to storage or redelivery. While every transmission from Reman Transmission has been rigorously inspected and tested prior to being shipped, damage may occur during transportation.
As such, we strongly suggest you carefully inspect your transmission upon receipt. If you notice any missing parts, wrong parts, or damage, you should report it prior to signing any delivery documentation. It"s imperative to report missing parts, damage, or wrong parts at the time of delivery. If you fail to do so prior to signing your shipping documents, responsibility will be placed on the purchaser or receiver. For clarity, "purchaser" refers to any representative of the company designated to sign for the delivery of the remanufactured transmission.
Show more
Remanufactured Transmission Warranty
Warranty for Transmissions Year 2000 and Older
Personal/Individual Transmission Warranty: 36 Months/ Unlimited Mileage
Commercial Transmissions Warranty: 18 Months/ 100,000 Miles
Continuously Variable Transmission (CVT) Warranty: 36 Months/ Unlimited Mileage
Manual Transmission Warranty: 36 Months/ Unlimited Miles
Warranty for Transmissions Year 2001 and Newer
Personal/Individual Transmission Warranty: 60 Months/ Unlimited Mileage
Commercial Transmissions Warranty: Prior to 03/01/2020 18 Months/ 100,000 Miles Miles
Effective 03/01/2020 Commercial Warranty 36 Months / Unlimited Mileage
Continuously Variable Transmission (CVT) Warranty: 36 Months/ Unlimited Mileage
Manual Transmission Warranty: 36 Months/ Unlimited Miles
Easy, Hassle-Free, Transferable Warranty
At Reman Transmission, we offer an easy, transferable, hassle-free warranty. Instead of being associated only with you, the warranty is attached to your Vehicle Identification Number. As such, the warranty is transferable with vehicle ownership, which means you never have to worry about any paperwork or fees involved. Please note, that the used parts warranty is not transferable.
Nationwide Coverage
Whether you're in California, Chicago, New York, Florida, or anywhere in between, you are covered with a nationwide warranty. This warranty covers you anywhere in the continental U.S.
Instant Replacement
With instant replacement, your replacement transmission will be sent out as soon as you submit your claim. This way you can spend less time waiting and more time doing whatever needs to be done.
Paid Parts & Labor
When you have your work performed in a certified shop, your Reman Transmission warranty will pay for parts and labor at $50 an hour, which is the Mitchell labor reimbursement rate.
Show more
Speak With A Specialist Now
Habla con un especialista ahora
California Proposition 65
Warning: Cancer and Reproductive Harm