Flat Rate Shipping (Commercial address)
Up to 5 Years Unlimited Mile Warranty
Excellent Customer Support
No Core Charge for 30 Days
Remanufactured Jatco Transmission Price
Alternative Name: Jatco CVT Transmission, Jatco Automatic Transmission
Price
Shipping
Core and Fee
Upfront Cost
Warranty
$2530
$270
None
$2800
5 Year
$3275
In Store
$1327
$4602
3 Year
$3275
In Store
$1327
$4602
3 Years
*Core: Waived for 30 Days
*Shipping: We offer Flat Rate Shipping (Commercial address)
*Logos are the property of their respective owners
Why Chose Reman-Transmission.com
| | Reman Transmission | Other Vendors |
| --- | --- | --- |
| Transparent Pricing | Check | x |
| Best Price Guarantee | Check | x |
| Flat Rate Shipping (Commercial address) | Check | x |
| Up to 5 Years Unlimited Mile Warranty | Check | x |
| Torque Convertor Included | Check | x |
| No Core Charge for 30 Days | Check | x |
| Free Shippng on Core Return | Check | x |
Why Chose Reman-Transmission.com
| Question to Ask | Reman Transmission | Other Vendors |
| --- | --- | --- |
| Is shipping free? | We offer Flat Rate Shipping (Commercial address) | Additional or Store Pickup |
| Who pays for Core Return? | We Do | You Do (Store Drop off) |
| Do I pay for Core today? | No, we waive Core Charge for 30 days* | Yes, but will be refunded when shipped back |
| Is torque convertor included? | Always! | Not included |
| What is the warranty? | Up to 5 years/Unlimited miles | Up to 3 years/Unlimited miles |
| Best Price Guarantee? | Yes! (for comparable conditions only) | They Don't |
About Our Remanufactured Jatco Transmission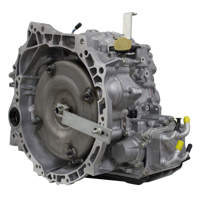 Our Jatco transmission offers all of the benefits of factory-produced transmissions with several upgrades. When you buy a Jatco transmission from us at Reman-Transmission, you will get a high-quality, remanufactured transmission. This is the most affordable option in the industry.
One of the core benefits of using our Jatco CTV transmission is that we have updated, modernized, and improved them to remove many of the most common problems associated with these transmissions, making them even more efficient and effective.
Our remanufactured transmissions have had every single part within them replaced with new or re-machined parts. These parts are of the highest quality as well – meeting or exceeding the original equipment manufacturer's specifications (OEM). This isn't common, but it is the highest standard of service and repair that can be offered when purchasing a Jatco transmission.
Because we correct any known factory defects when we remanufacture the transmission, ours tend to provide a better-than-new level of functionality, lasting longer and performing optimally in every area. More so, the warranty we offer on our used transmissions is for up to six months or 6,000 miles, or, with a remanufactured transmission, you gain a 36-month and unlimited mileage warranty.
More so, Reman-Transmission does everything we can to keep your costs in line with your goals. When you need a Nissan Jatco transmission that is the right price, and you don't want to pay a lot for shipping (we only charge $270 for shipping), count on our team to produce it for you.
Our transmissions are inspected. We ensure they are in adequate working condition. Each transmission is carefully retooled to ensure precision results, giving you the best possible outcome when your previous Jatco transmission fails at a competitive price.
Flat Rate Shipping (Commercial address)
Excellent Customer Support
Up to 5 Years Unlimited Miles Warranty
No Core Charge for 30 Days
Jatco Frequently Asked Questions
Are Jatco transmissions reliable?
Overall, Jatco transmissions are reliable, but there are known issues with them that have pushed the company towards modernizing and improving them to improve reliability. Ours are remanufactured to OEM specs but have all factory defects amended during that process, making these transmissions the better option over the factory-produced options.
Is Nissan still using Jatco transmissions?
Nissan is still using the Jatco transmission in each of its front-wheel drive vehicles. It has been using this transmission in all of these vehicles since 2007 but has used these transmissions for years. Jatco is a Nissan subsidiary and is working closely with the company to produce new transmissions, including opening a new plant in Suzhou, China, to support the company's growth.
What is the problem with the Jatco transmission?
Common problems associated with the Jatco transmission include slipping due to wear, jerking, shuddering, and hesitating while driving. Transmission chain drive failures due to a belt slip condition are also concerns. Our Jatco CVT transmissions have fixed the manufacturer defects. Another model is the Jatco JF011E, with RE0F10A as the Nissan part number or F1C1A as the Mitsubishi part number. This CVT, found in a number of vehicles, including the Jeep and Dodge, creates an impressive road experience. This transmission uses a torque converter, which other models like it does not, which means it has a forward and reverse clutch in front of the pulley assembly, improving performance. A few other notable transmissions from the company include the Jatco JF3403, which is a 4-speed transmission. It was used in the 1990s through 2001 in the Infiniti Q45, as well as in the Nissan 300ZX Twin-Turbo, Nissan Cedric Y33, Nissan Patrol (both Y60 and Y61 models), and the Mazda Eunos Cosmo from 1990 through 1995. The JF011E or RE0F10A CVT transmission from Jatco is found on Nissan, Dodge, and Mitsubishi vehicles, some of which used them as early as 2007. These Jatco CVTs have seen numerous repair needs over the last few years, including due to electrical failures and valve body repair or replacement. While upgrades to newer models fixed these concerns, those who have a vehicle with the Jatco JF011E transmission may wish to consider an upgrade to fix these failures.
Jatco History & Information
The Jatco transmission was first produced in Fuji, Shizuoka, Japan. Jatco, which is an abbreviation for "Japan Automatic Transmission Company) produced automatic transmissions for vehicles. The company's history goes back to 1943, when Nissan first established a plant to produce aircraft engines in Yoshiwara, Shizuoka. At that time, the engines were used to support war efforts. After World War II, the plant retooled to manufacture Nissan automobile components.
In 1970, Nissan linked with Toyo Kogyo, now known as Mazda, and Ford Motor Company in a joint venture to form Japan Automatic Transmission Co., LTD, as it was formally called. In 1989, the company changed its name to Jatco Corporation.
Nissan decided to separate its AT/CVT development components, including the Fuji manufacturing plant founding a subsidiary called TransTechnology, LTD. That occurred in 1999, and within four months, that subsidiary and Jatco merged to form Jatco TransTechnology LTD.
Two years later, Mitsubishi Motors began restructuring and decided to spin off and later merge its transmission division with Jatco TransTechnology. In 2002, the company became Jatco Ltd, and at the time, both Mitsubishi and Nissan had equity holdings in the company. Numerous additional mergers would take place in the coming years.
Jatco transmissions are noted for their high-quality design. The first Jatco and Nissan transmission was the Jatco 3N71, which began production in 1982 and featured a locking torque converter (L2N71b) to improve its overall efficiency. A year later, the transmission featured an overdrive section (L4N71b). In 1985, preliminary electronic sensors, as well as control functions, were added (E4N71b).
Over the years, Jatco transmission components have been used by virtually every other automaker in the industry, with the exception of Honda Motor Company and Toyota Motor Corporation, both of which use alternative transmission options. This showcases the value that comes from introducing a Jatco transmission to any vehicle.
The company has produced a number of impressive transmissions, though most of them have had some level of repair or upgrade needed over time due to wear and tear and simple technology improvements.
The Jatco JF506E transmission is one of the most sought-after options today. This is an electronic/hydraulic 5-speed transmission. It is one of the most common of the company's lineups and is found in numerous passenger vehicles, including those from Jaguar, Land Rover, Volkswagen, Mazda, and others. Also called the Jatco F5A5, this transmission has a 09A/ 09B gearbox on the Volkswagen vehicles it supports.
The Jatco 5R05 transmission, also noted as the Jatco RE5R05A transmission as a Nissan part or the TG5C/ TG5D/ 5EAT as a Subaru part, is another 5-speed Jatco automatic transmission. It was produced from 2002 through 2019 and found on numerous vehicles, including the Kia Sorento and Borrego, Nissan Pathfinder, Navara, Armada, and Titan, and the Infiniti lineup of vehicles. This transmission was heavily used in both rear-wheel drive and 4x4 vehicles. It was used in vehicles with a longitudinal engine.
When the Jatco RE5R05A transmission hit the market, it was one of the first five-speed models to enter the market. However, early on, numerous vehicles experienced premature transmission failure, occurring at under 120,000 miles. It was determined that this was due to contamination of the transmission fluid and engine coolant. In our remanufactured Jatco RE5R05A transmission, we have corrected this problem, and it no longer creates a concern for operators.
Throughout the history of the Jatco CVT transmission, there have been reports of some concerns, including early failure. This was common in older models, especially when these continuously variable transmissions were first announced. Many believed them to be less reliable than traditional automatic transmissions. What makes that common is that Jatco transmissions launched CTVs early on, and many people (including some working in the industry) did not understand how they worked, which led to numerous miscommunications about repairs and updates.
Today, with Jatco transmission identification, you can be confident that this transmission is a highly reliable solution for your vehicle, one that will last for years to come in most cases. That is even more likely to occur when you allow our team to provide a remanufactured Jatco transmission. We have updated all to eliminate the factory issues that made them less reliable, including improving seals to limit fluid concerns and improving slipping risks. Our goal for the Jatco RE5R05a transmission and every other is to provide the most reliable design, fixing factory-issued problems and ensuring the smooth ride that Jatco transmissions can easily offer.
Helpful Information About the Jatco Transmission
We offer comprehensive support for most Jatco transmissions. With proper Jatco transmission identification, you can put Reman-Transission to work for you. We service and offer:
Jatco JF011E (RE0F10A is the Nissan part number): This CVT transmission is used in Dodge, Mitsubishi, and Nissan vehicles dating back to 2007. These are some of the most common Jatco transmissions requiring repair because of their age and update needs, including transmissions that go from low to high range caused by surging and flaring.
Jatco JF403E (RE4F03A / RE4F03B / RE4F04A / RE4F04B / RE4F03V / RE4F04V are the Nissan part numbers): The JF403E transmission is a four-speed, automatic transmission that is found in the Infiniti, Isuzu, Impulse 2, and Mazda from as far back as 1992. These transmissions, while reliable, have needed to be rebuilt due to early wear and tear on the system. They are also found in the Nissan Rogue and Pathfinder in more modern vehicles.
Jatco JF010E (RE0F09A or RE0F09B are the Nissan part numbers): The Jatco JF010E is a CTV that was designed on the RE0F06A base. However, it was then upgraded to a higher torque level to meet the demands of the Nissan engine. That allowed it to work with the 3.5 liter V6 engine. This transmission is currently found in the Nissan Murano since 2002. It was also used in other vehicles, including Presage, Maxima, and other vehicles with much less commonality.
Jatco JF015E (Also known as CVT-7, RE0F11A Nissan part number): This vehicle transmission was designed for up to 180 Nm torque transfer. It was designed for smaller vehicles that had a 1.8 liter or even smaller engine. As a result, it is a rather light-duty transmission that was used mostly by the smaller cars produced by Nissan. While it is a reliable transmission that is known for its design, it does have some issues, including pressure and performance codes indicating flaring.
Jatco JF506E: This transmission was commonly used as an electronic and hydraulic 5-speed automatic transmission. It was quite versatile, which allowed for it to be used in numerous vehicles, including a range of Ford, Jaguar, Mitsubishi, Mazda, Volkswagen, and Land Rover vehicles. One of the common problems associated with this transmission is that it can lock up and may not go in reverse.
5R05 (Jatco: JR507E/JR509E, Nissan: RE5R05A): A reliable transmission, this model was used in the Nissan and Infiniti vehicles from 2002 onward for five-speed automatic transmission needs. It is often used in 4x4 applications.
7R01 (Jatco: JR710E/JR711E, Nissan: RE7R01A/RE7R01B): This transmission is a seven-speed transmission for passenger vehicles. Nissan and Subaru have used it for the most part. It is noted for its smooth, stepless gear changes and overall reliability thanks to its four planetary gear sets and multi-plate clutch packs. It has had some trouble with long-term reliability, which is why it may need to be repaired and updated over time.
Flat Rate Shipping (Commercial address)
Excellent Customer Support
Up to 5 Years Unlimited Miles Warranty
No Core Charge for 30 Days
Speak With A Specialist Now
Habla con un especialista ahora
Speak With A Specialist Now
Habla con un especialista ahora