Flat Rate Shipping (Commercial address)
Up to 5 Years Unlimited Mile Warranty
Excellent Customer Support
No Core Charge for 30 Days
Remanufactured Allison-1000 Transmission Price
Alternative Name: Allison 1000, M74
Price
Shipping
Core and Fee
Upfront Cost
Warranty
$2483
$270
None
$2753
5 Year
$3796
In Store
$1604
$5400
3 Year
$3796
In Store
$1604
$5400
3 Year

$3825
In Store
$1606
$5431
3 Year
*Core: Waived for 30 Days
*Shipping: We offer Flat Rate Shipping (Commercial address)
*Logos are the property of their respective owners
Why Chose Reman-Transmission.com
| | Reman Transmission | Other Vendors |
| --- | --- | --- |
| Transparent Pricing | Check | x |
| Best Price Guarantee | Check | x |
| Flat Rate Shipping (Commercial address) | Check | x |
| Up to 5 Years Unlimited Mile Warranty | Check | x |
| Torque Convertor Included | Check | x |
| No Core Charge for 30 Days | Check | x |
| Free Shippng on Core Return | Check | x |
Why Chose Reman-Transmission.com
| Question to Ask | Reman Transmission | Other Vendors |
| --- | --- | --- |
| Is shipping free? | We offer Flat Rate Shipping (Commercial address) | Additional or Store Pickup |
| Who pays for Core Return? | We Do | You Do (Store Drop off) |
| Do I pay for Core today? | No, we waive Core Charge for 30 days* | Yes, but will be refunded when shipped back |
| Is torque convertor included? | Always! | Not included |
| What is the warranty? | Up to 5 years/Unlimited miles | Up to 3 years/Unlimited miles |
| Best Price Guarantee? | Yes! (for comparable conditions only) | They Don't |
About Our Remanufactured Allison-1000 Transmission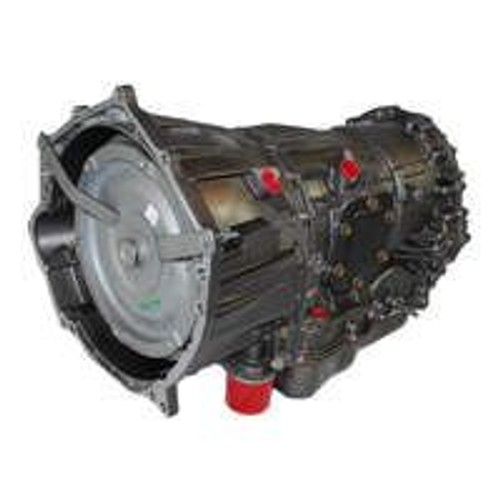 If you are looking for the best replacement Allison 1000 transmissions available, then a used Allison 1000 transmission or remanufactured Allison 1000 transmission from Reman-Transmission is for you. We are honored to be the best place to buy an Allison 1000 transmission in the automotive transmission zone. With access to complete professional services, we will make sure that your vehicle functions as well as possible when it returns to the street. Instead of going with a junkyard Allison 100 transmission or a cheap Allison 1000 transmission rebuild, go with a remanufactured Allison 1000 transmission instead.
When we remanufacture our Allison 1000 transmissions, we take a look at each individual part. We examine the components against the specification set by the original equipment manufacturer (OEM) after our remanufacturing process in which we replace every component with a re-machined or brand new part. During this process, we also correct all factory defects as part of our quality assurance standards. Therefore, if you decide to get one of our remanufactured Allison 1000 transmissions, you will end up with a transmission that functions better than a brand new one at a lower price. Not everyone is looking for a remanufactured transmission and we understand that, that's why we also keep quality used Allison 1000 transmissions in stock for a more economical option. We make sure that all of our used Allison 1000 transmissions are in working condition and ready to drop in your ride the moment it gets to your home or shop.
Furthermore, we are so confident in the services that we provide in our zone that we even provide an extended warranty on all of our automatic transmissions, used or remanufactured. If you decide to purchase a remanufactured automatic Allison 1000 transmission from us, our warranty lasts for up to 5 years and in a limited number of miles. Furthermore, we also provide free shipping to any and all commercial addresses located in the United States. Our customer service is at the top of our priority list and our only goal is to meet all of your needs.
If you are looking for a replacement Allison 1000 transmission, one of our replacement options is the answer. If you would like a quote on a remanufactured Allison 1000 transmission, call in and speak to a member of our team today. We would be happy to go through our company catalog with you to find a compatible Allison 1000 transmission for sale. Then, we will walk you through the ordering process from start to finish. If you are looking for a top remanufactured Allison 1000 transmission for sale for your domestic or foreign vehicle, it would be our honor to assist you. Contact us today to learn more about our remanufactured Allison 1000 transmissions!
Allison-1000 Transmission Remanufacturing Process
Flat Rate Shipping (Commercial address)
Excellent Customer Support
Up to 5 Years Unlimited Miles Warranty
No Core Charge for 30 Days
Our Allison-1000 Transmission Upgrades
Late-OEM front pump covers eliminate cracking around torque converter pads.
Upgraded lube regulator valve and torque converter relief spring eliminate delayed engagements and reduce operating temperatures.
F-Trim valve sleeve greatly reduces possibility of overheated torque converter.
E-Shift valve spring enhances shift quality and increases durability.
Additional friction plate added to C3 clutch increases load capacity.
Completely remanufactured late design pump with new line bore bushings eliminates leaks and provides superior flow and durability.
Fully remanufactured torque converter is tested for leaks, lockup, concentricity, and balance. Upgrades exceed OE requirements and eliminate the possibility of front seal leaks, premature bushing wear, and vibration.
Bushings and machined surfaces polished to a mirror-like OE finish of 15 RA or less.
Tru-Flat qualification process applied to transmission case, valve body, pump, and channel plate prevent cross leaks and pressure losses
All-new custom-spec bushings to improve internal fluid flow control and pressures.
Every transmission is cold-and hot-tested using a proprietary dynamometer testing program that includes fully synthetic automatic transmission fluid and a filtration system.
Allison-1000 Frequently Asked Questions
How long will an Allison 1000 last?
The short answer is it depends on how you maintain it; However, it is not unusual for an Allison 1000 transmission to last for more than 300,000 miles. The best option for longevity is our remanufactured Allison 1000 transmission with all components replaced and all of the factory defects corrected.
What is the difference between an Allison 1000 and 2000?
There are a few differences between the Allison 1000 transmission on the Allison 2000 transmission. The gear ratios changed, with the Allison 2000 having slightly larger gear ratios. Furthermore, the park pawl was removed in the Allison 2000 transmission. We will make sure that you end up with a transmission that is compatible with your vehicle.
How much torque can an Allison 1000 handle?
The original Allison 1000 transmission was rated to handle up to 620 foot pounds of torque. If you go with a remanufactured Allison 1000 transmission with factory defects corrected, your transmission might be able to handle additional torque, especially with a few aftermarket modifications.
How much does it cost to replace an Allison transmission?
It depends on what type of Allison transmission you purchase. For example, it is cheaper to go with a used Allison 1000 transmission upfront. Remanufactured and rebuilt Allison 1000 transmissions are usually about the same cost and a crate Allison 1000 transmission will cost the most.
Allison-1000 History & Information
The Allison 1000 transmission has a reputation for being a durable, reliable, and powerful transmission. The transmission was first produced in 1999 by Allison Transmissions. The transmission was used for a couple of years, General Motors (GM) paired the Allison 1000 transmission with its 6.6 L Duramax in 2001. One of the most reliable automatic transmissions, the Allison 1000 transmission, was placed in a wide variety of vehicles during the next few years because of its reliability and advanced technology along with its heavy duty capabilities. It provides smooth shifting, good gas mileage, and durable longevity in harsh conditions. In 2006, the Allison 1000 automatic transmission received a significant upgrade, converting it from a 5-speed automatic transmission to a 6-speed automatic transmission. As a result, the new Allison 1000 transmission became a double overdrive.
With the introduction of the double overdrive option (called the Generation 4 Allison 1000), the Allison 1000 transmission also offered manual gear selection. As a result, the driver gained additional control over the transmission itself. With the addition of operation over engine braking, and situations where less frequent shifting might be desired, the Allison 1000 transmission was introduced in a variety of vehicles. This includes all heavy-duty GMC Sierra 2500 and GMC Sierra 3500 trucks, Chevrolet Silverado 2500 and Silverado 3500 trucks, and even appeared in the Hummer H1. This transmission was commonly mated to the NV263XHD transfer case from the NV263 transfer case family.
Eventually, the Allison 1000 transmission was phased out in later model years. The Allison line of transmissions underwent significant changes beginning in the late 2000s. The Allison 2000 transmission was introduced as a successor to the Allison 1000 transmission. Later successors were also introduced including the Allison 3070 transmission, the Allison 4070 transmission, and the Allison 3700SP transmission.
Even though the Allison line of transmissions did undergo significant upgrades with the Allison 2000, 3070, 4070, and 3700SP, the Allison 1000 transmission is still in use to this day because of its durability, flexibility, and reliability. At the same time, even the Allison 1000 transmission can experience issues from time to time. When this happens, you might be looking for a transmission repair or replacement; however, you should consider going with a remanufactured Allison 1000 transmission instead. That is where our team can assist you.
Common Engines
V8 - 6.6L Diesel
V8 - 6.2L
V8 - 8.1L
V8 - 6.0L
Gear Ratios
First - 3.10
Second - 1.81
Third - 1.41
Fourth - 1.00
Fifth - 0.71
Sixth - 0.61
Reverse - -4.49
Flat Rate Shipping (Commercial address)
Excellent Customer Support
Up to 5 Years Unlimited Miles Warranty
No Core Charge for 30 Days
Speak With A Specialist Now
Habla con un especialista ahora
Allison-1000 Transmission Compatibility Chart
MAKE
MODEL
START YEAR
END YEAR
GMC
Sierra 2500
2001
2003
Chevrolet
Silverado 2500
2001
2016
Chevrolet
Silverado 3500
2001
2014
GMC
Sierra 2500
2001
2016
GMC
Sierra 3500
2004
2014
GMC
Sierra Denali 2500
2011
2016
GMC
Sierra Denali 3500
2011
2014
Chevrolet
Silverado 2500
2001
2003
GMC
Sierra 3500
2001
2003
Chevrolet
Silverado 3500
2001
2003
Flat Rate Shipping (Commercial address)
Excellent Customer Support
Up to 5 Years Unlimited Miles Warranty
No Core Charge for 30 Days
Diagnostic Codes for Allison-1000 Transmission
DIAGNOSTIC CODES
DESCRIPTION OF PROBLEM
U2105
Can Bus Error ECM Yes
U2104
Can Bus Rest Counter Overrun Yes
U1301
Serial Data Communication Link High
U1300
Serial Data Communication Link Low
U1096
Class 2 IPC Controller State of Health Failure No*
U1064
Class 2 TBC Controller State of Health
U1041
Class 2 ABS Controller State of Health
U1016
Class 2 Powertrain Controller State of Health
U1000
Serial Data Communication Link Malfunction
P1892
Throttle Postion Sensor Pulse Width
P1891
Throttle Postion Sensor Pulse Width
P1875
4WD Low Switch Circuit Yes
P1860
Torque Converter Clutch PWM Solenoid
P1835
Kickdown Circuit Yes
P1779
Engine Torque Delivered To ECM Yes
P1760
TCM Supply Voltage No
P1727
Shift Controlled E Clutch Engaged No
P1726
Shift Solenoid D Controlled Clutch Engaged No
P1724
Solenoid B Controlled Clutch Engaged Yes
P1723
Solenoid A Controlled Clutch Engaged Yes
P1721
Solenoid B Controlled Clutch Not Engaged Yes
P1720
Solenoid A Controlled Clutch Not Engaged Yes
P1718
Incorrect Neutral Gear Ration No
P1716
Transmission Pressure Switch Reverse Circuit
P1714
Transmission Pressure Switch Reverse Circuit
P1713
Transmission Pressure Switch Reverse Circuit Yes
P1712
Transmission Pressure Switch Solenoid E
P1711
Transmission Pressure Switch Solenoid E
P1710
Transmission Pressure Switch Solenoid E
P1709
Transmission Pressure Switch Solenoid E
P1688
Unmanaged Engine Torque Delivered to
P0848
Transmission Pressure Switch Solenoid D
P0847
Transmission Pressure Swtich Solenoid D
P0846
Transmission Pressure Switch Solenoid D
P0845
Transmission Pressure Switch Solenoid D
P0843
Transmission Pressure Switch Solenoid C
P0842
Transmission Pressure Switch Solenoid C
P0841
Transmission Pressure Switch Solenoid C
P0840
Transmission Pressure Switch Solenoid C
P0778
Pressure Control Solenoid B Electrical Yes
P0773
Shift Solenoid E Electrical Yes
P0768
Shift Solenoid D Electrical Yes
P0763
Shift Solenoid C Electrical Yes
P0748
Pressure Control Solenoid A Electrical Yes
P0742
Torque Converter Clutch System Stuck On Yes
P0741
Torque Converter Clutch System Stuck Off Yes
P0736
Incorrect Reverse Ratio Yes
P0735
Incorrect 5th Gear Ratio Yes
P0734
Incorrect 4th Gear Ratio Yes
P0733
Incorrect 3rd Gear Ratio Yes
P0732
Incorrect 2nd Gear Ratio Yes
P0731
Incorrect 1st Gear Ratio Yes
P0727
Engine Speed Sensor Circuit No Signal Yes
P0726
Engine Speed Input Circuit Performance Yes
P0722
Output Speed Sensor Circuit No Signal Yes
P0721
Output Speed Sensor Circuit Performance Yes
P0717
Turbine Speed Sensor Circuit No Signal Yes
P0716
Turbine Speed Sensor Circuit Performance Yes
P0713
Transmission Fluid Temperature Sensor
P0712
Transmission Fluid Temperature Sensor
P0711
Transmission Fluid Temperature Sensor
P0710
Transmission Fluid Temperature Sensor
P0708
Transmission Range Sensor Circuit High
P0706
Transmission Range Sensor Circuit
P0705
Transmission Range Sensor Circuit (PRNDL
P0703
Brake Switch Circuit No
P0701
Transmission Control System Performance No
P0606
Controller Internal Performance Yes
P0602
TCM Not Programmed Yes
P0563
System Voltage High Yes
P0562
System Voltage Low Yes
P0218
Transmission Fluid Over Temperature No
P0123
Pedal Postion Sensor Circuit High Voltage No
P0122
Pedal Postion Sensor Circuit Low Voltage No
P0121
Pedal Postion Sensor Performance Problem No
Speak With A Specialist Now
Habla con un especialista ahora