Free Shipping
Up to 5 Years Unlimited Mile Warranty
Excellent Customer Support
No Core Charge for 30 Days
loading...
Best Price Guarantee
We will match or beat any
competitor's pricing.
Remanufactured A518 Transmission Price
Alternative Name: Chrysler A518, 46RH
| | Price | Core | Shipping | Other Fees | Upfront Cost | Warranty |
| --- | --- | --- | --- | --- | --- | --- |
| | $2161 | Waived* | Free* | None | $2161 | 5 Year |
*Core: Waived for 30 Days
*Shipping: Shipping is free to a commercial address
*Logos are the property of their respective owners
Why Chose Reman-Transmission.com
| Question to Ask | Reman Transmission | Other Vendors |
| --- | --- | --- |
| Is shipping free? | Yes | Additional or Store Pickup |
| Who pays for Core Return? | We Do | You Do (Store Drop off) |
| Do I pay for Core today? | No, we waive Core Charge for 30 days* | Yes, but will be refunded when shipped back |
| Is torque convertor included? | Always! | Not included |
| What is the warranty? | Up to 5 years/Unlimited miles | Up to 3 years/Unlimited miles |
| Best Price Guarantee? | Yes! (for comparable conditions only) | Sorry, we don`t |
About Our Remanufactured A518 Transmission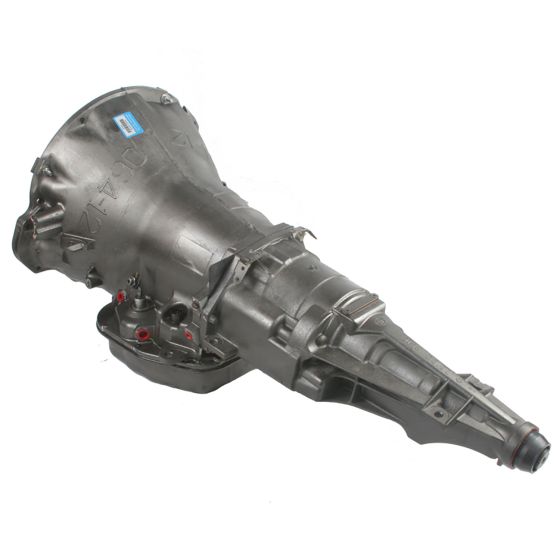 When you're trying to find a used A518 transmission for sale, it can be a difficult process. As a proud remanufacturer of Dodge A518 transmission for sale, Reman-Transmission provides amazing quality combined with affordable prices. But why purchase a remanufactured instead of a rebuilt transmission? Rebuilding a transmission involves replacing the defective parts, which moves the pattern of wear to other areas of the transmission. This leads to a pattern of opening the transmission time and again to fix what's broken each time. Instead of getting stuck in this pattern, why not buy a quality remanufactured transmission that has had all parts replaced, so you'll get outstanding strength and dependability for many years to come.
The process we use in reconditioning a Chrysler A518 transmission involves disassembly of the entire transmission, then repairing it to meet or exceed OEM specs. At the same time, every part is replaced to ensure strong, reliable service for a long time to come. We replace everything located in the bell housing, so you end up with a transmission that will be better than factory OEM new. You'll get plenty of excitement and enjoyment from your A518 transmission 4x4 without constant, expensive repairs, allowing you to get more out of your ride on a daily basis. We even upgrade the common failure points to prevent those failures from happening with a factory-new OEM 518 Dodge transmission.
At the same time, you'll have this happen at a lower cost than a new cheap transmission online, which can have more issues down the road. The reconditioned A518 transmission Cummins is an upgrade that provides you plenty of enjoyment without getting stuck from a failed transmission. We provide free shipping to commercial addresses in the U.S. or $75 shipping to residences, no core charge for up to 30 days and fabulous customer service. Our warranty is 6 months, 6,000 miles on our inspected used transmissions and 36 months with unlimited mileage for remanufactured transmissions.
Reman-Transmission takes pride in giving you a range of refurbished transmissions. Available from all major domestic and import manufacturers, we keep them in stock so you'll get fast shipment. Every part is inspected to meet or exceed EOM specs prior to shipment, so you'll get a 518 transmission that will serve you better than a factory new transmission. Buy from us, and you'll be able to enjoy a solid A518 transmission for many years to come.
Free Shipping
Excellent Customer Support
Up to 5 Years Unlimited Miles Warranty
No Core Charge for 30 Days
Our A518 transmission Upgrades
Fully remanufactured valve body includes updated throttle valve, manual valve, 4-spool switch valve, and pressure regulator valve for improved shifting, lubrication, and performance.
Modified valve body allows torque converter charge in park to increase durability and enhance gear engagements.
Fully remanufactured torque converter is tested for leaks, lockup, concentricity, and balance. Upgrades exceed OE requirements and eliminate the possibility of front seal leaks, premature bushing wear, and vibration. Diesel and heavy-duty gasoline applications include new lock-up lining.
Completely remanufactured pump provides consistent internal pressures, eliminating slippage and delayed engagement.
Overdrive (OD) direct clutch updated to 8-plate clutch with new thrust plate for increased durability.
Overdrive (OD) clutch updated to 4-plate clutch for increased durability.
Overdrive (OD) planetary assembly upgraded to a 5-pinion unit for increased durability.
Oversized Low/Reverse brake band strut maintains correct band clearance to eliminate drum slippage and No-Reverse condition.
Custom-machined output shaft to fit both late- and earlystyle driveshaft yokes.
New external fluid cooler provided to improve cooling and prevent fluid contamination.
All-new custom-spec bushings improve internal fluid flow control and pressures.
Bushings and machined surfaces polished to a mirror-like OE finish of 16 RA or less.
Every transmission is cold-and hot-tested using a proprietary dynamometer testing program that includes fully synthetic automatic transmission fluid and a filtration system.
A518 Frequently Asked Questions
How to identify an A518 transmission?
How many gears does an A518 have?
Is an A518 transmission any good?
What transmission fluid for A518?
A518 History & Information
When Chrysler wound down the usage of their 40RE, 42RE, 42RLE, and A500 transmissions in different vehicles, it was replaced in the TorqueFlite series by the Chrysler A518 transmission. As an upgrade of the A727, it reflected the strength of that transmission line, while incorporating improvements to improve fuel economy. The popular three-speed automatic transmission had held the line for almost three decades, starting in several models in 1962 and ending in the Jeep Cherokee in 1991. However, the demands for better fuel efficiency required an upgrade to a four-speed transmission, providing a great opportunity for development in Chrysler's predominant transmission, though the original A727 remains popular in a number of motorsports due to its brute strength, reliability, controllability, and the ease and cheapness of repairs.
Used predominantly in pickups and SUVs, the A518 (46RH) had big shoes to fill. As a heavy-duty transmission, it did a great job of keeping these types of vehicles in motion from 1998 to 2003, though the exact length they were used in each model varied. With the addition of a fourth overdrive gear, the transmission still has the A727's original three gears, at 2.45 in first gear, 1.45 in second gear, 1.00 in third gear, adding 0.69 in fourth gear, and changing the reverse gear ratio from its original 2.20 to 2.35.
The Dodge A518 (46RH) transmission appeared in the Dakota, Durango, Ram Truck, Ram Van, and Ramcharger lineups, while also appearing in the Jeep Grand Cherokee in the 1993 model year. It also appeared in the W150, W250, and W350 Dodge trucks. It should be noted that this flexible transmission appeared in Dodge's truck lineup from the mid-size Dakota up to the V8 1-ton heavy-duty pickup, a range that showcases the transmission's extreme adaptability to a number of different motors and frames. This is part of the reason why the TorqueFlite series of transmissions has remained so popular for so long because it provides predictable, dependable results in a wide range of circumstances and driving conditions, even with the overdrive gear added to improve fuel economy.
By the 2003 model year, the Dodge A518 transmission was ready for replacement in all vehicles by the upgraded and heavier-duty version of the transmission, named the A618. It featured a stronger input shaft, rated to handle up to 450 lb-ft of torque, delivering even more power from the engines to the wheels. As with the prior model, RE was used to designate an electronically-controlled governor pressure for the 46RE, while RH was used to designate hydraulically-controlled governor pressure for the 46RH. Its gear ratios remained the same as the preceding A518 transmission, with the exception of the reverse gear dropping to 2.21, providing strong continuity as the vehicles using it continued to evolve.
Free Shipping
Excellent Customer Support
Up to 5 Years Unlimited Miles Warranty
No Core Charge for 30 Days
Speak With A Specialist Now
Habla con un especialista ahora
A518 Transmission Compatibility Chart
MAKE
MODEL
START YEAR
END YEAR
Dodge
Ramcharger
1993
1993
Dodge
W250
1991
1993
Free Shipping
Excellent Customer Support
Up to 5 Years Unlimited Miles Warranty
No Core Charge for 30 Days
Speak With A Specialist Now
Habla con un especialista ahora