Free Shipping
Up to 5 Years Unlimited Mile Warranty
Excellent Customer Support
No Core Charge for 30 Days
loading...
Best Price Guarantee
We will match or beat any
competitor's pricing.
Remanufactured 4R75W Transmission Price
Alternative Name: 4R75, 4R75-W
| | Price | Core | Shipping | Other Fees | Upfront Cost | Warranty |
| --- | --- | --- | --- | --- | --- | --- |
| | $2082 | Waived* | Free* | None | $2082 | 5 Year |
| | $1988 | $500 | In Store | $134 | $2622 | 3 Year |
| | $2105 | $500 | In Store | $210 | $2815 | 3 Year |
| | $1795 | $500 | In Store | $179 | $2474 | 3 Years |
*Core: Waived for 30 Days
*Shipping: Shipping is free to a commercial address
*Logos are the property of their respective owners
Why Chose Reman-Transmission.com
| Question to Ask | Reman Transmission | Other Vendors |
| --- | --- | --- |
| Is shipping free? | Yes | Additional or Store Pickup |
| Who pays for Core Return? | We Do | You Do (Store Drop off) |
| Do I pay for Core today? | No, we waive Core Charge for 30 days* | Yes, but will be refunded when shipped back |
| Is torque convertor included? | Always! | Not included |
| What is the warranty? | Up to 5 years/Unlimited miles | Up to 3 years/Unlimited miles |
| Best Price Guarantee? | Yes! (for comparable conditions only) | Sorry, we don`t |
About Our Remanufactured 4R75W Transmission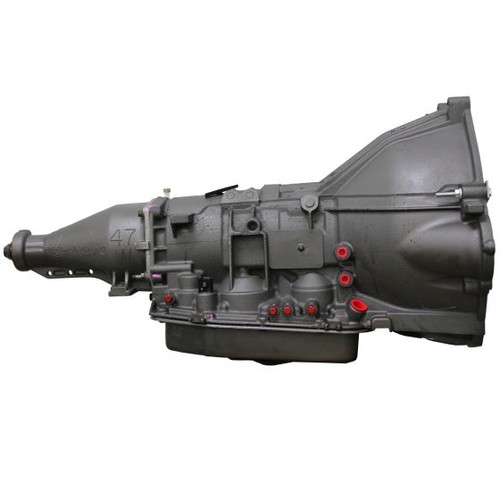 When you buy a Ford 4R75W transmission for sale from us, you'll find that you have two options. You can get a used one, or you can choose our 4R75W remanufactured transmission. Either way, you can be sure that you'll get a unit that will shift smoothly for years.
With our remanufactured transmission, you get far more than you would with the typical 4R75W rebuild. Instead of just replacing broken parts, we replace them ALL with either new or re-machined ones. We also fix design flaws that were present in the factory version. This gives you a transmission that is at least as good as new, and sometimes, better.
Our used 4R75 transmission for sale is guaranteed to be good, as well. While we don't rebuild these, we do test them to make sure that they operate properly.
We offer a warranty on every transmission we sell. For our remanufactured 4R75W units, the warranty is good for 3 years (36 months), regardless of the mileage you put on them. Our used 4R75W transmission for sale is warranted for 6 months or 6,000 miles, whichever comes first. Whichever version you choose, you'll know that you won't have to have another transmission installed a week after you install ours.
Since we sell our 4R75W and other transmissions online, you may wonder about the shipping cost. You can relax, because shipping is free when you specify a commercial address, such as that of a professional transmission installation shop. If you prefer to have it sent to your home so you can install it yourself, shipping is just $75. This makes it easy to afford one of our high-quality remanufactured or used transmissions.
4R75W Transmission Remanufacturing Process
Free Shipping
Excellent Customer Support
Up to 5 Years Unlimited Miles Warranty
No Core Charge for 30 Days
Our 4R75W transmission Upgrades
Six-plate direct clutch and four-plate intermediate clutch packs, standard on all models, increase durability and performance.
New EPC solenoid installed for precise pressure control.
New boost valve kit, pressure regulator valve, bypass converter clutch sleeve, and plunger eliminate delayed engagement, shudder, and soft shifting.
Upgraded spiral lock snap ring and staked retainer for intermediate clutch address an OE design flaw and eliminate premature failure.
Updated 1-2 and 2-3 accumulator pistons prevent harsh shifting and premature clutch failure.
New overdrive servo pin sleeve is installed during our servo modification process with custom-designed tooling and bushings.
Completely remanufactured pump with new line bore bushings eliminates leaks and provides superior flow and durability.
Fully remanufactured torque converter is tested for leaks, lockup, concentricity, and balance. Upgrades exceed OE requirements and eliminate the possibility of front seal leaks, premature bushing wear, and vibration.
2001 and newer models feature a new 3-4 capacity valve sleeve and an extra-thick zinc-coated Super Tough Plate to eliminate plate cracking and cross leaks caused by repeated stress from the 2-3 accumulator piston spring retainer.
Police, towing, and performance packages include: eightplate direct clutch pack, additional valve body modifications, elevated pressure regulator valve, and other upgrades to increase durability and load capacity.
New custom-spec bushings improve internal fluid flow control and pressure.
Every transmission is cold-and hot-tested using a proprietary dynamometer testing program that includes fully synthetic automatic transmission fluid and a filtration system.
4R75W Frequently Asked Questions
What is the Difference Between 4R70W and 4R75W?
Is the 4R75E the Same as a 4R75W?
How Do I Know if My Transmission is a 4R75W?
What is a 4R75W transmission?
4R75W History & Information
The Ford 4R75W transmission is the successor to Ford's 4R70W transmission. Both, and more, are part of the company's AOD (Automatic Overdrive) line. The AOD line first hit the market in 1979, but the 4R75W didn't come into being until 2003. Its direct predecessor, the 4R70W, came out in 1993. That model had better acceleration, better gearset strength, and slightly better fuel efficiency compared to the prior model. Ford also produced the 4R75E transmission which was essentially the same, mechanical wise, as the 4R75W. It was just used in different vehicle applications where they wanted to differentiate the transmission codes. Both transmissions, however, were commonly mated with the Borg-Warner BW4416 transfer case.
Ford's 4R75W was produced to provide improvements to power handling while being more economical and efficient. It got a stronger ring gear, with 24 lugs for the output shaft sensor to read from as opposed to the six present in the 4R70W. A revised front pump assembly, a revised torque converter, and a vehicle speed sensor were also added. These modernizations provided enough improvement that, over time, the 4R75W replaced the 4R70W.
After this model came out, another variation followed. The 4R75E and 4R70E were made for Ford's switch to throttle by wire. These versions have more powerful PCMs, and a turbine speed sensor was added to the transmissions. The sensor tells the PCM the speed of the input shaft after the torque converter and combined with information about the speed of the crankshaft, this lets the PCM calculate the amount of slippage going on inside of the torque converter. The goal is to allow for fully automatic shifting without the feeling of it hunting for the right gear.
The 4R70W and 4R75W were made available on many of Ford's passenger cars, including several years of the Thunderbird, Crown Victoria, Lincoln Mark VIII, Explorer, Lincoln Town Car, Mercury Grand Marquis, Mercury Cougar, and several more. There is a 4R75W transmission 2WD, and a 4R75W 4x4 transmission, so both forms of vehicles are covered, as well. Many of these cars are still on the road today, despite some of them having been discontinued in prior years. Therefore, demand for these transmissions remains strong.
Free Shipping
Excellent Customer Support
Up to 5 Years Unlimited Miles Warranty
No Core Charge for 30 Days
Speak With A Specialist Now
Habla con un especialista ahora
4R75W Transmission Compatibility Chart
MAKE
MODEL
START YEAR
END YEAR
Ford
Crown Victoria
2004
2006
Ford
E-150 Club Wagon
2005
2005
Ford
E-350 Club Wagin
2004
2005
Ford
E-350 Super Duty Van
2004
2006
Ford
Expedition
2005
2006
Lincoln
Mark LT
2006
2008
Free Shipping
Excellent Customer Support
Up to 5 Years Unlimited Miles Warranty
No Core Charge for 30 Days
Speak With A Specialist Now
Habla con un especialista ahora