Free Shipping
Up to 5 Years Unlimited Mile Warranty
Excellent Customer Support
No Core Charge for 30 Days
loading...
Best Price Guarantee
We will match or beat any
competitor's pricing.
Remanufactured 48RE Transmission Price
Alternative Name: 48-RE
| | Price | Core | Shipping | Other Fees | Upfront Cost | Warranty |
| --- | --- | --- | --- | --- | --- | --- |
| | $2820 | Waived* | Free* | None | $2820 | 5 Year |
| | $3128 | $1500 | In Store | $313 | $4941 | 3 Year |
| | $2965 | $1500 | In Store | $297 | $4762 | 3 Year |
| | $2965 | $1000 | In Store | $293 | $4258 | 3 Years |
*Core: Waived for 30 Days
*Shipping: Shipping is free to a commercial address
*Logos are the property of their respective owners
Why Chose Reman-Transmission.com
| Question to Ask | Reman Transmission | Other Vendors |
| --- | --- | --- |
| Is shipping free? | Yes | Additional or Store Pickup |
| Who pays for Core Return? | We Do | You Do (Store Drop off) |
| Do I pay for Core today? | No, we waive Core Charge for 30 days* | Yes, but will be refunded when shipped back |
| Is torque convertor included? | Always! | Not included |
| What is the warranty? | Up to 5 years/Unlimited miles | Up to 3 years/Unlimited miles |
| Best Price Guarantee? | Yes! (for comparable conditions only) | Sorry, we don`t |
About Our Remanufactured 48RE Transmission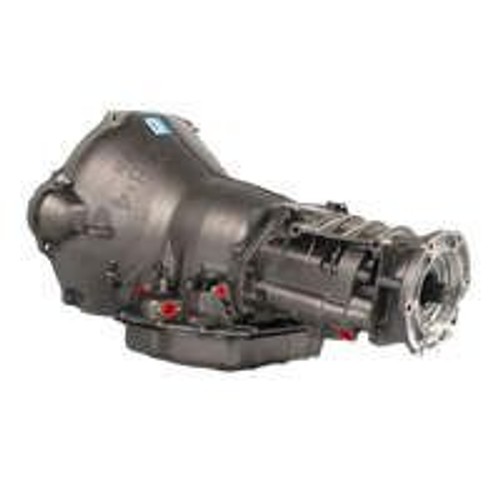 At Reman-Transmission, we go a step beyond the typical rebuild process. Whereas a reconditioned 48RE transmission merely has its worn-out or defective parts replaced with new components, leaving other parts untouched, our remanufactured 48RE transmissions undergo a complete overhaul. Every component is replaced with new or remanufactured parts that exceed Original Equipment Manufacturer (OEM) standards. Additionally, we fix any known factory defects associated with the 48RE transmission, that way you'll rest easier knowing you can get into the zone and focus on getting your swap in place without worrying about your transmission's condition.
A remanufactured 48RE transmission can provide rock-solid reliability and impressive performance, all at a lower cost than a refurbished or reconditioned transmission. When you buy from us at Reman-Transmission, you'll also get an up to 5-years unlimited mileage warranty and a waived core charge for 30 days, along with free shipping and excellent customer support. We rigorously inspect and test each specific part, so you'll know you have an excellent product that offers top reliability.
We also offer a complete lineup of used 48RE transmissions if you are looking for a more affordable transmission swap option. When you search for "used 48re transmissions near me" or "used 48re transmissions for sale" and browse our online catalog, you will see a vast selection of used transmissions to choose from. We go the extra mile to make sure each used transmission is in working condition and ready to swap in your ride.
Whether you own an American or foreign car, truck, or SUV, finding the right supplier who can source the best used or refurbished 48RE is no easy feat. Fortunately, the experts at Reman-Transmission are here to make that job a bit easier. Get in touch with our company for more questions or ask for a quote. You can also check out our catalog to find the right product for your needs.
48RE Transmission Remanufacturing Process
Free Shipping
Excellent Customer Support
Up to 5 Years Unlimited Miles Warranty
No Core Charge for 30 Days
Our 48RE transmission Upgrades
A remanufactured and improved torque converter is included with every transmission.
To eliminate the possibility of front seal leaks, vibration, and premature bushing wear, all torque converters are tested for leaks, lock-up, concentricity, and balance.
Every fully remanufactured valve body, with complete system correction and recalibration kit, is tested independently.
All wear-prone valves are restored to stringent specifications and vacuum tested to confirm proper function.
Each remanufactured transmission is hot, cold, load, and simulated road tested using our proprietary CARS (Computer-Aided Road Simulation) dynamometer program.
All remanufactured transmissions are backed by the industry's best, no-hassle nationwide warranty.
48RE Frequently Asked Questions
Is the Dodge 48RE a Good Transmission?
How Long Does a 48RE Last?
Who Builds the Best 48RE Transmission?
How Much Does It Cost to Rebuild a 48RE Transmission?
48RE History & Information
The story of the electronically controlled Dodge 48RE transmission starts with the 47RE, which itself was a heavy-duty version of the 46RE, and traces its roots all the way back to the TorqueFlite 727 3-speed automatic transmission. Available in 2WD and 4WD configurations, the 48RE shares the same gear ratios as its predecessor, but features stronger and heavier components for improved durability. An integrated "tow/haul" mode was also included, which locked out 4th gear (overdrive) and engaged the torque converter lockup to reduce powertrain stresses under load.
The 48RE found a home in the full-size Dodge Ram 2500 and Dodge Dodge Ram 3500 truck from 2003 to 2007, where it was usually paired with the 5.9 Cummins ISB (24 valve) turbo diesel engine. This transmission was commonly paired with the NV271D and NV273D transfer cases. With an actual input torque specification between 560 and 570 lb-ft, Cummins-equipped Rams were detuned via ECU from their 610 lb-ft of torque to better accommodate the 48RE's lower torque limits. During the 2005 model year, the pairing received an advanced electronically controlled TransAmission Throttle Valve Actuator that eliminated the previous Throttle Valve Cable, along with the TVC's linkage. The 48RE is not related to the TorqueFlite (or TorqueCommand) A904, later known as the 30RH, which was a smaller transmission developed for lighter duty applications in Jeep and older AMC vehicles.
Overall, the 48RE proved to be a reliable, compatible transmission with plenty of potential for stock, street and race applications, plus parts commonality with the 46RE and 47RE made it easy and cheap to modify and repair. If you're thinking about using a 48RE for your next transmission swap project or simply need a reliable replacement for your vehicle, a remanufactured transmission from Reman-Transmission is your best option. Our range of remanufactured transmissions come drop in ready and are built to professional standards with the highest quality components available. Whether you own a domestic or a foreign auto, there's a good chance we have the right transmission you need for sale.
The most common Tags for the 48RE Transmission:
52854205AA
5086356AB
5103351AA
52854201AA
5086355AB
52854078AA
5159974AA
52854239AA
5159973AA
52854238AA
Free Shipping
Excellent Customer Support
Up to 5 Years Unlimited Miles Warranty
No Core Charge for 30 Days
Speak With A Specialist Now
Habla con un especialista ahora
48RE Transmission Compatibility Chart
MAKE
MODEL
START YEAR
END YEAR
Dodge
Ram 3500
2003
2007
Dodge
Ram 2500
2003
2007
Free Shipping
Excellent Customer Support
Up to 5 Years Unlimited Miles Warranty
No Core Charge for 30 Days
Diagnostic Codes for 48RE Transmissions
DIAGNOSTIC CODES
DESCRIPTION OF PROBLEM
P0700
Transmission Control System (MIL Request)
P0706
Transmission Range Sensor Circuit Range/Performance
P0710
Transmission Fluid Temperature Sensor Circuit
P0711
Transmission Fluid Temperature Sensor Circuit Range/Performance
P0712
Transmission Fluid Temperature Sensor Circuit Low Input
P0713
Transmission Fluid Temperature Sensor Circuit High Input
P0714
Transmission Fluid Temperature Sensor Circuit Intermittent P0715
P0717
Input/Turbine Speed Sensor Circuit No Signal
P0720
Output Speed Sensor Circuit
P0721
Output Speed Sensor Circuit Range/Performance
P0729
Gear 6 Incorrect Ratio
P0730
Incorrect Gear Ratio
P0731
Gear 1 Incorrect Ratio
P0732
Gear 2 Incorrect Ratio
P0733
Gear 3 Incorrect Ratio
P0734
Gear 4 Incorrect Ratio
P0735
Gear 5 Incorrect Ratio
P0740
Torque Converter Clutch Circuit Malfunction
P0741
Torque Converter Clutch Circuit
P0742
Torque Converter Clutch Circuit Stuck On
P0743
Torque Converter Clutch Circuit Electrical
P0744
Torque Converter Clutch Circuit Intermittent
P0748
Pressure Control Solenoid A Electrical
P0750
Shift Solenoid A
P0751
Shift Solenoid A Performance or Stuck Off
P0755
Shift Solenoid B
P0760
Shift Solenoid C
P0765
Shift Solenoid D
P0783
3-4 Shift
P0814
Torque Converter Overstressed
P0814
Transmission Range Display Circuit
P0841
Transmission Fluid Pressure Sensor/Switch A Circuit Range/Performance
P0846
Transmission Fluid Pressure Sensor/Switch B Circuit Range/Performance
P0868
Transmission Fluid Pressure Low
P0871
Transmission Fluid Pressure Sensor/Switch C Circuit Range/Performance
P0880
TCM Power Input Signal
P0881
TCM Power Input Signal Range/Performance
P0882
TCM Power Input Signal Low
P0884
TCM Power Input Signal Intermittent
P0888
TCM Power Relay Sense Circuit
P0891
TCM Power Relay Sense Circuit High
P0897
Transmission Fluid Deteriorated
P0933
Hydraulic Pressure Sensor Range/Performance
P1864
Torque Converter Enable Solenoid Electrical Fault
P1873
Torque Converter Clutch Stator Temperature Switch Circuit Low Voltage
P1874
Torque Converter Clutch Stator Temperature Switch Circuit High Voltage
P1887
Torque Converter Clutch Release Switch
P2756
Torque Converter Clutch Press Ctrl Solenoid
P2757
Torque Converter Clutch Pressure Control Solenoid Ctrl Circuit Performance or Stuck Off
P2758
Torque Converter Clutch Pressure Control Solenoid Ctrl Circuit Stuck On
P2759
Torque Converter Clutch Pressure Control Solenoid Ctrl Circuit Electrical
P2760
Torque Converter Clutch Pressure Control Solenoid Ctrl Circuit Intermittent
P2761
Torque Converter Clutch Pressure Control Solenoid Ctrl Circuit Open
P2762
Torque Converter Clutch Pressure Control Solenoid Ctrl Circuit Range/Performance
P2763
Torque Converter Clutch Pressure Control Solenoid Ctrl Circuit High
P2764
Torque Converter Clutch Pressure Control Solenoid Ctrl Circuit Low
P2769
Torque Converter Clutch Circuit Low
P2770
Torque Converter Clutch Circuit High
Speak With A Specialist Now
Habla con un especialista ahora