Flat Rate Shipping (Commercial address)
Up to 5 Years Unlimited Mile Warranty
Excellent Customer Support
No Core Charge for 30 Days
Remanufactured Xtronic-CVT Transmission Price
Alternative Name: Nissan Xtronic CVT
Price
Shipping
Core and Fee
Upfront Cost
Warranty
$2828
$270
None
$3098
5 Year
$3595
In Store
$1359
$4954
3 Year
$3619
In Store
$1362
$4981
3 Years
*Core: Waived for 30 Days
*Shipping: We offer Flat Rate Shipping (Commercial address)
*Logos are the property of their respective owners
Why Chose Reman-Transmission.com
| | Reman Transmission | Other Vendors |
| --- | --- | --- |
| Transparent Pricing | Check | x |
| Best Price Guarantee | Check | x |
| Flat Rate Shipping (Commercial address) | Check | x |
| Up to 5 Years Unlimited Mile Warranty | Check | x |
| Torque Convertor Included | Check | x |
| No Core Charge for 30 Days | Check | x |
| Free Shippng on Core Return | Check | x |
Why Chose Reman-Transmission.com
| Question to Ask | Reman Transmission | Other Vendors |
| --- | --- | --- |
| Is shipping free? | We offer Flat Rate Shipping (Commercial address) | Additional or Store Pickup |
| Who pays for Core Return? | We Do | You Do (Store Drop off) |
| Do I pay for Core today? | No, we waive Core Charge for 30 days* | Yes, but will be refunded when shipped back |
| Is torque convertor included? | Always! | Not included |
| What is the warranty? | Up to 5 years/Unlimited miles | Up to 3 years/Unlimited miles |
| Best Price Guarantee? | Yes! (for comparable conditions only) | They Don't |
About Our Remanufactured Xtronic-CVT Transmission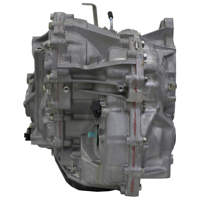 Nissan has used the Xtronic CVT transmission in some of its cars over the years. What is a CVT with Xtronic meaning? This is Nissan's version of a continuously variable transmission or CVT. This type of transmission doesn't have gears like automatic transmissions do. The CVT with Xtronic uses a system made up of pulleys and a metal belt instead. This results in much better fuel efficiency and an easier time accelerating since drivers don't have to search for the right gear to shift to. While the Xtronic can last for many miles with proper maintenance, it can eventually wear out. It might also develop damage due to accidents or other causes. Reman-Transmission can help you replace your Xtronic CVT with a refurbished or used one that offers high quality.
At Reman-Transmission, we have remanufactured Xtronic CVTs available for many Nissan makes and models. With help from our experts, you can find the right type of Xtronic you need for your car. Although you might be thinking about simply rebuilding your Xtronic, consider the benefits of our refurbished Xtronic CVTs. These remanufactured transmissions have every part replaced instead of only replacing busted or worn components. This means you're getting an Xtronic CVT that's in better shape than a rebuilt one would be. These transmissions are remanufactured to meet or exceed the original equipment manufacturer's (OEM) specifications. We also go the extra mile with our remanufactured Xtronic CVTs. Each one has known manufacturer defects corrected before you buy it. This helps ensure that your refurbished transmission is in excellent condition.
In addition to refurbished Xtronic CVTs, we sell used ones. When you purchase a used transmission, keep in mind that all of these go through complete inspections to ensure that they're in good condition. Buying a used Xtronic CVT provides you with the most affordable option to consider when you need to replace your transmission.
Whether you buy a used or refurbished Xtronic CVT, your transmission will come with a warranty for peace of mind. Used Xtronic transmissions from Reman-Transmission have a 6,000-mile/6-month warranty. Remanufactured Xtronic CVTs have 36-month/unlimited mileage warranties. Replacing your Xtronic transmission with one from Reman-Transmission comes with other benefits as well. We offer a flat rate shipping fee to send your used or remanufactured Xtronic transmission directly to your door. This means you don't have to visit a local supplier or store to get your Xtronic CVT.
Flat Rate Shipping (Commercial address)
Excellent Customer Support
Up to 5 Years Unlimited Miles Warranty
No Core Charge for 30 Days
Xtronic-CVT Frequently Asked Questions
What is an Xtronic CVT transmission?
The Xtronic CVT is a transmission that uses a pulley and steel belt system to offer an expanded gear ratio range, improved fuel efficiency, and seamless acceleration. Nissan developed this transmission for use in several of its vehicles, from 2002 to the present.
What is the difference between CVT and Xtronic?
The Xtronic CVT offers up to 10 percent better fuel economy than traditional CVTs since it can be used for 2.0 to 3.5-liter displacement engines. Its design also offers smoother acceleration, adaptive shift control, and smaller components that help reduce friction compared to traditional CVTs.
Is Xtronic CVT transmission good?
The Xtronic CVT transmission can last for 100,000 miles or more, as long as it's regularly maintained. This partly involves using Nissan CVT Fluid NS-3. Reman-Transmission offers Xtronic CVTs that are remanufactured to OEM specifications. These transmissions have also had manufacturer defects fixed.
How much does it cost to replace an Xtronic CVT transmission?
The cost to replace a CVT Xtronic can cost anywhere from $3,000 to $8,000, but keep in mind that this cost can vary considerably. A few different factors, such as the cost of labor, how long it takes to replace your transmission, and the make and model of your vehicle, can affect the overall cost.
What vehicles came with the Nissan Xtronic CVT?
Nissan has used a CVT with Xtronic transmission in several of its vehicles over the years, including the Altima, Armada, Maxima, Micra, Murano, Pathfinder, Rogue, Rogue Sport, Sentra, and Versa. This includes the first through third generations of the Xtronic CVT transmission.
Xtronic-CVT History & Information
Nissan began using CVT technology in 1992, but Xtronic wasn't developed until a decade later. The first Xtronic CVT was used in the 2003 Nissan Murano, which included a 3.5-liter VQ V-6 engine and an all-wheel drive (AWD) system. This Xtronic's fuel efficiency offered EPA ratings of 20 mpg city and 24 to 25 mpg highway for FWD and AWD systems.
Nissan released an improved next-generation Xtronic in 2012, which debuted with the 2013 Nissan Altima. This CVT offered better fuel economy, a wider ratio coverage, and reduced friction of up to 40 percent for less wear and tear and smoother handling. This Xtronic was used in vehicles with 2.0 to 3.5-liter engines.
The third-generation Nissan Xtronic debuted with the 2019 Sentra, 2019 Versa, 2018 Murano, 2018 Maxima, 2019 Pathfinder, and 2019 Altima. This Xtronic included D-Step Logic Control, a type of software that determines the best gear ratio for seamless acceleration. This software uses vehicle speed, application speed, and other factors to find the best gear ratio. This latest version of the Xtronic also offered a 7.0 ratio coverage and put more distance between the transmission fluid and drive pulley, creating less friction compared to traditional CVTs.
Over the years, the Xtronic CVT has been known for its smooth handling and shiftless operation. Drivers don't need to quickly figure out which gear to shift to in different driving conditions, such as going uphill. Instead, Xtronic's pulley and belt system handles these changes with ease. This system consists of a steel chain or belt and two variable diameter pulleys instead of up to nine gears as automatic transmissions have. With fewer components overall, the Xtronic doesn't generate as much heat and wear and tear. It also offers good fuel economy. In fact, the latest Xtronic offers as much as a 15 percent improvement in fuel efficiency.
The Xtronic CVT has offered other benefits as well, including quiet operation at cruising speeds. Cars with this transmission also experience stronger acceleration when going from a standing start. They offer quick and smooth acceleration when passing other vehicles or merging. When you have a vehicle that uses an Xtronic CVT, making sure you purchase a high-quality used or remanufactured Xtronic helps ensure that you continue enjoying the benefits that this transmission offers.
Flat Rate Shipping (Commercial address)
Excellent Customer Support
Up to 5 Years Unlimited Miles Warranty
No Core Charge for 30 Days
Speak With A Specialist Now
Habla con un especialista ahora
Xtronic-CVT Transmission Compatibility Chart
MAKE
MODEL
START YEAR
END YEAR
Nissan
Maxima
2005
2023
Nissan
Altima
2007
2023
Nissan
Sentra
2007
2023
Nissan
Cube
2002
2014
Nissan
Pathfinder
2013
2020
Nissan
Murano
2003
2023
Nissan
Versa (Note)
2014
2019
Flat Rate Shipping (Commercial address)
Excellent Customer Support
Up to 5 Years Unlimited Miles Warranty
No Core Charge for 30 Days
Speak With A Specialist Now
Habla con un especialista ahora