Flat Rate Shipping (Commercial address)
Up to 5 Years Unlimited Mile Warranty
Excellent Customer Support
No Core Charge for 30 Days
Remanufactured 6F55 Transmission Price
Alternative Name: Ford 6F55
Price
Shipping
Core and Fee
Upfront Cost
Warranty
$2210
$270
None
$2480
5 Year
$2706
In Store
$970
$3676
3 Year
$2706
In Store
$970
$3676
3 Year
$2740
In Store
$974
$3714
3 Years
*Core: Waived for 30 Days
*Shipping: We offer Flat Rate Shipping (Commercial address)
*Logos are the property of their respective owners
Why Chose Reman-Transmission.com
| | Reman Transmission | Other Vendors |
| --- | --- | --- |
| Transparent Pricing | Check | x |
| Best Price Guarantee | Check | x |
| Flat Rate Shipping (Commercial address) | Check | x |
| Up to 5 Years Unlimited Mile Warranty | Check | x |
| Torque Convertor Included | Check | x |
| No Core Charge for 30 Days | Check | x |
| Free Shippng on Core Return | Check | x |
Why Chose Reman-Transmission.com
| Question to Ask | Reman Transmission | Other Vendors |
| --- | --- | --- |
| Is shipping free? | We offer Flat Rate Shipping (Commercial address) | Additional or Store Pickup |
| Who pays for Core Return? | We Do | You Do (Store Drop off) |
| Do I pay for Core today? | No, we waive Core Charge for 30 days* | Yes, but will be refunded when shipped back |
| Is torque convertor included? | Always! | Not included |
| What is the warranty? | Up to 5 years/Unlimited miles | Up to 3 years/Unlimited miles |
| Best Price Guarantee? | Yes! (for comparable conditions only) | They Don't |
About Our Remanufactured 6F55 Transmission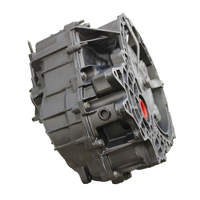 If you drive a Ford Flex or a number of other Ford models that were produced between 2007 and 2019, then you might find that you have a 6F55 transmission. If that transmission ever wears out and needs replacement, then you'll want to find a high-quality option that doesn't cost too much. That's where used and remanufactured transmissions shine.
Any vehicle that utilizes the 6F55 transmission has specific needs. The good news is that these are well-designed, robust transmissions that can handle many miles and high-power engines. Investing in a remanufactured 6F55 can ensure great fuel efficiency in your car even as you push the mileage ever higher. In fact, that was a primary design component of the 6F55. It was intended to help more powerful engines match the fuel efficiency expectations of the Ford EcoBoost vehicle lineup.
Of course, when you purchase a remanufactured transmission from Reman-Transmission, you get the benefits of quality work. We replace every single part within the transmission with OEM or improved components to ensure that it is durable, reliable, and able to perform at the highest levels possible. In many cases, our remanufactured transmissions outperform their OEM counterparts.
We regularly correct for all known factory defects, providing you with a transmission that exceeds even the latest iterations including any and all recalls related to the transmission. The last thing you want is to worry about old problems with a new transmission. We preemptively solve those problems through our remanufacturing process.
You can shop with Reman-Transmissions to find all options available for the 6F55. Used and remanufactured transmissions are available, and all are supported by the same level of warranty and overall promise of quality. If you have any questions, concerns, or challenges finding what you need, we have experts available to assist you and ensure that you're getting the right transmission for your vehicle. Additionally, we can happily explain any improvements we made during the remanufacturing process.
You can reasonably expect that your remanufactured transmission will run smoothly and operate correctly with your vehicle. You can also expect it to last a long time without any special extra maintenance or concerns. Reman-Transmission parts keep vehicles running far beyond original expectations. If you want the most out of your vehicle, this is the way to go.
Flat Rate Shipping (Commercial address)
Excellent Customer Support
Up to 5 Years Unlimited Miles Warranty
No Core Charge for 30 Days
6F55 Frequently Asked Questions
What is the 6F55 transmission?
The 6F55 is a 6-speed transmission designed by Ford Motors through a joint project with GM. It is the successor to the 6F50, improving the high-efficiency design to work with more powerful engines. The 6F55 was first released in 2009 models and was seen in Ford products through 2019.
What is the difference between 6F35 and 6F55 transmissions?
The 6F35 and 6F55 both came out of the same joint development venture between Ford and GM. These are both Ford transmissions that debuted around 2009. The primary difference is that the 6F55 is designed for 3.5L engines while the 6F35 is designed for slightly smaller and less powerful engines (such as the 2.3L Ford Escape). The 6F55 is also found in Ford models that aim for greater fuel efficiency.
How much HP and torque can the 6F55 transmission handle?
The 6F55 is rated to work with engines that produce a maximum of 365 HP and 350 lb-ft of torque. This is more than the rating for the 6F50 which caps at 300 HP and 280 lb-ft of torque. This difference was the primary motivation for Ford to develop the 6F55 in the first place.
What type of transmission fluid and what is the fluid capacity for the 6F55 transmission?
The 6F55 holds a maximum of 6.2L (or 6.5 quarts) of transmission fluid. When changing the transmission fluid, you will typically only need 4.5L to refill. A 6L fill is only required when the transmission is disassembled. The transmission takes Mercon V or Mercon LV, depending on the year it was manufactured. You can find which applies to your model in the user manual. Keep in mind that the Ford 6F55 transmission filter cannot be replaced without taking apart the entire transmission.
6F55 History & Information
If you are looking for a 6F55 transmission for sale, knowing more about its history can help you understand what to expect from the transmission and how it can impact your vehicle's performance.
The 6F55 has a rich history that began in the year 2002. No, this was not the first year that the transmission was produced. Instead, this was when Ford and GM announced a plan to work together to build a new type of automatic transaxle. A number of transmissions, made by each company, ultimately came out of this venture, including the 6F55, and several of those transmissions saw mainstream usage all the way through 2019. The 6F55 is part of a modern legacy that helped drive vehicles as we know them today to greater levels of performance.
The 6F50 came first in the Ford line, and it debuted in a number of Ford-produced 2007 vehicle models. It was an instant success, but this transmission was only rated for engines that produced a maximum of 300 HP or 280 lb-ft of torque. Within two years, it was clear that Ford would need a transmission that could provide the same benefits as more powerful engines.
A solution came quickly. Ford realized that it could build on the concept of the 6F50 and improve its torque tolerance with strategic reinforcements in the design.
The 6F55 saw its first mainstream use in 2009 models. The two flagships for the 6F55 were the Ford Flex and the Lincoln MKS. Both models were built around the Ford EcoBoost design concept, but with more power and torque in the engine, they need a stronger transmission design.
The solution was to expand the ring gear and make it 10 mm thicker as compared to the 6F50. This was enough of a change, and the 6F55 could support 3.5L EcoBoost engines that produced up to 365 HP and 350 lb-ft of torque. This is the primary difference when comparing the 6F50 vs 6F55 transmission.
The transmission saw instant success, and it was folded into a number of other Ford models including the 2010 Ford Taurus SHO. The 6F55 remained a primary transmission for EcoBoost vehicles through 2017, demonstrating a long, successful run. Regular production of the transmission halted in 2019.
With a full decade of production and use, the 6F55 is a well-known, highly trusted transmission. As a result, remanufacturing these transmissions is a consistent, reliable process that yields products you can count on for many miles. It's an advantage to have a vehicle with such proven technology.
The 6F55 transmission was used in different variations of the Ford Edge, Ford Escape, Ford Explorer, Ford Flex, Ford Focus, Ford Fusion, and Ford Taurus. It has also been used in the Lincoln MKS, Lincoln MKX, Lincoln MKZ, Mazda Tribute, Mercury Mariner, Mercury Milan, and Mercury Sable.
Flat Rate Shipping (Commercial address)
Excellent Customer Support
Up to 5 Years Unlimited Miles Warranty
No Core Charge for 30 Days
Speak With A Specialist Now
Habla con un especialista ahora
6F55 Transmission Compatibility Chart
MAKE
MODEL
START YEAR
END YEAR
Lincoln
Continental
2017
2018
Lincoln
MKS
2010
2016
Lincoln
MKT
2010
2018
Lincoln
MKZ
2017
2020
Ford
Edge
2015
2018
Ford
Explorer
2011
2019
Ford
Flex
2010
2019
Ford
Fusion
2017
2018
Ford
Police Interceptor Sedan
2013
2015
Ford
Police Interceptor Utility
2016
2019
Ford
Taurus
2010
2018
Flat Rate Shipping (Commercial address)
Excellent Customer Support
Up to 5 Years Unlimited Miles Warranty
No Core Charge for 30 Days
Speak With A Specialist Now
Habla con un especialista ahora